By The Editors of WorldMag.com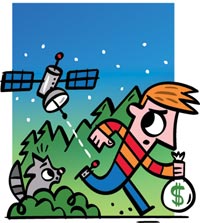 Easy to track
A parolee robbing a pizzeria in Ypsilanti, Mich., forgot one crucial aspect of pulling off his crime: an airtight alibi. A Washtenaw County Sheriff's spokesman said Randolph Westbrook, 43, forgot to remove his GPS tether before walking into a Mr. Pizza restaurant on Sept. 22 and holding it up with a gun. Local law enforcement spotted the man riding a bicycle away from the crime scene a short time later, and eventually caught him in a wooded area when he tried to evade arrest on foot.
Cat crisis
A cat-owning couple in Texas Township, Mich., is happy to have their fearless feline back after the cat scurried up a tree where it stayed for a week and a half. Pam Cameron and her husband say they phoned the local fire department, but firefighters didn't have a ladder long enough to reach the cat, which had climbed more than 50 feet up a tree in their backyard. The couple used a bow and arrow to shoot a string up to a branch near the cat to raise a laundry basket filled with food and water to keep the cat alive. But after about 250 hours in the tree the cat was finally coaxed to the ground, where it promptly scratched up a neighbor helping the Camerons.
"What's the point"
Thanks to the microchip embedded in Dave Moorehouse's lost Jack Russell terrier, authorities know exactly where the vagabond pooch is. But because of the United Kingdom's Data Protection Act, they won't tell Moorehouse. The 56-year-old from Huddersfield, West Yorkshire, says the dog, Rocky, was taken off his leash from his home in January 2007. Now, more than three years later, the agency that monitors the pet's microchip asked Moorehouse if he wanted to update the database with the name of Rocky's new owner. "I told Anibase (the agency) that I didn't want to transfer ownership because my dog had been stolen," the self-employed bricklayer told the Telegraph. "I asked them for the name and address of the people who had my dog but they wouldn't give me the details" because to do so would violate the Data Protection Act. "What's the point of having your pet microchipped if you can't get him back?"
Boot backlash
Even though Lakeway, Texas, municipal court judge Kevin Madison backtracked on his unpopular stance, the Texas judge may still have to prove his bona fides. Up until September, the judge had banned cowboy boots as part of the dress code of his courtroom. Madison said he had enforced the ban for a decade before media in nearby Austin, Texas, picked up on the story. Then, boot-wearing lawyers from across the state decried the measure. "No question about it. Boots are appropriate for the courthouse," said former judge and U.S. Rep. Ted Poe of Humble. "It almost should be required attire, especially in Texas." Poe says he and other lawyers always wear boots: "I even wear boots with a tux."