By The Editors of WorldMag.com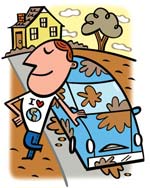 Green and dirty
If environmentalists get their way in Vancouver, Wash., driveway car washes may soon become illegal. According to The Oregonian, state officials in Washington have asked officials in Clarke County (directly across the Columbia River from Portland, Ore.) to consider how they might eliminate contaminants-including soap-from entering the public water system. County officials have protested the edict from the state's Department of Ecology, and Vancouver's Public Works Director Brian Carlson indicated a number of cities might file a lawsuit unless the state relents. "We're not going to be car-washing bureaucrats run amok," Carlson said. "We have higher priorities than that."
Caught on camera
While James Jeppe never saw it coming, his victim did. Bradley Bosworth and his father installed security cameras in their 2008 Hummer H2 after the Southlake, Texas, family had three previous Hummers keyed. The security cameras paid off when they captured Jeppe using a car key to scratch X's into the side panels of the luxury SUV on Sept. 5 in the parking lot of Bosworth's Dallas-area high school. Days later, police released the footage to local television stations, which replayed a shorts-and-polo-wearing Jeppe calmly walking up to the Hummer and making three quick X marks on the side and rear panels. In a statement to police, Jeppe explained why he felt the need to key the high-schooler's Hummer. "They have a big carbon footprint and they use four times as much gas as the rest of us do, and I don't think it's fair," said the Greenpeace and Sierra Club member. Jeppe drives a 1998 BMW four-door sedan.
Never too old
Perhaps inspired by stories of the elderly warding off home invaders, scores of elderly citizens in Mesa, Ariz., have flocked to a local police academy course especially designed for seniors. The free course gives Mesa seniors tips in preventing crime and identity theft, and also something fun to do. Mesa resident Ruby Dayton, 93, said she now has a reason to carry a cane after attending classes. "The only reason I carry my cane is I know how to hit you in the knee, honey," she said.
Drinking game
Henry Earl finally did it. This time, he might actually wish he hadn't. The Lexington, Ky., man racked up his 1,000th arrest for public intoxication since 1992 on Aug. 23. But this time, the judge gave Earl a fitting sentence to commemorate his inauspicious anniversary. "For your anniversary we'll give you a thousand days," Judge Gary Payne told Earl. In all, Earl has spent over 4,100 days in jail-averaging just two days free before being arrested again on public intoxication charges.