By The Editors of WorldMag.com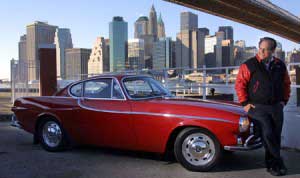 Driven to drive
If you ask Irv Gordon what he'll be doing for the next three years, chances are he'll say driving. That's because the East Patchogue, N.Y., man has set his sights on rolling 200,000 more miles onto his 1966 Volvo's odometer by the end of 2013. Already a Guinness world record holder, Gordon's Volvo P1800 currently has nearly 2.8 million miles. The 70-year-old retired science teacher says he'd like to get his red coupe over 3 million miles. Gordon bought the car new in 1966 for $4,150 and used it to commute 125 miles to and from school every day in Manhattan. His advice to car owners seeking to keep their car alive? "Maintaining a car over decades and millions of miles doesn't just happen accidentally," he says. "You've got to follow the factory service manual, replace worn or broken parts immediately and don't let little issues become big issues. I have been extremely good to this car. I don't even let anyone else drive it."
Grave decision
Perhaps a New Jersey homeowners association should have asked around before digging around in a local cemetery. Representatives of a family that owns the Hendrickson Cemetery in Holmdel, N.J., have filed a complaint with police accusing the Beau Ridge Homeowners Association of desecrating the gravesite. The hullabaloo began when the association, which is charged with maintaining the cemetery, decided to replace 150-year-old historical headstones with new, flat granite markers. "Are we now that culturally bankrupt to remove historical gravestones?" a local resident asked the Asbury Park Press.
Sites unseen
For tourists weary of the castles and beers of Germany, one Berlin sight-seeing tour is offering something different. Berlin tour guide Anna Haase takes visitors on a tour of the city's most famous toilets. "I thought my colleagues would probably all do tours of parks and churches, but I wanted to break a taboo and explain the history of Berlin's hygiene and toilet culture," Haase explained. She says the highlights are a public restroom dating back to the 19th century and a trip to the Kaiser's bathroom in Potsdamer Platz.
Runaround suer
Some prisoners lift weights. Others read books or smuggle cigarettes. To pass the time of his federal prison sentence for wire fraud, Jonathan Lee Riches pens lawsuits. Now, after the Kentucky inmate has filed more than 3,800 lawsuits against defendants as diverse as George W. Bush, celebrity blogger Perez Hilton, and various Somali pirates-as well as non-human targets like the dwarf planet Pluto, Three Mile Island, and the Lincoln Memorial-some federal judicial officials are firing back. In an unusual move, federal prosecutors have sued Riches, demanding that a judiciary official screen his outgoing mail for frivolous lawsuits so as to reduce the strain he causes on courts across the United States. When, in 2009, Guinness World Records named him as holding the record for most lawsuits filed, Riches responded just as everyone expected: He sued Guinness.