By The Editors of WorldMag.com
Making waves
It's possibly the last place voters in Georgia's 4th Congressional district expected former congresswoman Cynthia McKinney to pop up next. Seamen with the Israeli Navy pulled the former representative and 2008 Green Party presidential candidate off a wrecked boat near the coast of Gaza. McKinney said she was leading a humanitarian relief mission ostensibly to deliver food and medical supplies into Gaza when her boat accidentally crashed into a vessel of the Israeli Navy. Aware enough of the humanitarian crisis in the Gaza war zone-but not aware enough to realize that piloting an unmarked vessel through an Israeli naval blockade might be seen as "provocative"-McKinney said she was surprised by Israel's aggression toward her ship. Clearly, Israeli officials saw things a bit differently: "We regret that during this time of crisis, while Israel is battling with the terrorist organization of Hamas and defending its citizens, that we are forced to deal with Ms. McKinney's irresponsible behavior," the Israeli consulate said in a statement.
Phoning it in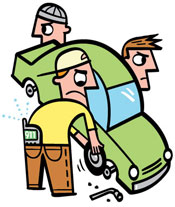 For a trio of car robbers, an accidentally placed 911 call was more than an embarrassment: It was their downfall. The group of thieves was attempting to snag a car in Middletown, N.Y., when one of their cell phones accidentally dialed 911 while resting in a pocket. When a dispatcher picked up the call, he heard everything. "I got some guys on the phone. . . . It's a cell phone but it sounds like they are ripping off a car," said the dispatcher who picked up the call, according to WCBS radio. "Dialed in their pocket by mistake. They are taking the tires off a car." By the time the robbers hung up the phone, the dispatcher had gotten enough GPS information to direct police to the local auto body shop where the thieves were stashing the vehicle.
Smile police
Thailand has a problem that red paint can fix. "For our highway policemen, we have the policy that the police must be friendly and smiling all the time, but the problem is, when we're tired, it's hard to keep smiling," Colonel Somyos Promnim, the Highway Police commander, told the International Herald Tribune. To wit, patrolmen of the Highway Police in Thailand have taken to painting bright red smiley faces on their pollution masks in an attempt to lift the spirits of grumpy Thai motorists. Don't expect all Thai motorists to reciprocate.
Stub flub
Alleged bank robber Thomas Infante made two mistakes: Infante's second mistake was spelling, according to an FBI affidavit: "Be Quick Be Quit [sic] Give your cash fast or I'll shoot," read Infante's note to a teller at a Chicago bank. But it was Infante's first mistake-the paper he chose to use for the note-that ultimately allowed the FBI to catch him so quickly. According to authorities, Infante wrote the heist note on the back of his pay stub from a Jewell grocery store that included information that led agents to quickly catch the suspected robber. Now the Cary, Ill., man could face up to 20 years behind bars.