By The Editors of WorldMag.com
Painted popular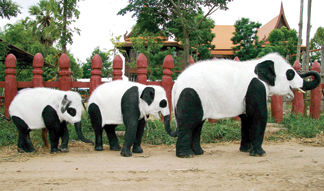 Figuring perhaps the whole routine of blowing water out of the proboscis had gotten old, elephants at the Chiang Mai zoo in Bangkok, Thailand, have a new method of attracting peanut-toting patrons. Painted in black-and-white watercolor, the five local elephants now resemble the more famous residents at the Bangkok zoo. Ever since a new baby giant panda was born at the zoo, the panda family has received all the attention. The zoo even committed more than $500,000 to build a new snow palace for the new panda family.
Lot living
The housing bubble may have burst in California, but one small group of Angelinos has discovered the real estate nexus where affordability meets location. About 100 airline workers-pilots, flight attendants, and mechanics-have formed a colony of James Rockford–style trailer homes in a little-used parking lot at Los Angeles International Airport where the commute is short and the cost of parking a trailer in Lot B is just $60 a month. For many pilots with families as far away as Seattle, it saves them the hassle of renting an apartment with other pilots. The trailer park community of mostly pilots puts up with screaming jets overhead, but many find ways to compensate. Forty-year-old Alaska Airlines pilot Todd Swenson has installed a white noise device so he can sleep between flights amidst the din of jets.
Sea change
The People for the Ethical Treatment of Animals has offered to save a California state park slated for closure in the state's budget crunch if and only if the state agrees to change the park name from Pescadero State Park to the PETA-chosen name, Sea Kitten State Beach. The name may be confusing, but it's part of PETA's new effort to re-brand fish as sea kittens. "Who could possibly want to put a hook through a sea kitten?" PETA asks on its website. The website claims that fish communication is "about the cutest thing ever." Meanwhile, real kittens report fish (or sea kittens) to be tasty and delicious.
Slow motion
When it comes to picking getaway vehicles, a quartet of British thieves may want to rethink their decision. Quiet, yes, but slow? The group boarded 16 boats under cover of darkness on July 3 in a boatyard outside of Cambridge, where they plundered expensive electronic gizmos like flat-screen televisions, generators, and a DVD player. During their getaway down the River Ouse in a slow-moving flat-bottomed boat, local police spotted the raiders with night-vision cameras. Due to the boat's 3 mph top speed, the police quickly closed in and captured the thieves. Police report the quartet was caught not only with the electronics, but also with a quantity of booze and a captain's hat. It's good to know someone was in charge.