By The Editors of WorldMag.com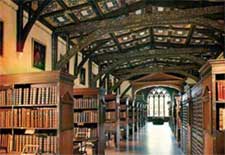 High and mighty
Some books in a world famous Oxford University library are now out of reach without moving an inch. That's because safety officials at the university have decided that using stepladders to reach rare books and manuscripts on the top shelf in Duke Humphrey's reading room at the Bodleian Library presents a serious safety hazard. Library administrator Laurence Benson said he's perplexed by the action. And he says the library isn't about to move the collection: "The library would prefer to keep the books in their original historic location-where they have been safely consulted for 400 years prior to the instructions from the health and safety office."
Lawnmower man
A Sandusky, Ohio, man faced criminal charges after police there objected to his upkeep of a local park. John Hamilton became so frustrated with the city's inability to pay mowers to cut the grass in Sandusky's Central Park that the 48-year-old took matters into his own hands. When police confronted Hamilton, he had cut the foot-high grass and was using a power blower. Police charged him with obstructing official business and disorderly conduct when he refused to stop.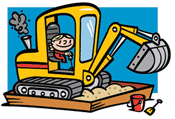 Toy story
There's no way Pipi Quinlan has a sandbox big enough to play with the toy she bought on the internet without her parents' permission. In May, the 3-year-old New Zealand girl woke early and played on her parents' computer while they slept. Once on the internet, Pipi somehow navigated to the auction website, TradeMe.com. From there, Pipi found auctions for industrial earthmoving excavators that look like those she played with in her Legos set. Finding one she liked, the 3-year-old managed to place a bid and purchased the full-size Kobelco digger for $15,600. Her parents managed to cancel the transaction.
Facial recognition
If you're thinking mustaches, don't think Keith Hernandez, Rollie Fingers, or even Tom Selleck. Think Kees Lek, winner in the "natural mustache" division of the 2009 World Beard and Mustache championships held in Anchorage on May 22. The strawberry-blond-haired Dutch man sported a similarly colored wispy 'stache that found favor with the official panel of sled-dog mushers and other local Alaskan dignitaries. Alaskan David Traver, perhaps favored by the local judges, picked up the best-in-show award with an intricately woven full beard that sloped toward his chest, forming a perfect V.