By The Editors of WorldMag.com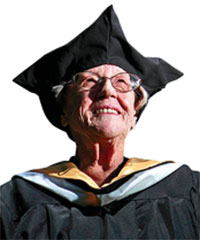 Back to school
After being married twice, giving birth to six children, and working a full career as a nurse and as an event organizer, Hazel Soares of San Leandro, Calif., has finally found time to earn her college degree. In accepting her diploma for a degree in art history from Mills College on May 15-78 years after graduating from high school in Oakland, Calif.-the 94-year-old Soares became the second-oldest person ever to graduate from college. The oldest, Nola Ochs of Kansas, earned a degree at age 95 in 2007. But Soares says she's not ready to take it easy. She says she hopes her art history degree can help her land a job at a local museum as a docent.
Catching a wave
How popular is surfing in California? Even the dogs do it. On May 22, Imperial Beach, Calif., hosted the fifth annual Loews Coronado Bay Resort Surf Dog competition. Thousands cheered on 65 canine surfers, who were judged on their level confidence, length of ride, and ability to "grip it and rip it." Loews General Manager Kathleen Cochran told the Reuters news service that she looks for dogs that are having fun: "I personally look for attire, whether they come dressed seriously with board shorts on, what's going on with their tails, whether they're wagging them or sitting on them." The competition raises money for animal-related charities.
Hopping mad
Violent protesters aren't the only ones disrupting life in Greece; thousands of frogs have also taken to the streets. Officials had to close a busy stretch of Egnatia Highway near Thessaloniki on May 26 for two hours after a horde of frogs from a nearby lake swept over the road while looking for food. The migrating frogs continued to slow traffic for at least two days, and although three cars skidded off the road to avoid the frogs, nobody was injured.
Mistaken identity
A misprint on fliers distributed by government officials in the Chicago suburb of Oak Park, Ill., turned into a nightmare for a Mokena, Ill., woman on the other side of a wrong number. Oak Park distributed about 24,000 fliers with Tracy Stajszczak's number printed accidentally in the place of a number for the village clerk's office. Stajszczak said she eventually just recorded a voicemail message explaining the mistake and turned her phone off. Oak Park has agreed to pay all of Stajszczak's overages on her next cell phone bill.
Shoes shine
After four years, it's time for Adrian Antonini to pay up. During the 2006-07 school year, Antonini, who was teaching at a Tampa, Fla., area high school, bet one of his freshman Spanish students he couldn't wear the same pair of shoes to school every day until he graduated. Four years later, the student, Ben Hedblom, has made it. Now 17, Hedblom says he's had to cut holes in the front so his freshman shoes can fit his senior feet. On rainy days, Hedblom says he wears plastic bags over his shoes to keep them dry. Unfortunately for the senior and football captain, Antonini no longer teaches at his high school. So he'll have to pay off the bet-shave his head and eyebrows-via video chat.
Pampered pups
Being relegated to the doghouse isn't so bad at Tammy Kassis' home. That's because Kassis, of Winchester, Calif., has made sure her two Yorkshire terriers and her Pomeranian have lives of luxury. Kassis spent $20,000 on a luxury miniature mansion that houses her pooches in her backyard. The Victorian dog home for Chelsea, Coco Puff, and Darla is furnished with hardwood floors, furniture, and heating and air conditioning systems. Why such luxury for her dogs? After an owl nearly carried away Coco Puff, former insurance agent Kassis figured the dogs needed some outdoor shelter. And she figured she might as well do it in style: "My dogs," she told the Los Angeles Times, "are my life."