Caught red-handed
North Korea has been caught red-handed trying to smuggle some illicit material — tap shoes. The dance shoes are illegal to import into the nation under UN sanctions. The shoes were apparently going to be used by wacky leader Kim Jong-Il for one of his famous lavish group stage performances.
Luggage stuffed with 431 reptiles found in Bangkok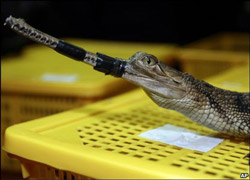 Thai customs authorities say 431 turtles and other rare reptiles were stuffed into four suitcases and smuggled into the Bangkok airport. Gharials – a type of crocodile native to India – and Indian star and roofed tortoises were among the species found in the luggage Wednesday.
[Photo: An Indian gharial is shown to the press during a news conference in Bangkok, Thailand, Thursday, June 2, 2011.]
Customs Department Director-General Prasong Poontaneat says many of the reptiles are endangered and international trade is banned. They were discovered when an Indian traveler arriving from Bangladesh failed to retrieve his bags. Prasong said the animals would be held for evidence and taken care of by wildlife officials.
Thailand is a hub for the illegal wildlife trade. A smuggling attempt thwarted last month involved two leopards, two panthers, an Asiatic black bear and two macaque monkeys – all juveniles about the size of puppies.
Ohio school graduating triplets, 10 sets of twins
The graduating class at an Ohio high school features a multitude of multiples: 10 sets of twins and one set of triplets. They make up 8 percent of the 282 seniors receiving their diplomas from Canfield High School on June 12.
Principal John Tullio tells The Vindicator of Youngstown the 23 students from multiple births all have come up from kindergarten in the Canfield school district, about 60 miles southeast of Cleveland.
Some will attend college with their siblings. Anthony Ferraro tells the newspaper it would be a big deal to separate from twin Jesse, who calls his brother "a permanent friend." Alex and Christian Syrianoudis are the only set of twins who are identical, and they are splitting up for college. Alex says it will be a growing experience.
It'll be so romantic, just like Bonnie and Clyde
A couple decided to run off to Las Vegas and get married, but they needed cash. So they robbed a bank in Franklin Township, N.J., then headed west. They were caught in Oklahoma five days later. They will spend the next seven years in jail.
Above reports are from The Boston Herald, The New York Post and Silicon Valley Mercury News. Reprinted here for educational purposes only.