By The Editors of WorldMag.com
Bomb squad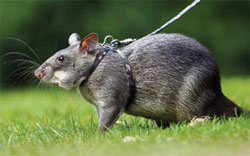 After use for years in Africa, officials in the United Kingdom may have a new tool in the fight against lost landmines: rats. Handlers at the Porfell Wildlife Park in Cornwall recently imported a Gambian pouched rat named Kofi that, according to trainer Wendy Winstanley, could be useful to British army and police for bomb detection. Already used by locals in Mozambique, the rats have proved themselves as valuable mine detectors. With a nose more sensitive than most dogs and a weight that allows them to run through a minefield without detonating anything, a trained Gambian pouched rat can clear 1,000 square feet of a minefield in about 30 minutes.
Ice scream
Students in Peabody, Mass., will have to find another way to raise money. Officials with the Massachusetts Department of Elementary and Secondary Education have ordered Peabody High School to put the kibosh on all ice-cream-related fundraisers because of concerns that the sweet socials just aren't healthy. The state organization says the socials violate a wellness policy that accompanies state and federal dollars for the school's hot lunch program. Peabody students usually hold one ice-cream fundraiser each month, selling sundaes for $3.50 apiece and raising nearly $400 each time for extracurricular clubs from sports teams to the school's newspaper. The school's principal says he's looking for ways to continue Peabody's fundraising tradition without raising the hackles of state officials.
Going to pot
Perhaps expecting to live decades longer, a Nigerian farmer claiming to be 114 years old was caught by police with over 14,000 pounds of marijuana divided into 254 sacks. According to police, the man, whose age could not be confirmed, told police he believed the sacks contained rice from his farm-not the narcotic plant. While large-scale busts have become somewhat commonplace in Nigeria, the seven tons of pot would have a street value of $14.3 million in the United States.