Say, you look familiar
A man broke into a heating and cooling company in Garwood, N.J., and stole some copper tubing. The owner of the company had just reviewed the surveillance tape of the crime, when the burglar showed up the next day and applied for a job.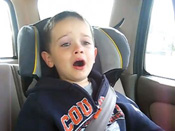 Boy, 5, reaches new heights of gov't
A New Jersey boy who cried on a YouTube clip that he's too small to be governor (see photo) was all smiles as Gov. Chris Christie made him honorary chief executive (see the video below). Mr. Christie signed a proclamation yesterday making 5-year-old Jesse Koczon of Old Bridge honorary governor for the day and his fraternal twin brother, Brandon, honorary lieutenant governor. On the video, Jesse's mother asks him why he's upset. Jesse replies, "Cause everyone tells me I'm too small to be the governor of New Jersey."
Hey, pizza man – hand over the dough!
A man called in a large order to a pizza parlor in Clifton, Fla., but failed to hang up the telephone when he plotted with his friends to rob the delivery driver. This was overheard by the guy who took the order. An undercover policeman was called in to make the delivery.
Trillions for tunes
Now that they have specified what sort of legal damages they would like to recoup, a group of 13 record companies is suing file-sharing website Lime Wire for what can only be described as all the money in the world. After securing summary judgment against the music pirating website, the group of record companies, including Warner Brothers, Virgin, Motown, and Atlantic, has requested damages approaching $75 trillion. In court documents, the record companies justify the request by applying the standard penalties for single violations of copyright law to the millions of file-sharing incidents that have occurred on Lime Wire. But Federal Judge Kimba Wood of the Southern District of New York questioned the record companies' logic. "As defendants note," she wrote in an opinion, "plaintiffs are suggesting an award that is 'more money than the entire music recording industry has made since Edison's invention of the phonograph in 1877.'"
From The Boston Herald and World Magazine. Reprinted here for educational purposes only. Visit the websites at BostonHerald.com and WorldMag.com.
Video of 5 yr old Jesse Koczon, honorary governor for the day: