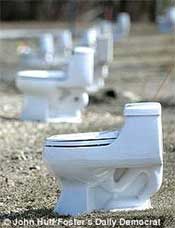 Plumber puts on porcelain protest
A plumber who'd like to flush away his troubles has put more than a dozen toilets on his lawn to protest a town decision that he says clogged his street with overflow parking. David Linscott said the 17 toilets of various designs and colors outside his Kittery home are meant to show his disdain for the closing of an elementary school and the expansion of a nearby middle school.
Oregon firefighters trained to give CPR to pets
Some Oregon firefighters and paramedics are now equipped and trained to give first aid to dogs, cats and other pets. The Daily Tidings reports that Ashland Fire & Rescue firefighters were trained last week to do CPR on dogs, cats, ferrets, gerbils and even reptiles that have inhaled smoke. All five department engines now carry oxygen masks for pets. Division Chief Greg Case says rescuing pets involved in fires helps the entire family. Firefighters treat people first and will help pets if possible. Veterinarian Dr. Alice Sievers says smaller animals can be placed inside the masks, while the devices can be fitted over the nose or beak of larger animals. The department received equipment through a donation from Project Breathe.
Russia's Dmitry Medvedev finally meets Deep Purple
Russian President Dmitry Medvedev, a big heavy metal fan, has fulfilled a lifelong dream by getting to meet his favorite rock band, Deep Purple. The British group met the leader for tea at his residence of Gorki outside Moscow on Wednesday, Russian news agencies said. The 45-year-old president told Deep Purple the band has been a favorite of his since the age of 12. He also revealed that as a DJ at his school in Leningrad he would play rock music at discos, after first getting the approval of the Communist youth organization. Medvedev is a well-known heavy metal fan, while Vladimir Putin, his predecessor and Russia's current prime minister, is reported to be an ABBA fan.
Beware bogus health check
The Allegheny County Health Department is warning Pittsburgh-area restaurants to beware of people claiming to be inspectors from the World Health Organization. Department spokesman Guillermo Cole says authorities don't know who called a restaurant chain to warn it of looming inspections. But he says whoever it was likely hoped to access restricted areas of restaurants for nefarious reasons – such as theft. Cole says restaurants can also always be sure of one thing: Real inspectors never give advance warning. Cole says "Restaurants may have call-ahead seating, but we don't have call-ahead inspections."
From The Boston Herald. Reprinted here for educational purposes only. Visit the website at BostonHerald.com.