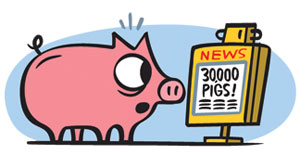 By The Editors of WorldMag.com
Pork product
Editors at an Australian newspaper may have to have that uncomfortable conversation with reporters about double-checking their sources-and hearing. In the midst of recent floods in the state of Queensland, The Rockhampton Morning Bulletin reported in its Jan. 6 edition that floodwaters were so great that 30,000 pigs were seen floating down the Dawson River. But apparently the Morning Bulletin reporter misheard the source, who actually said that "30 sows and pigs" were seen floating down the river.
Buyer's remorse
While scrolling through eBay, one London boy found a deal that could really take off. When the 7-year-old navigated to a listing for a British Harrier jump jet, he could not resist clicking the buy-it-now button. But faced with a bill for about $112,000 for the non-working but intact jet fighter, the boy's father was not so enthusiastic. A spokesman for the seller said the father called quickly and asked to have the bid invalidated. But it's not as if the seller were terribly distraught: The media attention generated by the hasty bid directed massive traffic to the airplane's relisting.
RoboCop call
Just when Detroit could presumably use RoboCop, the city has rejected a petition to bring the cyborg movie hero back to the Motor City. It all started when an anonymous Twitterer posted on the mayor's Twitter feed that the crime-ridden city could use a statue depicting the hero of the 1987 movie RoboCop. According to FBI statistics, Detroit had the highest rate of violent crime for any large American city. Detroit Mayor Dave Bing politely tweeted back that the city has no plans for erecting a RoboCop statue, but that hasn't stopped some Detroit citizens from trying. According to the Detroit News, a group has raised more than $18,000 for a statue celebrating the Reagan-era crime-fighting cyborg.
Snowplow scare
While doing his rounds as a private snowplow operator in Alliance, Ohio, John Shuman says he saw a robber in a supermarket parking lot snatch a purse from a woman. The 18-year old drove off dragging the victim for 60 feet through the parking lot as the victim tried to stop the thief. Not wanting him to get away, Shuman gave chase in his pickup-truck-turned-snowplow. For 21 miles, Shuman chased suspect Cody Bragg — long enough to call 911 and give dispatchers plate numbers and a description of the suspect's Civic. And the prolonged sight of Shuman's snowplow in his rearview mirror so worried Bragg that the suspect actually called 911 himself.