By The Editors of WorldMag.com
Getting their goat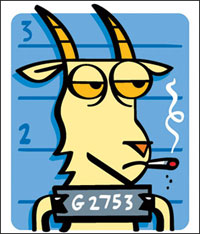 Police in Nigeria have arrested a goat on suspicion of car theft. According to a spokesman for the Kwara state police, a group of vigilantes spotted a pair of crooks trying to break into and steal a Mazda 323. But when the vigilantes attempted to stop the robbery, the car thieves fled. "They pursued them," the spokesman told Reuters. "However, one of them escaped while the other turned into a goat." Police say they are holding the animal until they can either scientifically prove the suspected car thief morphed into the hoofed animal or until the goat's owner comes forward to claim ownership.
Lost and found
Steelworkers near Berlin discovered just how much treasure could be found in one man's trash. Workers at the steel plant made sure to check the inside of a safe sent to the plant for scrapping by a local bank. And the bank is probably glad they did. Inside the discarded safe, workers at the steel plant found 100,000 euros cash (about $130,000). But instead of pocketing the bills, the steel workers returned the money to the bank.
Vulture kryptonite
Officials at a Florida middle school have turned to the power inside grape bubble gum to rid the campus of annoying vultures that had been terrorizing school livestock. The scavenger birds were drawn to the area by a local landfill but had recently begun to peck away at pigs that were part of the Bradenton, Fla., middle school's agricultural program. The school district contracted with a local wildlife exterminator who misted the campus with methyl anthranilate, a chemical found in Concord grapes and used to create grape-flavored consumer goods like gum and soda. And while kids may like the smell, vultures can't stand it. "It's like a dentist hitting a nerve in your tooth," Nuisance Wildlife Removal president Jeff Norris told the Bradenton Herald, describing the chemical's effect on the vultures. "It's temporary, goes away almost immediately, and has no effect on people or pets."
On the road
For the sake of the cleanup, workers could only be thankful it wasn't a tanker truck that crashed. And sorry that they didn't bring marshmallows. An 18-wheeler carrying nearly 24 tons of cocoa powder crashed on Feb. 2 just outside of Elkview, W.Va., spilling its contents onto the I-79 roadway and forcing a closure on the interstate's southbound lanes for 14 hours. The truck's driver escaped the crash with only minor injuries, but his payload of 47,000 pounds of cocoa was ruined, intermittently catching fire on the interstate as blowtorch-wielding rescue workers attempted to peel back the truck's roof.