By The Editors of WorldMag.com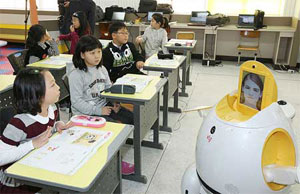 Teaching tool
Students in Daegu, South Korea, may like their new English teacher, but they won't be bringing her apples. That's because their English teacher is a robot. The Korea Institute of Science and Technology developed 29 robots to teach English at 21 of the city's elementary schools, hoping to help boost the nation's robot industry. The robots, which began teaching in late December, feature an avatar face of a Caucasian woman but are controlled remotely by teachers in the Philippines who can see and hear the students. Remote cameras also detect the faraway teacher's expressions and reflect them on the avatar's face. Daegu education official Kim Mi-Young told the AFP news service that the robots so far have been popular with students: "The kids seemed to love it since the robots look, well, cute and interesting."
Animal control
Thirteen-year-old Walter Eikrem was walking home from school in the Norwegian town of Rakkestad when he encountered a pack of wolves, four to be precise. All alone in the sloping hills between school and his farmhouse, Walter remembered his mother's warning never to run away from wild animals, then realized he was not defenseless. Yanking out his earbuds, he blared Creed's Christian rock anthem "Overcome" from his cell phone, waved his arms, and yelled along with the music. The wolves turned and scampered the other way.
Emergency delay
He was bitten by a snake, but before a South African man scurried off to a hospital, he captured the snake and stopped off at an animal clinic. Jean du Preez, a government education official, went to capture the snake after schoolchildren had discovered it in their classroom. As he was attempting to secure the reptile, it bit him on the finger. But du Preez says he was hoping that the snake was a non-venomous python-which is why he drove not to a hospital but to an animal clinic where the snake could be identified. That's when du Preez received bad news: The snake was a puff adder, Africa's most deadly snake. Thankfully for du Preez, despite his delay in finding medical help, the hospital he eventually reached had enough anti-venom to save his life.
Spudaholic
With a total commitment to the tastiness of spuds, one Washington man has picked up an honor that should starch his pride. For eating potatoes, and only potatoes, for 60 straight days, the National Potato Council has named Chris Voigt its Potato Man of the Year. The trade group says the honor recognizes people who best represent the potato industry. Voigt, who heads the Washington Potato Commission, received the award during the NPC's annual meeting in Las Vegas in January.