By The Editors of WorldMag.com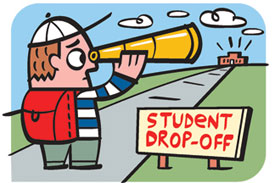 Healthy details
A controversial plan by a Manchester, U.K., health commission for trimming down obese students is facing loud protests from local parents. The Greater Manchester Health Commission has proposed removing parking spaces near local schools in order to prevent parents from dropping off children close to a school's front door, thus forcing students to walk a longer distance to get to school. Months ago, the same health commission suggested local restaurants switch to salt shakers with fewer holes in order to promote healthier eating.
Huskers for a day
On the field in the Holiday Bowl, the Nebraska Cornhuskers football team dominated. But in the stands, it took an 11th-hour solution to avert musical disaster. Stymied by canceled flights and impassable snowy roads, the Cornhuskers marching band canceled its trip to the San Diego bowl game at the last minute, leaving nobody to strike up Nebraska fight songs during the Dec. 30 game against Arizona. The San Diego area chapter of the Nebraska alumni association put out an all-call for area alumni with musical experience to form an ad-hoc band to play "Hail Varsity" and "Dear Old Nebraska U" at the game. But university officials found an even better solution: a 100-member Lincoln, Neb., high-school marching band already in San Diego for a competition. Despite having just two days to prepare, the Marching Knights of Lincoln Southeast High School were happy to help. "Kids were jumping up and down" when they received the call, one band parent reported. "They were cheering. There were fist pumps. There was every kind of expression of happy."
Dead giveaway
Parole officials in Elkins, W.Va., knew the moment Brier Cutlip and Paul Bragg arrived for an appointment in December that the pair had violated the terms of their parole, which included a prohibition on possessing firearms. How did the officials know? Cutlip and Bragg showed up after a day of hunting and they were still wearing orange hunting vests. They were promptly rearrested.
Five-star soup kitchen
Thanks to the generous donation of an anonymous food snob in New York City, some of Gotham's homeless have been eating very well. City Harvest, a charity that takes in food donations from the city's restaurants, received a 550-gram tin of expensive caviar from one of its donors. City Harvest then happily passed on the tin of Petrossian Paris malossol caviar, valued at $1,100, to an unusual soup kitchen named Broadway Community Inc., whose mission is to provide homeless clients with upscale seven-course meals. And so on Dec. 30, chef Michael Ennes of the upscale soup kitchen served amuse-bouches of cornmeal pancakes topped with a small portion of the expensive caviar.