By The Editors of WorldMag.com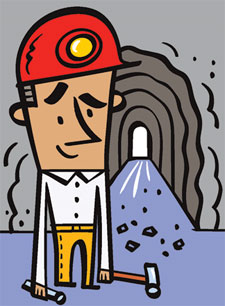 A mountain of work
Give Ramchandra Das of rural East India some time, and he can move mountains. Or at least through one. Troubled by having to park his truck miles away from home, Das carved a tunnel through a mountain near his home to give him and his neighbors a quick passageway through a mountain to the village. And while the tunnel saves his neighbors from a 4.3-mile hike around the mountain, it didn't come without a cost. Das said it took him 14 years to dig the 33-foot-long, 13-foot-wide tunnel with only a hammer and chisel. But now it's finished, and the 53-year-old Das said his work was worth it. Das told the Reuters news service that he no longer worries about bandits stealing his truck. "I had to leave my truck miles away," he said, "so I decided to do something about it myself."
Pearl of great price
The "Palawan Princess" weighs five pounds, looks something like a brain, and is worth six figures. Discovered off the coast of the Philippines, the Princess is the second­largest documented pearl and was scheduled to go on auction in Los Angeles last month. Its estimated value: between $300,000 and $400,000.
Suspended judgment
A Montville, Conn., father and son duo's efforts to get out of trouble have only added to their problems. State police arrested 23-year-old Jeffrey Socha for driving with a suspended license when he arrived at Troop E barracks to bail out his father, Joseph Socha. The reason his father was in jail: He bounced a check to cover the court fees for his son's suspended license.
Giving gold
It may have sounded like any other coin when it entered the kettle, but some Salvation Army bell ringers in central Pennsylvania discovered that one coin they received in December was anything but typical. York, Pa., Salvation Army Maj. Lurlene Mudge said someone wrapped a Krugerrand in a dollar bill and dropped it into a red Salvation Army kettle at a Kmart outside of York. The one ounce South African gold coin is worth more than $1,150.