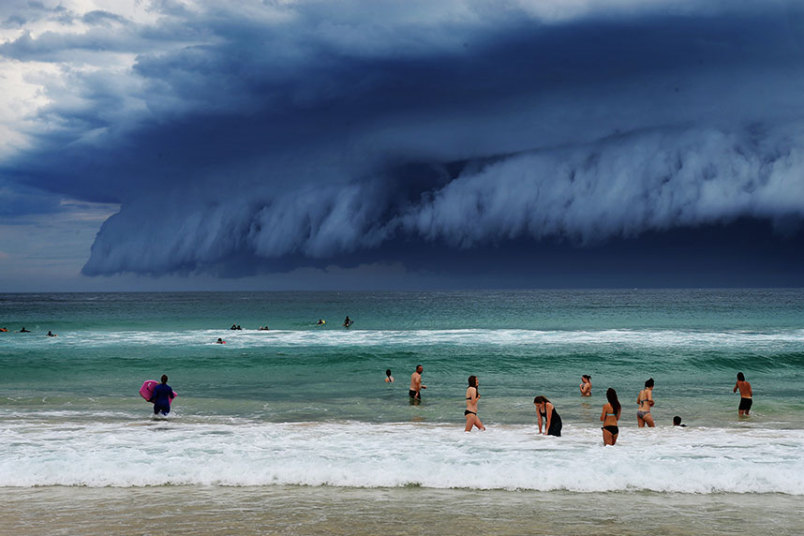 Massive 'cloud tsunami' stuns Australia
An ominous "cloud tsunami" rolls in along the coast of Sydney, Australia, on Friday, signaling the coming of severe storms for the area.
The massive formation, actually called a shelf cloud, stunned Australians, with a flurry of photos hitting social media.
The Australian Bureau of Meteorology issued a severe thunderstorm warning for the area with possible threats of large hail storms, heavy rains and forceful winds.
Powerful thunderstorms hit parts of Australia throughout the past week.
---
Six-Year-Old's Brilliant Answer In Math Test Goes Viral
A six-year-old's genius maths test has not only made his mom proud but also won him millions of Internet fans
The mother posted the two-part answer on social networking sites Imgur and Reddit under the caption: "This is why my kid is going places."
The youngster, who is a first grader in Georgia, was asked the test question: "Bobby has four dimes. Amy has 30 pennies. Which child has more money?"
After correctly answering "Bobby", he was quizzed: "How do you know? Show your thinking."
The child then drew a stick man picture of himself scratching his head with a thought bubble saying 'Bobby'.

According to his mum, her son "got credit" for the answer, but initially failed to understand why the response was so funny.
Unsurprisingly she's "obviously" proud of her smart son.
The post has since gone viral, being viewed five million times with the boy's mom declaring she intends to save the test and show it to her son when he's older.
"The plan is to hang on to this until he can fully appreciate the humour," she said.
---
French Cheese Burglars 
Farmers in France are being driven crackers after thieves launched a string of raids – to steal wheels of cheese.
With consumer demand high in the run-up to Christmas, criminal gangs have spotted a lucrative opportunity.
More than four tons of Comté cheese, worth at least €40,000 ($43,062), were stolen last week from a renowned producer in eastern France near the Swiss border. The burglars cut through a barbed wire fence at night to enter the Napiot dairy in Goux-les-Usiers and loaded a lorry with 100 90lb "wheels" of the cheese which the family has been making since 1860.
A police source said: "The newspapers are calling it a record theft, but there have been at least two other thefts of similar quantities of cheese in recent times. The cheesemakers decided not to make their misfortune public."
Comté, a hard cheese made exclusively with the milk of Montbéliarde or French Simmental cows, has a distinctive nutty, slightly sweet flavour and retails for €10 to €40 ($10 – $43) per kg, making it just as valuable to thieves as some jewellery or electrical goods.
Police nicknamed the thieves the 'meules' or millstone gang – referring to the flat circular "wheels" in which Comté is produced.
Claude Vermot-Desroches, head of the cheese's trade body Comité Interprofessionnel de Gestion du Comté, said it is hard to sell the stolen cheese in normal retail situations so much of it disappears on to the black market.
"Shops are obliged to keep documentation showing the provenance and quality of cheeses … and certificates of sale," Mr Vermot-Desroches said. "There must be an illicit distribution network."
Each "wheel' has its producer's mark embedded in the rind but Mr Vermot-Desroches said market traders often cut Comté into wedges before displaying it, removing the maker's label.
Rising rural thefts have prompted farmers and cheesemakers to instal CCTV cameras and motion sensors and to set up "surveillance networks".
Xavier Beulin, head of France's largest farmers' union the FNSEA, said: "In recent years the threat has been from highly-organized criminal networks."
---
Deck of cards decides Florida mayor in Bradenton Beach
Polling, rather than playing, cards are supposed to decide elections. But when the vote for the mayor of Bradenton Beach, Florida ended in a dead heat this week, democracy was trumped by a game of chance.
With both candidates tied on 195 votes each, Florida law called for the winner to be determined by lot – in this case, a deck of cards.
A timely Ace of Clubs installed challenger William Shearon as the new mayor and booted the incumbent, Jack Clark, out of office.
"The voters voted, and the man up above made the decision," said Mr Shearon.
The state of Florida is not alone in turning to chance – 35 US states require the drawing of lots to break a tie. And the method is usually left up to the returning officer.
As Mike Bennett, the county election supervisor in this case, pointed out: "We could've flipped a coin, we've could've drawn straws, I supposed we could've play that paper rock and scissors or roll a dice. We felt the easiest one to do with less confusion was to go ahead and cut a deck of cards."
What about the big leagues, though? In the unlikely event that the US presidential election is neck and neck, the president is chosen by a vote in the House of Representatives, and the vice-president by a vote in the Senate.
Europeans take a slightly more unusual approach to settling ties. If the vote for president of the European Parliament is still level after a series of additional ballots, the older candidate wins.
From The NY Post, London's Daily Telegraph and BBC.