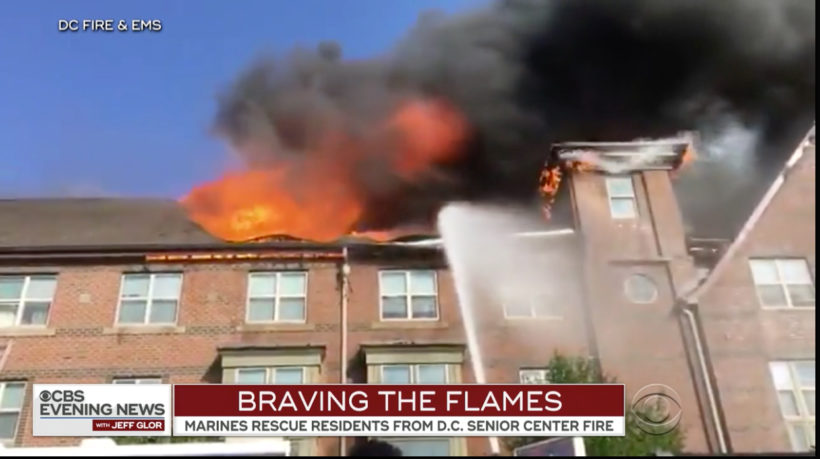 (David Martin, CBS News, Sept. 20, 2018) WASHINGTON — A quick-moving fire in the nation's capital could have turned tragic Wednesday afternoon (Sept. 20), when flames raced through a building home to more than 100 senior citizens.
But when the smoke went up, Marines came running.
"These are our neighbors. They needed help. We had to act," said Capt. Trey Gregory.
The fire was about 200 yards from their small outpost in downtown Washington, D.C. When they got there, a construction worker told them all they needed to know.
"He yelled to us, 'There's more people in there,' and that's when the Marines decided we need to go get them," said Cpl. Magdaleno Arroyo.
"I don't think there was really any thought to it. We were just saying we had to get these people out of here before anything serious happens and just the instincts kicked in to go," said Gunnery Sgt. Matthew Cale.
"It was a pretty bad fire, especially on the top floor. Some paralyzed immoble people in there," said Gregory. "We actually just picked people up as best we possibly could and then had the wheelchairs at the exit and then put them right into the wheelchair."
All 190 residents got out alive, with only six sent to the hospital. Marines have a saying: "No better friend, no worse enemy." In this firefight, they proved to be the best of friends.
Watch an ABC News report:
---
Watch a CBS News report: