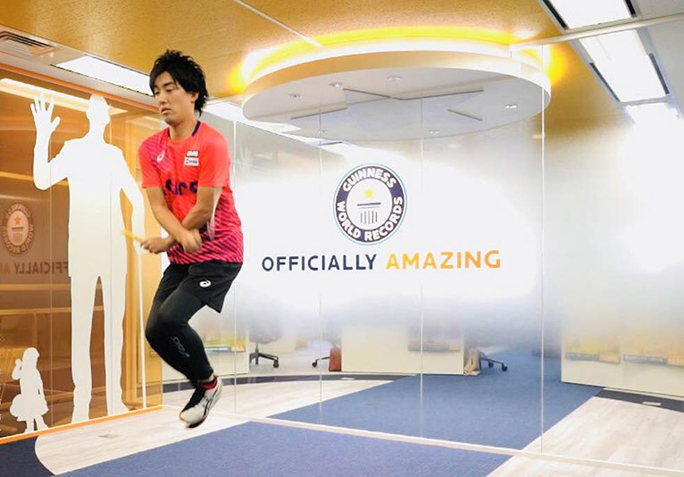 (By Ben Hooper, UPI, Nov. 2) — A Japanese jump rope enthusiast broke a Guinness world record for most skips over a rope in 24 hours when he hit a total of 151,409 skips on August 26.
Hijiki Ikuyama, 36, who has previously broken numerous rope-skipping world records, alternated between using a larger rope held by assistants and using his own smaller rope when he spent 24 hours working to beat Isabel Bush's record of 151,036 skips.
"It was so tough I had to take 10-minute breaks every 20 minutes," Ikuyama said. "The guidelines allowed me to skip a large rope spun by assistants so the plan was to alternate between a large rope and short rope."
"But for the long rope, we didn't practice together beforehand, and we couldn't synchronize properly so I kept on trapping the rope and losing time," he said.
"Eight hours before the end of the attempt, I ditched the large rope and skipped solo — I thought I have to go and push the limit," Ikuyama said.
He finished with a total 151,409 skips, enough to take the record.
Watch a report from UPI:
---
(By Masakazu Senda, Nov. 1, GuinessWorldRecords.com) – In his 20s, Hijiki was no longer skipping ropes and was auditioning in a bid to become an actor. But after years of non-success, Hijiki realized that he wasn't tackling the interviewer's questions head-on.
"When they often ask, 'what's your skill?' I answered, 'maybe playing games or sleeping'. After realizing I was to blame for failed auditions, I had to think everything through again."
As Hijiki started thinking about his skills, he recalled the activity that he so enjoyed doing during his youth. And when he started looking for online for some inspiration, he found more than what he expected.
"I found rope-skipping legends doing some insane moves, and I was like 'wow'. Until then, I thought double under was one of the hardest moves in rope skipping. That idea was turned upside down. The moves those legends were doing were so challenging, I couldn't even tell what they were doing. That got me into rope skipping once again."
From there, Hijiki picked up rope skipping again, making improvements and met some rope-skipping legends to a point where he was confident to raise rope skipping as his skill. "But by then, I was so hooked on ropes, and I started to think that I can express myself more through rope skipping."
After clinching World Jump Rope Championships, as well as claiming six Guinness World Record titles, including the Most rope crossovers (criss-cross) while skipping backwards in one minute and the Most skips over a 10 m rope in 30 seconds, Hijiki is now a professional rope skipper, going to schools across Japan to teach, as well as doing performances in shopping malls and theme parks. He also makes TV appearances, showing his great skills on air.