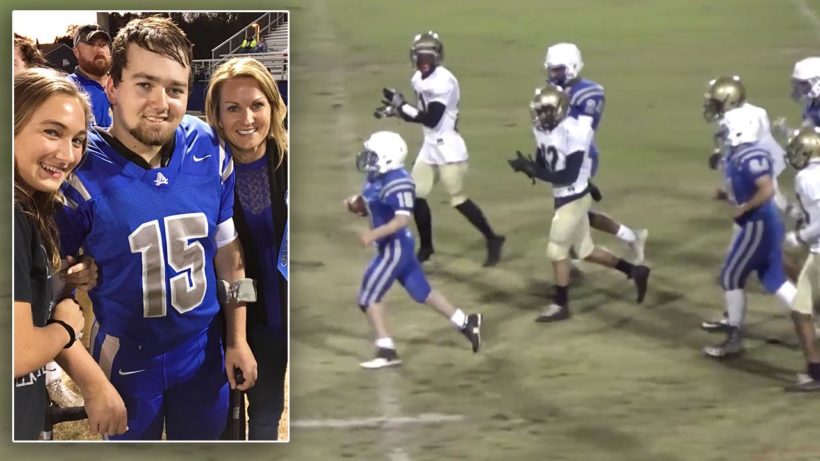 HS football player with cerebral palsy scores touchdown in final game
Cerebral palsy limits Sepp Shirey's ability to walk, reports the Richmond Times-Dispatch, and he will often use crutches for help.
Shirey was born with cerebral palsy, but is a dedicated member of the Atlee, Virginia football team.
On Friday night (October 27), coach Matt Gray put Sepp in the game. It wasn't Sepp's first appearance. He had played a few snaps earlier this year against Armstrong, and a few last year. Gray had asked that defenders simply put their hands on him, two-hand touch, instead of tackling him.
This time, Sepp's father, Hunter, was on the sideline, and he told Gray, no, let them tackle Sepp. Gray alerted the referees that Sepp was taking the field, and they relayed it to Varina coach Stu Brown.
Gray called for a handoff to Sepp up the middle. But Varina's defenders opted not to tackle him. Instead, they cheered him on as Sepp ran, with a ball in his hands instead of crutches, 80 yards down the field. They motivated him and ran with him toward the end zone. Sepp crashed into the end zone, falling into the arms of a teammate.
"I had no expectations," Gray said. "This kid carried the ball for a touchdown."
Gray credited Brown and the Varina players for making Atlee's senior night special for Sepp.
"We learned more from him than what anyone thought we gave him," Brown, Varina's coach, said. "The definition of physical and mental toughness is Sepp marching 80 yards.

"It's the toughest 80-yard run I've ever witnessed. I'll tell you that."
Football has been a part of Sepp's life for awhile. He attended a camp with Gray when Gray was an assistant at Randolph-Macon. When Gray was hired at Atlee last year, Sepp was on the team. Those who know him say Sepp shatters any expectation you might have about what a kid with cerebral palsy can do.
On the football team, Sepp is like "a coach in a helmet," Gray said. He's smart and attentive, always giving advice to his teammates.
"It was pretty awesome," Gray said. "It just kind of worked out."
Brown added that it was on the senior's second carry that he went 80 yards. WTVR reports Shirey then collapsed as he crossed the goal line. His teammates helped him up.
Here's a video of the incredible moment:
---
Dubai plans face-scanning virtual aquarium tunnel at airport
Departing passengers will no longer have to trudge through a security checkpoint — which will be replaced with a virtual aquarium tunnel where their faces will be scanned, reported The National, a daily published in Abu Dhabi.
About 80 cameras will adorn the tunnel as the travelers walk through and enjoy the relaxing scene of colorful fish.
"The fish is a sort of entertainment and something new for the traveler but, at the end of the day, it attracts the vision of the travelers to different corners in the tunnel for the cameras to capture his/her face print," said Maj. Gen Obaid Al Hameeri, a foreign affairs official.
"The virtual images are of very high quality and gives a simulation of a real-life aquarium," he added.
At the end of the tunnel, travelers that are pre-registered will receive a green message that says "have a nice trip." But those who are wanted for some reason will get a red sign that will alert officials.
The "virtual border" will be installed by the end of next summer at Terminal 3. In phases up until 2020, the tunnels will be rolled out at other terminals, the news outlet reported.
More than 124 million passengers are expected to pass through all Dubai airports by 2020 so "we had to come up with more ways to co-op with the increase. Right now, we have 80 million," the general said.
---
Word of the Year?  Fake News!
(AP, November 3, 2017)  LONDON — After a U.S. presidential campaign dominated by charges of fake news, Collins Dictionary has designated the term the Collins Word of the Year 2017.
The word — two words actually — will be added to the next print edition of the dictionary.
Collins said Thursday the use of the term fake news rose 365 percent last year. It is defined as "false, often sensational, information disseminated under the guise of news reporting."
The term has been picked up by U.S. President Donald Trump, who routinely characterizes certain news reports as "fake news" in his tweets.
Collins' head of language content Helen Newstead said the term "fake news" has been inescapable this year.
Fake news has contributed to the undermining of society's trust in news reporting.