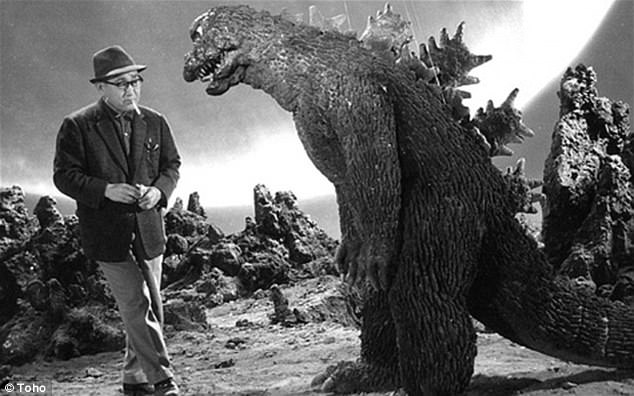 Haruo Nakajima, actor who played Godzilla, dies at 88
(by Brian Ashcraft, Kotaku .com, Aug. 8) – Haruo Nakajima, the suit actor who played Godzilla from 1954's Godzilla to 1972's Godzilla vs. Gigan, has died. He was 88.

Nakajima started his career playing small bit roles, but his big break was bringing Godzilla to life in its seminal debut. He would go on to play the character for the 12 consecutive films that followed over the next 18 years.

As Kotaku previously reported, Nakajima said he prepared for the role by studying how elephants walked. "At that time, there was an elephant from India there called Indira and I observed how it walked," he said in 2014. "So Godzilla's style of walking came from an elephant."

While the gig paid well, Nakajima said he didn't initially get the respect he deserved donning the 100 kilogram Godzilla suit. "Back then, people didn't speak positively of suit actors," says Nakajima. "There'd be whispers going around that working inside (a suit) is not an acting job." The character he played is one of the most famous in movie history.

[In an April interview, Nakajima explained how the original 1954 Godzilla costume was created from ready-mixed concrete — though other reports describe it as a special plastic — since commodities like rubber were in short supply after WWII. As a result, the actor was forced to wear a suit that weighed up to 100 kilos. Nakajima added that he was given little direction on how to portray the monster, and conducted his own research by studying animals in the Tokyo zoo.

Nakajima took on the monster role in more than just "Godzilla" films, however. As the principal suit actor for Toho, he also played Mothra in 1961 and King Kong in 1967's "King Kong Escapes," among many other Japanese kaiju roles such as "War of the Gargantuas" and "Frankenstein Conquers the World." In his later years, Nakajima attended Japanese monster conventions, including several across the United States, and wrote a Japanese language autobiography "Monster Life: Haruo Nakajima, the Original Godzilla Actor," which was published in 2010.

"Godzilla" has gone on to become a monster classic. It spawned three Hollywood remakes, in addition to 29 original Toho films.]

According to Sponichi Annex, Nakajima died in August after contracting pneumonia.

Watch the video "The Man Who Was Godzilla" below:
---
Michigan couple, both 99, celebrate 80th wedding anniversary
(by Eliza Murphy, ABC News, June 28) – Donald and Vivian Hart, both 99 years old, ate cake and reminisced about their 1937 wedding day with their closest family and friends.
Donald Hart recalled their ceremony being a "small wedding," celebrating alongside his bride with the song "'When Your Hair Has Turned to Silver" by Perry Como.
"Now we fulfilled the song we've been singing. It seems to have come so suddenly," Donald Hart told ABC News of the sentimental lyrics, "When your hair has turned to silver I will love you just the same."
She explained that "music is special" to them, which made the spontaneous moment when Donald Hart serenaded her with a rendition of Bing Crosby's "Let Me Call You Sweetheart" at their anniversary celebration even more magical.
"I used to sing it quite a bit when we were going together," Donald Hart recalled of their relationship. "It was the song that came to mind on our anniversary."
The Harts' secret to a successful marriage?
"Make sure the relationship is honest. Try to do what's right in God's eyes," said Donald Hart. "It's good to laugh together. Have fun with each other, but don't make jokes at the expense of the other."
"Always be sure to put God first in your life," Vivian Hart added. "Be always willing to help and stay alert to your spouse. We have prayer every day together in the morning and the night. We don't keep our mind on our troubles."