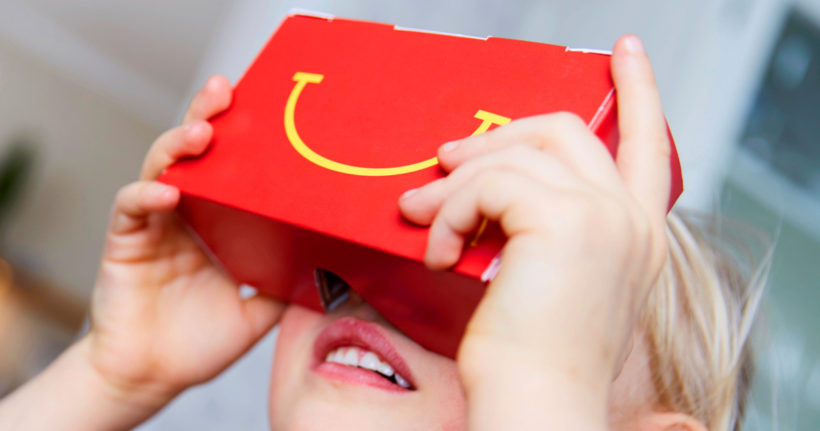 Sweden Serves Up Happy Meal With a Side of Virtual Reality
(The Wall Street Journal, March 1, 2016) – McDonald's in Sweden has redesigned its iconic red and yellow cardboard boxes to transform into virtual reality headsets. Unfold the box, refold the box, insert a smartphone and voilà: Happy Goggles. McDonald's also developed an immersive video game to be played on the headset.
The device, which diners can get with their burger and fries, is based on the same design as Alphabet Inc.'s Google Cardboard model that uses the smartphone as a screen.
"We're trying to be a modern and progressive burger company," said Jeff Jackett, marketing director of McDonald's in Sweden. "It's not a joke."
Currently there are no plans to bring Happy Goggles to the U.S., but McDonald's corporate headquarters is interested in the concept, Mr. Jackett said.
The Happy Meal has come under fire in recent years for enticing children with junk food and toys. McDonald's has changed the Happy Meal menu to include more healthy options. And Mr Jackett said the new box-as-toy is educational.
Traditional promotions at McDonald's have involved partnerships with entertainment toy partners. This time, however, Mr. Jackett said the company wanted to find a way to reach the early digital adopters in the Nordic country.
"Our customers are so tech savvy. This is the world they live in," Mr. Jackett said.
McDonald's hired a Swedish game developer to create an especially Swedish video game for Happy Goggles. Called "Se Upp I Backen," or "Watch Out on the Slopes," the game features a slalom ski course populated with bunnies and other rodents. The player can navigate the course in a 360-degree virtual reality perspective, allowing them to look around at the ski run. The Swedish national ski team endorsed the game.
Watch a news report: