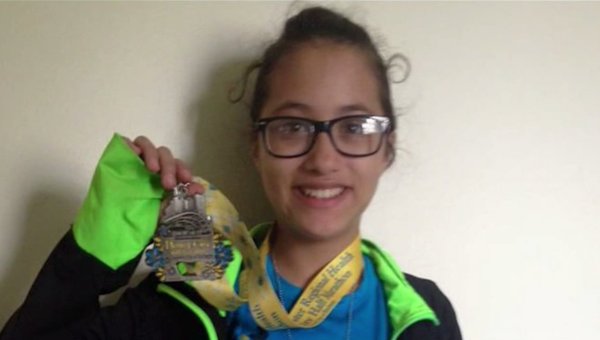 12-year-old girl accidentally runs half marathon after signing up for a family-friendly 5K run
(London's Daily Telegraph) – LeeAdianez Rodríguez, a 12-year-old student from New York was worried she was going to be late when she went to the starting line of her race.
She set off with everyone else and started running.
However, she accidentally left 15 minutes early – with a group of people running the Rochester Regional Health Flower City Challenge, which is over 13 miles long.
The 5K she was due to embark on was a little over 3 miles – meaning she ran 10 miles extra without questioning it.
She finished 13.1 miles in 2:43:31, according to race results.
She placed 1,885th of 2,111 finishers and was among the youngest to run the race.
Brendalee Espada, her mother, lost track of her daughter when she went to park the car.
When she got to the starting line, her daughter was gone.
"She gave me a really big scare," Espada told the Democrat and Chronicle.
She searched for her daughter for nearly two hours.
"She just wanted to finish the race," Espada said. "Two hours after I started looking for her, I see that one of the officers found her. And I see she has a medal."
She said her daughter loved the race and the support she got from fellow runners.
"It was such a scary moment, but rewarding for her in the end," Espada said. "I don't even know how she did it. I'm so proud of her."
---
Police teach seniors to use canes for protection
(Local ABC affiliate WPBF, Miami) – For nine Monday mornings, a group of nine seniors in Boca Raton, Florida had been working on self-defense skills rather than sleeping in.
They've been meeting with members of the Boca Raton Police Department at the Police and Fire Training Facility at 6500 Congress Ave. to learn how to use their canes to defend themselves.
Officer Gwynne Friters, who's with the Boca Raton Police Crime Prevention unit, said the course is called Cane-Fu.
"The certifying body out in Lake Tahoe, Nevada, did trademark the term Cane-Fu, a self-defense system intended and targeted for senior citizen and those who are mobility impaired," said Friters.
Students Harry Freedman and Tom Lieberman like the course.
"The course helped us with situational awareness, be aware of your surroundings when you're walking outside the house, and be a little more alert so you can be prepared for any situation should it occur," said Freedman.
"It gives you a feeling of what you can do to protect yourself, how to react, how to get out of something, how to know when to hand something over real quick just to avoid the whole problem and get on with your life," said Lieberman.
Students in the class swing their canes at a dummy while they scream out for help.
Officer Brandon Eames said students are first taught situation awareness.
"We start teaching using the actual moves within Cane-Fu which is actually the last resort. We want to do things that prevent us from needing to use those moves to begin. We talk about situation awareness: 'Am I putting myself in good position?' "Going with well-lit area, and if that doesn't work, comply, give them your wallet, but if you comply and they are still aggressive, that's where the Cane-Fu moves come in," says Eames.
"Our senior population is feeling more vulnerable, so this training is empowering them to understand they can fight and defend themselves," said Friters.
Officials say the course is not just for anyone who uses a cane.
Watch a news report: