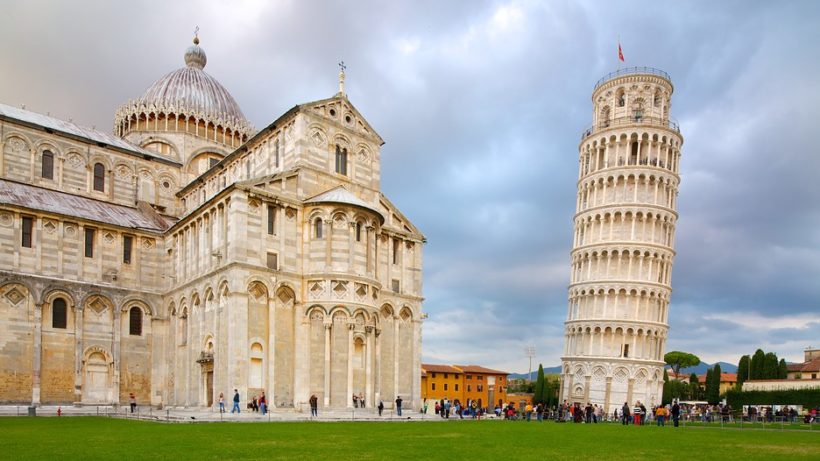 (by Lia Eustachewich, NY Post) – Italian officials aim to drum up more tourism near the Leaning Tower of Pisa — by bringing in a Ferris wheel as tall as the landmark for a trial run this summer.
The ride will be about a five-minute walk from the 165-foot-tall landmark, built in what now is a parking lot, The Local reported. And it could become a permanent fixture based on its popularity, officials said.
Andrea Ferrante, the city's cultural commissioner, told Italian TV last month that he hoped the ride would show tourists "there's more than just the tower. The whole city is beautiful."
A temporary ferris wheel will be built in what now is a parking lot and could become a permanent fixture based on its popularity.
The ride will offer visitors gorgeous views of Pisa, and even a peek of the Mediterranean coast. backers touted.
But the new attraction was blasted by Italia Nostra, which campaigns for the protection of the country's cultural heritage.
"London has a very modern spirit, with skyscrapers and huge buildings," group president Mariarita Signorini told Il Corriere della Sera, referring to the UK's ride, the London Eye. "In the city of the tower, a wheel with a [164-foot] diameter doesn't make any sense."
---
'Cutest quokka ever': Australian marsupial looks joyful as it jumps towards man
(by Jonathan Pearlman, London's Telegraph, Feb. 27, 2017) – A photograph of a small native Australia animal leaping towards a camera has gone viral and been described as "the cutest quokka snap ever".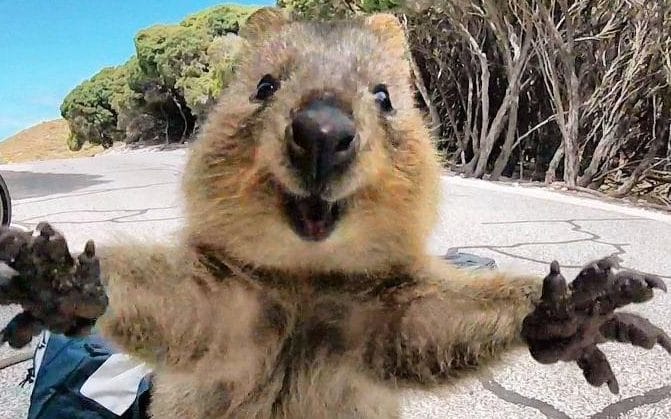 The image of the quokka – a small tree-climbing wallaby – was taken by Campbell Jones, 21, during a visit to Rottnest Island, off the coast of south-west Australia.
Mr Jones said he had been bike riding on the island and stopped to take out his camera when the quokka approached.
He said it appeared only to be happy to be the subject of his photographs.
"As I walked back to my bike, the quokka chased after me," he told Channel Seven. "I put down the GoPro [camera] and it jumped at me as if to say come 'come back'."
The image was warmly received on social media, with one commenter on Instagram saying: "This shot will end depression".
Another said: "What have you done to [make that] quokka love you so much?!".
Quokkas are known as one of Australia's most photogenic and friendly-looking creatures.
They are found on several islands and in bushland around the city of Perth but their numbers on the mainland have declined due to wildfires and predators such as foxes introduced from Europe.
In recent years, the creatures have become a popular attraction for visitors to Rottnest Island, near Perth, where there are about 8,000 to 12,000 quokkas.
"They [the quokkas] just walk up to you," Mr Jones said. "They are pretty friendly little things. We just went down to take photos of them and snagged [captured] a beauty, I suppose. It has been humbling that so many people wanted the photos."
Watch a video of a baby and mother quokka eating:
---
German Prison Serves Inmates McDonald's
(from Deutsche Welle/AP) – Police in the western German town of Bergisch Gladbach have been ordering takeaway McDonalds for inmates after a food supply contract fell through at the start of March, local media reported on Monday.
The inmates of the short term facility are given the choice of a hamburger, a cheeseburger or a veggieburger for lunch and a McToast with cheese, ham and bacon for breakfast, Cologne tabloid "Express" reported. Bigger burgers were reportedly too expensive.
The inmates mark off their choices and officers pick up their orders from a McDonalds nearby, it reported.
The catering business cancelled the prison contract shortly after its main client in the town, the local hospital, ended its business dealings with the firm. So a quick replacement needed to be found.
"The location and the round-the-clock availability made us decide in favor of McDonalds," police spokesman Richard Barz told local paper "Bergische Landeszeitung."
In 2016 the police distributed approximately 300 meals to inmates, with 642 people spending time in the cells, the paper reported.
The state interior ministry told "Express" that McDonalds did not fit regulations and was an "emergency solution."
Police spokesman Richard Barz told the newspaper Bergische Landeszeitung that the location and the round-the-clock availability made them decide on McDonald's.