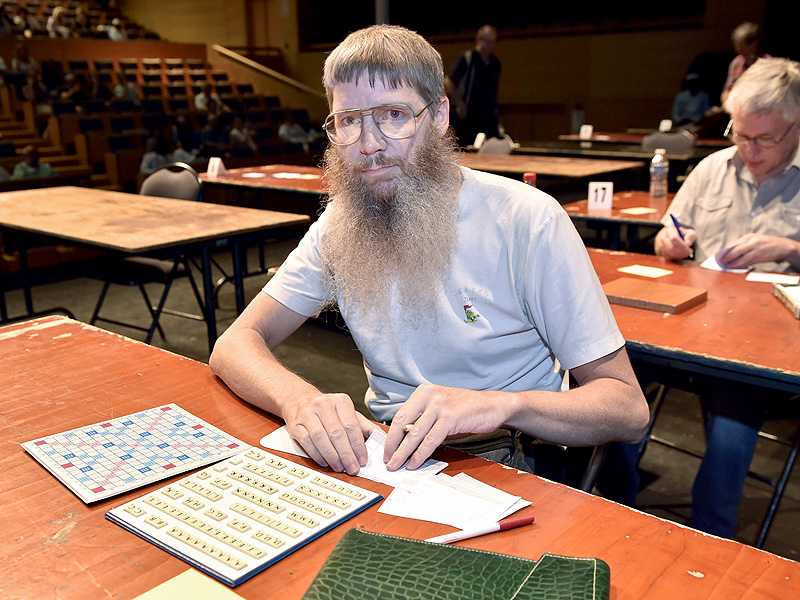 New French Scrabble champion doesn't speak French
New Zealand native Nigel Richards has reached a new zenith of accomplishment by winning the French-language world Scrabble championship, without being able to speak French.
Born in New Zealand and residing in Malaysia, the 48-year-old man with an enigmatic beard has beaten all records since he began placing his letters on the board: Three-time world champion of the English-speaking world, five times US champion, even winning twelve titles in the King's Cup champion in Bangkok – the greatest competition in world scrabble.
On Monday, July 20, he added a line to his impressive record and a feat of arms to his legend by becoming World Champion of Francophone Scrabble, after memorizing all possible words in the official French scrabble dictionary, from two to 10 letters.
Scrabble is a word game in which up to four players can score points by placing tiles in crossword fashion that eventually form a word onto a game-board which is divided into a grid of squares. The words must be defined in a standard dictionary.
Nigel Richards wasted no time learning the language and merely memorized the French dictionary in nine weeks. In the three-hour final of the classic he was able to defeat his Gabonese opponent, the French speaking Schelick Ilagou Rekawe, winning the best of three sets (370-427, 484-376, 565-434). Spectators in Leuven, Belgium, where the tournament took place, were especially impressed with the Kiwi's performance in the second innings when he challenged his rival to use of a form of the verb "fureter" (to snoop).
"He is a non-francophone, I can confirm," Vice President of the Belgian Federation of Scrabble, Yves Brenez, said after Richards victory was announced. "Nigel will say 'bonjour' with an accent and he can also give the score in French, which is obligatory, but that's all," he told FranceTV.
"The challenge was a bit crazy, but he learned French vocabulary in only nine weeks. He's a fighting machine. To him words are just combinations of letters. I'm perhaps exaggerating a bit, but he comes up with scrabbled that others take 10 years to know," Brenez added.
"He doesn't speak French at all, he just learned the words," former president of the New Zealand Scrabble Association, told the New Zealand Herald. "He won't know what they mean, wouldn't be able to carry out a conversation in French I wouldn't think."
Author of a book about the subculture of tournament Scrabble, Stefan Fatsis, compared Richards to "Tiger Woods at his peak."
"Basically, what he does is, he looks at word lists and looks at dictionary pages … he can conjure up the image of what he has seen. He told me that if he actually hears a word, it doesn't stick in his brain," Fatsis told NPR.
What makes Richards' achievement even more impressive is that the French Scrabble has 386,000 words in comparison to North American Scrabble which uses a bank of 187,000 words.
The French Federation of Scrabble even paid tribute to Richards posting an English message on its all-French website, reading, "Congratulations Nigel, you're amazing.".
---
South African man reunited with stolen Toyota Corolla after 22 years
A South African man has been reunited with his first car which was recovered 150 miles away in "mint" condition, 22 years after it was stolen from the capital Pretoria.
Derrick Goosen's Toyota Corolla 1.6 GL was stopped by police at a road block in the northern province of Limpopo last November. With the chassis and registration numbers scratched off, police were initially at a loss as to how to find its owner.
But one, Warrant Officer Kwakwa Ntokola, persevered, having the car worked on at the pound for several months until they found the original identification numbers hidden in the bodywork.
Trawling through old police records, he found the original theft report, and contacted its owner in Centurion, 150 miles away.
Mr. Goosen said he was dumbfounded to finally get word of his beloved first car.
"I received a call from Officer Ntokola from the vehicle theft unit to ask if I was driving such a car back then. Old memories came back and we started the process of fetching the car," he told the News 24 website.
"People can't believe it. If a car is stolen a year ago, you go to the police pound and you find a skeleton there but this car was very well looked after. It's still in mint condition."
Mr. Goosen was just 23 when his car was stolen and had not yet got round to insuring it. He reported it missing at the local police station but, with car theft among the most common occurrences in crime-blighted South Africa, never expected to get it back.
Police believe the car was used as a taxi for some time before it was sold to an unsuspecting police traffic officer.
Mr. Goosen, 45, said he intends to re-register his old car under his name. "I will give it a nice polish and keep it," he said. "The car was of sentimental value to me. I loved it and I am grateful I've found it."
He praised the actions of "exemplary" Officer Ntokola who has served for 26 years with the South African Police Service, a force very often in the headlines for corruption or heavy-handedness.
"It's not the whole police force that is corrupt, there are people like Warrant Officer Ntokola and people can learn a lot from him," he said.
The officer replied that he was "just doing my job". He now intends to track down the car's thief.
---
World's oldest message in a bottle washes up in Germany after 108 years at sea
A message in a bottle thrown into the sea 108 years ago by British scientists has been discovered washed up on a beach in Germany.
It is believed to be the oldest message-in-a-bottle ever found.
Marianne Winkler, a retired post office worker, found the message from the past while on holiday with her husband on the North Sea island of Amrum.
Mrs. Winkler found the bottle in April, but was shy of publicity and the full story has only now emerged.
"It's always a joy when some one finds a message-in-a-bottle on the beach," she told the Amrum News, a local website.
"Where does it come from, who wrote it, and how long has it been travelling on the winds, waves and currents?"
But when Mrs. Winkler stumbled on her message-in-a-bottle, she had no idea quite how old it would turn out to be.
Written on a piece of paper inside were the words "Break the bottle".
"My husband, Horst, carefully tried to get the message out of the bottle, but there was no chance, so we had to do as it said," Mrs Winkler said.
Inside they found a postcard with no date but a message promising a reward of a shilling to anyone who returned it.
The message, in English, German and Dutch, asked anyone who discovered the bottle to fill in some information on where and how they found it.
The return address was the Marine Biological Association in Plymouth.
"We did as it asked, and the story took its course," said Mrs Winkler.
The couple sent the postcard to Plymouth in an envelope to avoid it getting damaged in the post.
"It was quite a stir when we opened that envelope, as you can imagine," Guy Baker, communications director at the Marine Biological Association, said.
It turned out the bottle was one of 1,020 released into the North Sea between 1904 and 1906 by George Parker Bidder, a former president of the association.
Bidder released the bottles as part of a project to find out about deep sea currents.
The bottles were specially designed to float just above the sea bed, so they would be carried by the currents deep below the surface.
"It was a time when they were inventing ways to investigate what currents and fish did," Mr Baker said.
"The association still does similar research today, but we have access to technology they didn't have, such as electronic tags.
"Many of the bottles were found by fishermen trawling with deep sea nets. Others washed up on the shore, and some were never recovered."
With the data from the bottles that were found, Bidder was able to prove for the first time that the deep sea current flowed from east to west in the North Sea.
He also discovered that plaice generally swim against the deep current – valuable commercial information for the fishing trade.
"Most of the bottles were found within a relatively short time," Mr Baker said. "We're talking months rather than decades.
The association had long given up hope of any more being traced.
"It's not as if they come in and dribs and drabs," Mr. Baker said. "I don't know when one was last sent in, but I don't think it was for very many years."
It is thought the postcard Mrs Winkler discovered may be the oldest message-in-a-bottle ever found.
"We're still waiting for confirmation from the Guinness Book of Records," Mr. Baker said.
The current record-holder spent 99 years and 43 days at sea. It was released in 1914 as part of a similar scientific experiment and found in 2013 in a fishing trawler's net.
It is impossible to tell whether the bottle has been at sea for all that time, or was washed up long ago and buried in sand, or even lay simply unnoticed, he said.
But the association made sure of one thing: Mrs Winkler got the shilling reward promised in the note.
"We found an old shilling, I think we got it on eBay," said Mr Baker. "We sent it to her with a letter saying 'Thank you'."
From RT and London's Daily Telegraph.