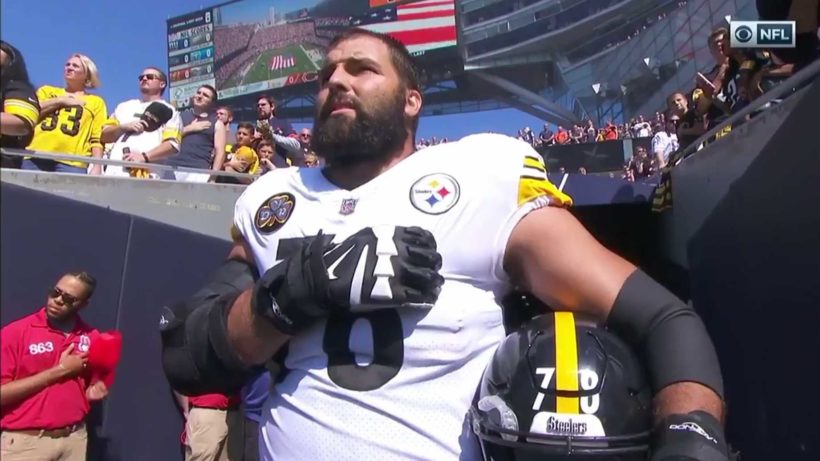 The entire Pittsburgh Steelers team remained in the locker room during the national anthem, with the exception of one player: Army veteran Alejandro Villanueva, who plays offensive tackle for the Steelers.
While the rest of his teammates remained in the locker room, Villanueva stood in the tunnel holding his helmet in his left hand and holding his right hand over his heart as the anthem played.
Villaneuva played in college at West Point Military Academy before going on to become an Army Ranger. He served three tours in Afghanistan and was awarded the Bronze Star Medal for Valor.
He was signed by the Philadelphia Eagles in 2014 before eventually joining the Steelers.
An NFL .com article earlier this year said that Villanueva first caught Steelers head coach Mike Tomlin's eye "because of the way he stood during the national anthem."
NFL players around the league have been kneeling in protest during the national anthem after former player Colin Kaepernick in 2016 first sat, then later "took a knee" to protest "police brutality," racism and oppression of minorities in America. He said, "I am not going to stand up to show pride in a flag for a country that oppresses black people and people of color."
A large number of Jacksonville Jaguars and Baltimore Ravens players knelt during the national anthem during their game in London on Sunday, but remained standing during "God Save The Queen."
In a 2016 interview, Villanueva said,
"I agree that America is not perfect, I agree there are lot of issues with minorities in this country, I agree we should do something about it. But I don't know if the most effective way is to sit down when the national anthem of the country that is providing you freedom and providing you $60 million a year is the best way to do it when there are black minorities that are dying in Iraq and Afghanistan and protecting our freedom for less than $20,000 a year."
Denver Broncos defensive end Derek Wolfe also told ESPN he would be standing during the national anthem Sunday because he wanted to be "paying tribute to the men and women who have given their lives for our freedom."
"I stand because I respect the men who died in real battle so I have the freedom to battle on the field…but everyone these days likes to find a reason to protest and that's their right," Wolfe told ESPN, according to The Washington Post.
Some players said they did not stand for the national anthem following President Trump's remarks that any player who doesn't stand for the national anthem should be fired.
What do you think? As the President of the United States, should President Trump call out these privileged elite players for disrespecting our national anthem? If a professional athlete is unhappy about the country, what is the best way to use his popularity to make a difference? Is this it?
Resources
Watch a CBS report from May 2014: