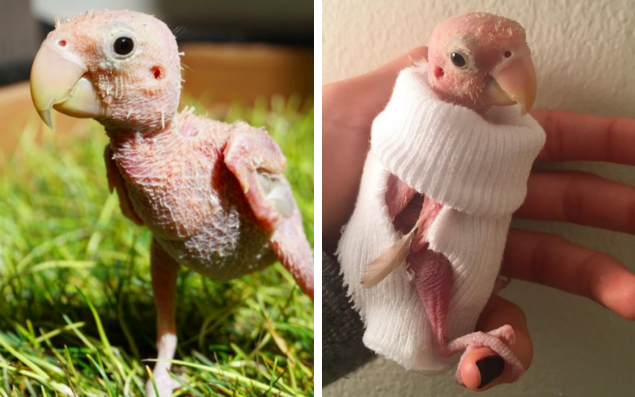 (London's Daily Telegraph, 9/16/16) – Fans of Rhea the naked lovebird have been sending her custom sweaters so she doesn't get cold.
The little bird has a disease which means she is permanently bald.
Her disease sometimes causes birds to lose their claws and beaks – but luckily this hasn't happened to Rhea.
She is two years old and is owned by 23-year-old Isabella Eisenmann, who lives in Boston, US.
The friendly bird has over 67,000 fans on Instagram, who love her unusual appearance.
Some of them have sent in custom sweaters to keep her warm in lieu of feathers.
Ms Eisenmann was told about Rhea by her vet.
The featherless bird needed a new home, and she was happy to provide one.
Despite being about to graduate from college, and not yet knowing what her future held, she took on the responsibility of caring for the bird.
"They called me and told me that I was first on the list and they wanted me to keep her," she told BuzzFeed.
"The next day she came back with me and it's been amazing since then."
Rhea doesn't need much unusual care – just a yearly blood test and to be kept warm.
"When she has a sweater on she feels super cozy and is super calm," Ms Eisenmann told the website.
Rhea can't be around other birds – but she gets along very well with Ms Eisenmann's Yorkshire Terrier.
The little bird loves to make new friends, to walk around and to sing.
---
Picture shows how much simple kindness can matter
(Tallahassee.com, 8/31/16) – It's truly amazing how such a small gesture of kindness can resonate with so many of us isn't it?
Even if we didn't know the backstory of the now-famous Travis Rudolph picture, even if we didn't have Leah Paske's touching Facebook post, the picture alone would be enough to make us smile.
A middle-schooler, with no other classmates at his lunch table, has a college football player sitting right across from him instead. Making sure, at least for this day, he didn't have to eat alone.
We all can relate to this, right? The popular. And the unpopular.
Immediately upon seeing the picture I was taken back to my own middle-school cafeteria experiences. I bet you might have been, too. Always hoping someone would sit by me. Always hoping that I had friends in that lunch period who had saved me a seat. Because there was nothing worse, in my adolescent mind, than eating lunch by myself.
I was lucky enough to be a semi-popular kid in school. I wasn't in that crowd necessarily, but I could give a head nod to some of them in the hallway and they'd give one back.
Bo's life isn't like that. He's autistic. And according to his mom, Leah, he typically eats by himself at lunch. Which, as the father of third-grader, just breaks my heart to think about.
But it's also why the picture is so beautiful.
For one day, Bo wasn't alone. He had a buddy sitting right across from him chowing down on pizza. Talking to him about life and football.
And the best part about it? Travis Rudolph had no idea his picture was going to be taken. He certainly had no idea that Good Morning America and ESPN and virtually every national outlet in the country would celebrate his gesture.
He just did something nice to do something nice. It happened to get him some great publicity but that certainly wasn't his intent. And that's what makes it so special. He could have sat anywhere he wanted in that cafeteria. He could have been on his cell phone in the parking lot. Or in the gym.
Instead he chose to sit by the kid who was all by himself.
How can you not be touched by something like that?
Everything that has happened since — the picture going viral and Bo and Leah being invited by ESPN to be in Orlando on Monday night for the Ole Miss game — is great. It's wonderful. But it's also, to an extent, manufactured.
Florida State obviously wants Rudolph to be celebrated for this. And ESPN and others are excited to tell the story. But from here on out everything will have some sort of angle.
Whether to promote the talented junior receiver or to have Tom Rinaldi try to make us cry over piano music, the moment is now for everyone else. To celebrate and smile and share on social media. And there's nothing wrong with that at all. It's a great story. It should be shared. A lot.
But on August 30th it was just them. Nobody else.
A middle-schooler with autism. A talented football player with national championship dreams. Eating lunch together.
One of Leah's friends happened to snap a picture of the two of them and send it to her. A little while later Leah shared the moment on Facebook. Then the internet exploded.
In her post Leah admitted she had no idea who Rudolph was. So she had no way of knowing that he's a former five-star receiver who will almost certainly be in the NFL one day soon.
All she knew, all she cared about, was that a young man sat down with her son. The kid that was usually alone at lunch time all of the sudden had the most popular person in the cafeteria right across from him.
"I'm not sure what exactly made this incredibly kind man share a lunch table with my son," Leah wrote. "But I'm happy to say that it will not soon be forgotten. This is one day I didn't have to worry if my sweet boy ate lunch alone, because he sat across from someone who is a hero in many eyes. Travis Rudolph thank you so much, you made this momma exceedingly happy, and have made us fans for life!"