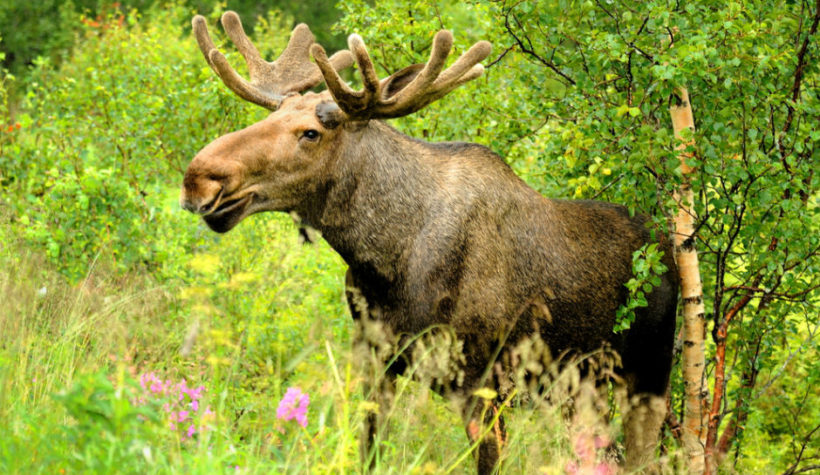 Norwegian hunter shoots two large moose — then realizes they were in a zoo
Majestic creatures abound at the Polar Park Arctic Wildlife Center in northern Norway, where lynx, wolves and bears inhabit a large expanse that on first glance appears to be pure wilderness.
"More than a traditional zoo," the park styles itself as a natural habitat meant to give visitors genuine encounters with the Norwegian outdoors above the Arctic Circle.
Now, it seems this design may have proven a little too convincing.
Earlier this month, CNN reports, a hunting party with specially trained dogs came to the boundary of the park on the lookout for moose. One of the dogs followed the animals' scent underneath a fence, inciting a hunter to take a shot in the same direction.
What he didn't realize was that he was shooting through a fence into the Polar Park's wooded moose enclosure.
A bullet passed through one moose and lodged in the stomach of another, according to CNN. The first was killed by the shot and the second had to be euthanized later.
"We can't explain what happened, but probably the hunter must have been so eager that he didn't think," said park CEO Heinz Strathman.
"I was surprised. I had my mouth open for a while," he said. "This has never happened before — and I don't think it will happen ever again. It is one of a kind."
The hunters must have realized their mistake quickly, as the group's leader informed park staff of what happened. While the hunter's name has not been released, police said he was a local man and was being questioned.
Superintendent Katrine Grimes told CNN the man could be prosecuted under Norway's Wildlife Act, which regulates humane hunting.
Polar Park will not be pressing charges, though they have asked the hunters to pay the costs: one moose is worth $3,500, Strathman said.
In Norway, hunting is a popular but strictly regulated activity. Norwegian hunters must be over 16, skilled in handling firearms and take a hunting proficiency test.
---
Video from 1950s shows beavers parachuting
BOISE, Idaho — More than half a century after a group of beavers parachuted into the Idaho backcountry, officials have uncovered footage of the quirky wildlife management moment.
The Idaho Department of Fish and Game was struggling with an overpopulation of beavers in some regions in the 1940s when wildlife managers settled on a novel idea. They captured beavers and other furry rodents, packed them into special travel boxes, attached parachutes and dropped them from a plane into the Frank Church River of No Return Wilderness.
Animal lovers, take heart — it appears all the beavers made it through their flying adventures unharmed.
The film made around 1950 and dubbed "Fur for the Future" showed the infamous beaver drops, but it had long been lost, Boise State Public Radio reported Thursday.
Fish and Game historian Sharon Clark recently uncovered the fragile film, which had been mislabeled and stored in the wrong file. It has been digitized and released on YouTube by the department and the Idaho Historical Society.
Trapping and transplanting beavers still happens today — but in less dramatic fashion.
"We haven't done airplane drops for 50-plus years, but it apparently worked pretty well back then to re-establish them in remote places," said Steve Nadeau, Fish and Game's statewide fur bearer manager.
The agency now moves beavers to the Owyhee desert, in the state's southwest corner, to help restore vegetation stripped away by years of watershed use. Nadeau says the goal is for beavers to make ponds in the region, which can hold water year-round.
Watch a clip from the video:
---
Former doctor wrote 150,000-word autobiography by BLINKING
A 62-year-old woman from Chengdu, south west China, has proved that determination can overcome the most debilitating of diseases.
Gong Xunhui is virtually frozen into her body by progressive motor neurone disease (MND) and can no longer mover her body or speak.
However, through millions of blinks, the former doctor has managed to type out a 150,000 word biography, reported People's Daily Online. Now, the first time author hopes to use the proceeds for charity work.
Gong had to overcome more than just the physical impacts of the disease to write her biography.
As she tells her story to reporters, by tapping out words and sentences with her eyes, she reflected over happier times.
Gong met her husband Zhang Cunrui in 1976 after being introduced by her grandfather. They fell in love almost immediately and were wed in a simple ceremony just five months later.
Life was good for many years and the couple had even set up a successful chain of dry cleaning shops and had a baby boy.
But then, tragedy struck.
In the autumn of 2002, Gong started to experience the first symptoms of the progressive illness that would come to run her life.
Her illness went unchecked for almost a year.  Eventually, a doctor diagnosed her with the motor neurone disease – the same disease that paralysed Stephen Hawking. She was given three to five years to live.
She and her husband spent a long time lamenting over their fate as the illness progressed and Gong went from feeling ill to becoming almost completely paralyzed.
As a result of the disease, Gong is only able to move her head now and can no longer speak.
She became completely dependent on her husband and must even be spoonfed.
The gloom didn't last forever.
'I don't want to submit to fate,' Gong announced to her husband one day, 'I'm still alive. I want to continue to live my life and not wait for death.'
From that day, the couple began working on her autobiography.
For someone who could only move their head, the writing process is extremely difficult but was made possible with the help of technology.
A video camera placed in front of Gong captured the movement of her eyes, which in turn directed a program on a computer used to type out words and sentences.
The process is extremely slow and time consuming.
For Gong, each day started at 8am and finished at 10pm. Her day in front of the computer was split between writing her biography and chatting to friends on QQ, a Chinese social network site.
Zhang revealed: 'She was determined to write. Everyday, she sits in front of the computer for more than 10 hours and uses her eyes to type out the words.
'Through blinking tens of thousands of times, she's able to type out a maximum of 3,000 words. She worked tirelessly for more than a year to complete the biography.'
The 150,000 word book, which is longer than the average novel, took over a year to write
Gong explained: 'The biography is not about how miserable my life is. It's about trying to encourage fellow sufferers and those trying to overcome setbacks in their lives. Setbacks makes life stronger.'
The first time author now hopes the proceeds of the book might be used to fund respirators for fellow motor neurone disease sufferers.
Watch a brief CCTV News video: