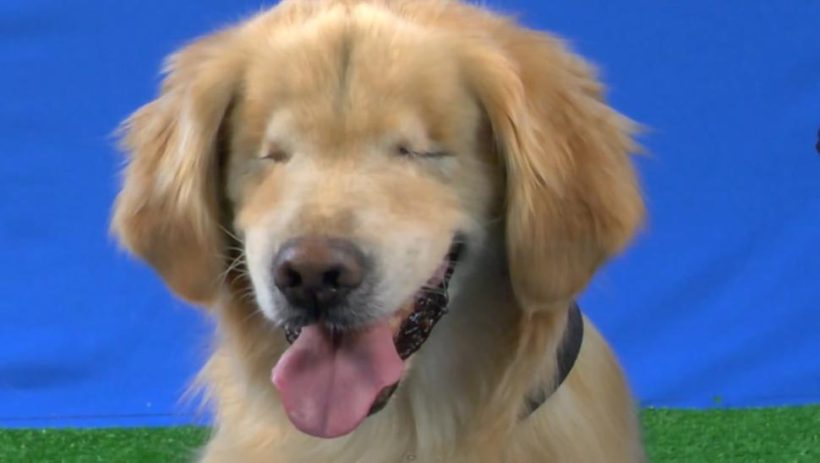 A blind service dog named "Smiley" will never fail to put a smile on people's faces.
Smiley, who was born with dwarfism and without eyes, was saved from a puppy mill and a death sentence at the age of two by his owner Joanne George.  Nearly a decade later, the dog's story is continuing to help others in need.
"People were so drawn to him, so inspired by him." George told CBS News. "I realized this dog has to be a therapy dog — I have to share him."
Shortly after George came to that conclusion, the dog became a certified therapy dog and joined the St. John Ambulance Therapy Dog program. The dog spends hours each day visiting patients at retirement homes, joining special needs kids for a library reading program and comforting patients at nursing homes near Stouffville, Canada.
For the past seven years, Smiley has been teaching people not to dwell on a disability, where you came from or what happened to you as a child.
"Dogs can come back from anything, they forget their past," George said. "We as humans, dwell on the past."
One of Smiley's visits to the nursing home was particularly memorable.
Teddy, a man that Smiley frequently visited in a nursing home, had no speech and was unable to communicate. But that didn't stop the dog from trying.
"One day, Smiley put his feet up in front of him and [Teddy] started smiling and making noise," George said. "All of the nurses rushed into the room and said they've never seen him smile — never seen any kind of reaction."
Now every time Smiley visits the nursing home, Teddy is the first person he sees.
"I think that's when I realized how truly inspiring he can be," George said.
George said the now 12-year-old dog's life is slowly coming to an end.
Smiley's changed the lives of hundreds of other men, women and children.
His fur may be getting a little whiter and his steps may be getting a little bit slower, but his "tail will never stop wagging."
Watch a CBS News clip on Smiley:
---
Indian bride walks out of wedding when groom fails math test
An Indian bride walked out of her wedding ceremony after the groom failed to solve a simple math problem, police said Friday.
The bride tested the groom on his math skills and when he got the sum wrong, she walked out.
The question she asked: How much is 15 plus six?
His reply: 17.

The incident took place late Wednesday in Rasoolabad village near the industrial town of Kanpur in northern Uttar Pradesh state, local police officer Rakesh Kumar said Friday.
The groom's family tried persuading the bride to return, but she refused. She said the groom had misled them about his education.
"The groom's family kept us in the dark about his poor education," said Mohar Singh, the bride's father. "Even a first grader can answer this."
Local police mediated between the families and both sides returned all the gifts and jewelry that had been exchanged before the wedding, Kumar said.
Last month, another bride in Uttar Pradesh married a wedding guest after the original groom had a seizure and collapsed at the wedding venue.
The groom's family had not revealed that the groom was epileptic. While the groom was rushed to a hospital in Rampur town, the bride asked one of the wedding guests to step in and married him.
Most marriages in India are arranged by the families of the bride and groom. Except for brief meetings, the couple rarely gets to know each other before the nuptials.
---
Brewers ban high fives to avoid spread of pink eye
The Milwaukee Brewers will have to find a new way to celebrate for the next few spring training games. The team has banned high fives to avoid the spread of pink eye.

Catcher Jonathan Lucroy and pitching coach Rick Kranitz became the latest victims Thursday. They will be staying home for 48 hours in hopes of stopping the spread of the annoying and highly contagious malady.
"We've been going through it for a while and it seems like a couple of more show up every day," manager Ron Roenicke said.
The team won't high five until the outbreak is over.
From Chicago Tribune and CBS News.