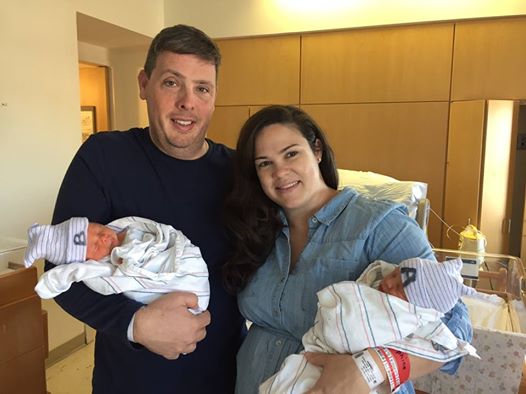 (By Fox News, NY Post, Nov. 12) – Talk to any twins you know, and you will likely find the one who was born first thinks he or she is entitled to the bragging rights of being the eldest. But for a pair of Massachusetts twins born early Sunday, November 6th, that usually obvious fact was thrown into question when one boy was born before the start of daylight saving time and the other after, technically making the latter twin the older brother.
Emily Peterson gave birth to the first baby, Samuel, at 1:39 a.m., before clocks turned back at 2 a.m., Cape Cod Healthcare shared on their Facebook page. Then, 31 minutes later, she delivered Ronan. Because Ronan's birth came after the time change, his official birth time was 1:10 a.m., not 2:10 a.m.
The West Barnstable couple thought the time change could be an issue when they headed to the hospital.
"I said earlier that night that they were either going to be born on two different days or the time change was going to come into play," Seth Peterson, a trooper with the Massachusetts State Police, said, according to the hopsital's Facebook page.
Deb Totten, a maternity nurse at Cape Cod Hospital, said the Peterson twins' birth is the first such instance she's seen in more than 40 years of nursing.
---
Carrot unearths man's long-lost wedding ring
(UPI News, Nov. 10) – An 82-year-old man from Germany found his lost wedding ring wrapped around a growing carrot after losing the band in his garden three years ago, according to German news outlet WDR.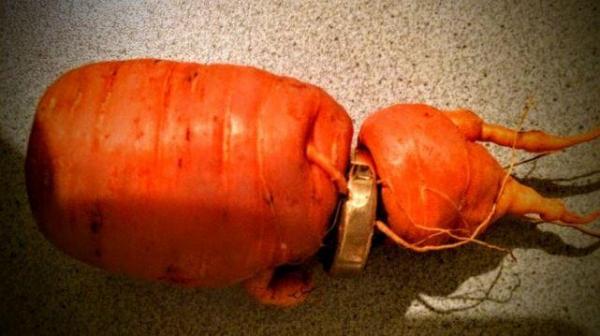 The man said his wife reassured him the ring would reappear after it fell into the dirt while he was gardening shortly after they celebrated their 50th wedding anniversary.
Six months after his wife's death, the ring surfaced.
After finding the ring around the middle of the carrot, the man said that sometimes "you reap what you sow."
---
Slovak brothers win burial competition with fastest, neatest grave
(Reuters, Nov. 10) – Two brothers from Slovakia won a grave-digging competition at an international exhibition of funeral, burial and cremation services on Thursday.
Ladislav and Csaba Skladan, aged 43 and 41 respectively, dug a grave 1.5 meters deep, two meters long and 90 centimeters wide in 54 minutes in the western Slovak town of Trencin, beating 10 other two-member teams from Slovakia, Poland and Hungary as a small audience cheered loudly.
Their grave was also the neatest, a five-member jury agreed.
"We want to show and appreciate the hard work of grave diggers," said Ladislav Striz, who established the contest last year.
"Most Slovak graveyards are so crowded and spaces between graves so narrow that we need human diggers instead of machines," he said. "They work hard, come rain, come snow."
"I am happy we won, it's a satisfaction after fifteen years in this job," Csaba Skladan said.
"I had to focus on speed today but usually, when the weather is nice and I can chat with my brother, it's a dream job," added Ladislav Skladan.