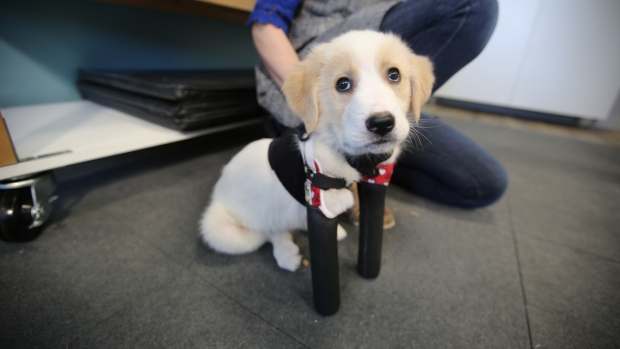 (By Lakshine Sathiyanathan, Canada's CBCNews, Feb. 9, 2017) CANADA – Born without front legs, a puppy in Toronto was tied up in a bag and left to die in a trash bin at just a few weeks old.
Thankfully, someone passing by heard his whines.
He was brought in to the Dog Rescuers Inc, who decided to call him Cupid – thanks to his heart-shaped nose.
They gave Cupid plenty of TLC, made sure he was well-fed, and set to work on helping him to recover.
They noticed that his tail was disfigured and that his missing paws made it incredibly difficult for him to stand, walk.
The Dog Rescuers worked with PawsAbility to fit Cupid with brand new prosthetic front legs, made just for him.
Cupid's new legs are two aluminum pieces covered with leather and lined with soft fabric, that fit close to his body with a special suspension vest. For now, they're fitted with special ski-style feet that work as training wheels to help Cupid learn how to walk.  He'll need to work on building the muscles in his back leg as well as his core, and will need to break out of his habit of resting on his back legs and leaning backwards.
Slowly, he's making progress.
Cupid's currently living in a foster home while he gets used to his new legs.
Watch a report from Canada's CBC News:
---
China officials punished for dozing in motivation meeting
(by Ben Blanchard, Reuters, Feb. 9, 2017) – Six officials in central China's Hubei province have been punished for dozing off in a meeting on "how to motivate lazy bureaucrats", state media and the local government said.
Pictures of the sleeping officials have received widespread coverage in Chinese media over the past few days, amid President Xi Jinping's sweeping crackdown on "corruption, extravagance and dereliction of duty."
The Communist Party discipline bureau in Hubei's Xiangyang city on Thursday named the mid-level officials and said they had to write self-criticisms and make public apologies.
The Global Times said on Friday the officials had, ironically, been attending a "meeting on how to motivate lazy and sluggish officials."