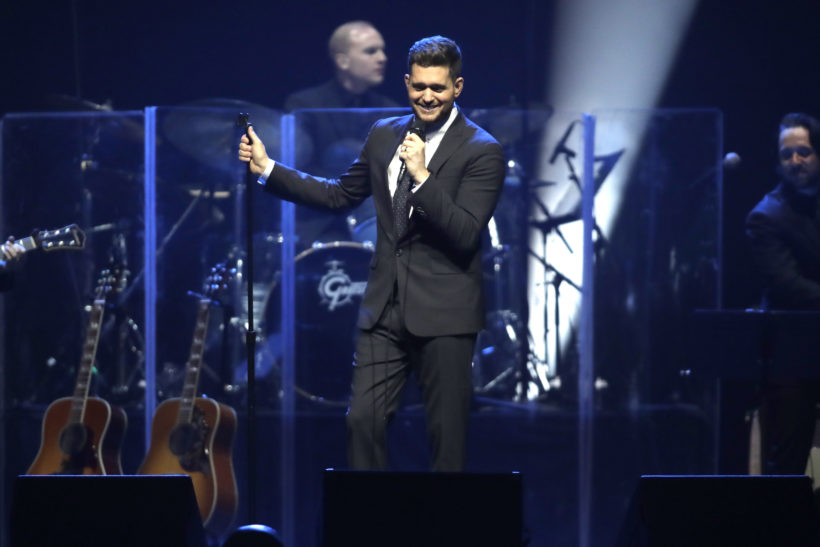 (By Christine Burroni, NY Post Page Six, Oct. 13, 2018) – Michael Bublé said he will be leaving the industry after his son's cancer battle gave him a new perspective on life.
"This is my last interview," he told the Daily Mail in an emotional conversation published Saturday. "I'm retiring from the business. I've made the perfect record and now I can leave at the very top."
Bublé, who's new album, "Love" is set to be released in November, discussed the trauma and hardship he endured while his son, Noah, suffered from liver cancer after his 2016 diagnosis.
"I don't even know how I was breathing," he said, adding that Noah's time in hospital changed his mindset and priorities. "I didn't question who I was, I just questioned everything else."
The 43-year-old also recalled trying to make the best of a bad situation with his wife Luisana Lopilato by calling the hospital "the fun hotel," and making tents out of bed sheets for his son.
Discussing the struggle of balancing his career and caring for his son, Bublé said sweating things like ticket sales made him rethink his priorities.
"The diagnosis made me realize how stupid I'd been to worry about these unimportant things," he said. "I was embarrassed by my ego, that it had allowed this insecurity.
And he's staying away from the news and social media.
'And I decided I'd never read my name again in print, never read a review, and I never have. I decided I'd never use social media again, and I never have," adding that he got caught up in "celebrity narcissism."
The "Beautiful Day" singer has talked before about ending his music career during his son's illness.
"I truly thought I'd never come back to music," he said in July.
Five-year-old Noah is now in remission. The couple are also parents to 2-year-old Elias and also welcomed a baby girl, Vida, in July.