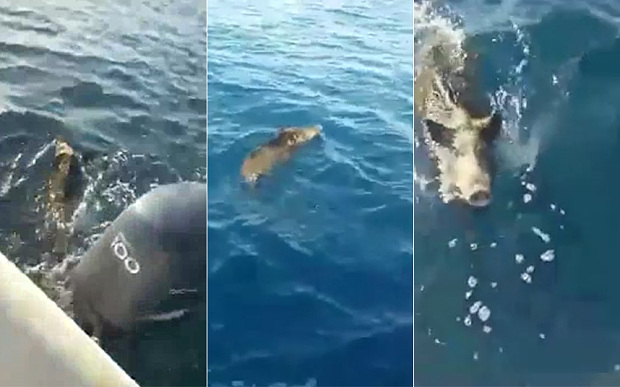 Fishermen find boar swimming four miles offshore
Italian men fishing four miles offshore shared video of their "absurd" catch — a boar swimming in the sea.
Although it is unknown how the animal got there, it definitely was not tired as it evaded capture from the men several times.
Despite being just under four miles off the coast, the boar was still treading water and the boat was forced to circle it more than once before they could lasso it and bring it onboard.
Once on the boat it proved hard to control as it allegedly rammed the sides until it reached the shore, where it then ran off into a pine forrest.
Watch the video:
---
Man injured by 16-pound pine cone suing for $5 million
A $5 million lawsuit filed in San Francisco alleges a man taking a nap in a public park suffered a brain injury when a 16-pound pine cone landed on his head.
The lawsuit, filed Sept. 4 in San Francisco federal court, alleges Washington state resident Sean Mace was napping under a tree in San Francisco Maritime National Historical Park Oct. 12 of last year when a 16-pound seed pod, or pine cone, fell from a coniferous Araucaria bidwillii tree and landed on his head.
The Araucaria bidwillii, native to Australia and better known as a bunya pine or false monkey puzzle tree, can grow seed pods measuring up to 16 inches in diameter and weighing up to 40 pounds.
Mace was taken to San Francisco General Hospital, where doctors conducted surgery to relieve the pressure on his brain from internal bleeding. The lawsuit says he needed a second surgery five days later.
"This guy has an irreversible brain injury and he's only in his mid-50s," Johnson told the San Francisco Chronicle. "He's had two surgeries already and he is going to need a third."
Court papers state Mace suffered "traumatic brain injury, with severe and likely irreversible cognitive deficits."
The lawsuit, which names the U.S. government, the National Park Service, the Department of the Interior and San Francisco Maritime National Historical Park, says there were no signs posted to warn visitors about the possibility of dangerous falling pine cones and no fences to keep park-goers away from dangerous areas.
The suit says warning signs and orange fences were installed after Mace's injury.
Johnson said he was unable to find a similar incident in researching the case.
"I've not found another case that is factually similar," Johnson told KNTV. "This is relatively novel."
---
Tacoma high school stadium rapidly floods in 'epic rain storm'
A student at a Washington state high school captured footage of the school's football stadium rapidly filling with water during an "epic rain storm."
The video shows water streaming through the stands and rapidly turning the grass of the football field into a giant puddle during what Wrzesien described as an "epic rain storm."
Tacoma Environmental Services said .42 inches of rain fell on the stadium in the space of only 10 minutes, far more than the facility's drainage pipes could handle.
School officials said the water ended up several feet deep. They said the facility will be closed for repairs until at least February.
"The recent storms kind of caught us by surprise," Dan Voelpel of Tacoma School District told KOMO-TV. "We didn't think the storm drainage system would overflow like it did and then lead to a torrential downpour right into the stadium."
From London's Daily Telegraph and UPI News.