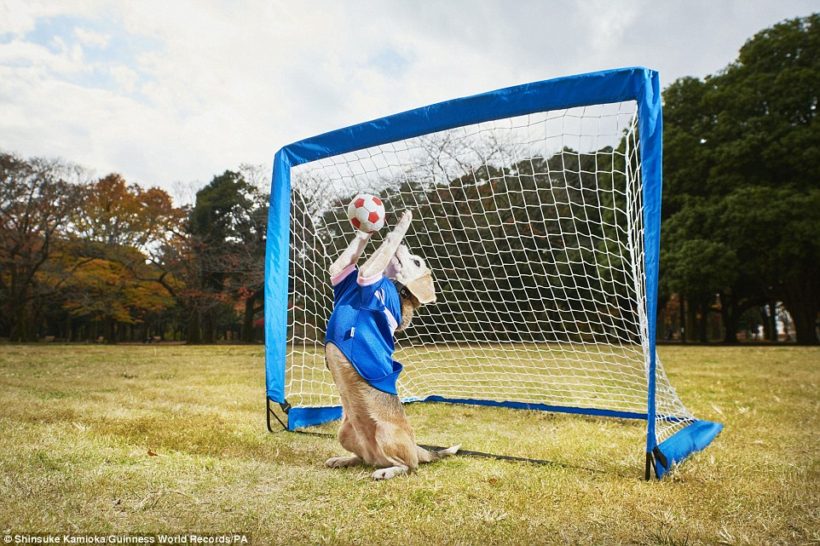 Guinness' most amazing new records
Guinness World Records announced on Thursday a selection of its most amazing new records featured in its latest edition.
After months of research and traveling the globe to compile the book, the iconic publication recognizes an array of human achievements and talent from the animal kingdom that will fascinate knowledge-seekers of all ages and interests.
The most balls caught by a dog with the paws in one minute is 14 and was achieved by 9-year-old Purin the beagle and her owner Makoto Kumagai (Japan).
Rampaging reptile Bertie, from Durham, UK is revealed as the world's fastest tortoise, achieving a speed of 0.28m/s (0.6 miles/hr) and breaking a record held since 1977.
The widest horn spread on a steer category was hotly contested this year, with Lazy J's Bluegrass (USA) horns measuring a whopping 293.8cm (9.64 feet) to beat his nearest contender by just 5.7cm (2.24 inches).
Watch a Telegraph report:
---
NJ pizzeria dishes up free food to police to counter 'hate, violence'
The owner of a Hamilton New Jersey pizzeria is dishing out his thanks and appreciation — one slice at a time.
During the month of September, DeLorenzo's Pizza is offering free meals to local uniformed police officers.
Rick DeLorenzo, the second-generation owner of the family-owned business, said he had grown tired of hearing about cops being targeted and woke up wanting to do something to counter the hate and violence.
"I never experienced anything but good things from the police officers that I've known," he said. "I wanted to do something to change the flow, give them a little positive reinforcement."
The response from supporters on social media and customers has been overwhelming, DeLorenzo said. He appeared on "Fox and Friends" Sunday and was given a shout-out on Twitter by Republican presidential candidate Texas Sen. Ted Cruz.
Over the weekend, a few State Police troopers who had come in were unaware of the deal but appreciative.
For years, the restaurant has given police and firefighters a 25-percent discount.
"I'll see how it goes," he said about possibly extending the free offer. "I didn't really figure it out financially. It just came out of my heart."
Watch a TV interview:
---
A woman walks into a police station…
An elderly woman who walked into a police station last Monday surprised officers with her unique request.
She picked up a dispatch phone in the lobby of the Lake Arbor police station in Arvada, Colorado, to ask for a hug.
After listening to the woman explain how she was upset with the recent loss of officers across the country, including slain Fox Lake police Lt. Charles Joseph Gliniewicz, dispatch complied and radioed-in to officers.
Within seconds, a sergeant responded: "This is Cruiser 12 — I'll come get that hug."
But another officer managed to beat him to it.
Chris Steiner, a 20-year veteran and decorated officer, turned out to be the "lucky recipient."
When the white-haired woman saw Steiner, she got up from her chair with her arms wide open and gave him a hug.
"Not once, but twice," the police department said on its Facebook page.
It was an unusual request, Jill McGranahan, public relations coordinator for the Arvada Police Department, admitted.
"It meant a lot to Chris; it meant a lot to all of us," McGranahan told CBS News. "We were all pretty moved by it."
Watching the white-haired woman with her arms stretched around Steiner's large frame was a moment McGranahan could only describe as "moving."
"It feels good to be recognized for the hard work we're trying to do here," she said.
From UK's Daily Telegraph, CBS News and NJ.com