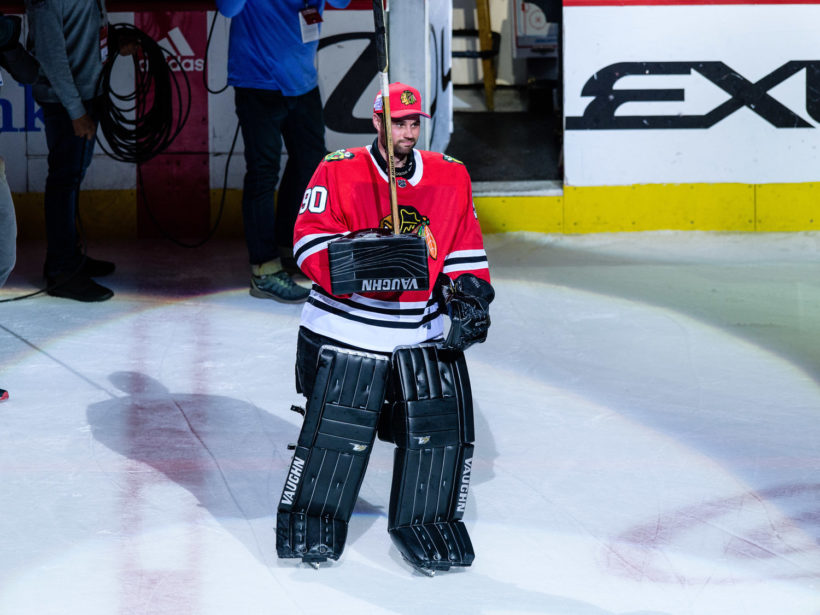 Accountant Called In As Emergency NHL Goalie
(by Laurel Wamsley, NPR, March 30, 2018) – Scott Foster is a 36-year-old accountant who lives in Oak Park, Ill. More than a decade ago, he was goalie on Western Michigan's hockey team. These days he plays in a rec league at a rink called Johnny's Icehouse.
That rink is just a few blocks east of the arena where the Chicago Blackhawks play — and where, on Thursday night, Foster became a legend.
Just before faceoff against the Winnipeg Jets, the Blackhawks tweeted that they had signed Foster to an amateur tryout contract to be the team's emergency backup goaltender: EBUG, for short. The team pointed to his .875 save percentage at Western Michigan University and his earlier career for the Petrolia Jets of the Western Ontario Hockey League.
The one-day contracts are generally unpaid, and Foster, a father of two young children, has come to the United Center before to be on call as backup goalie.
"Usually," he said, "I just head upstairs, watch the game from the press box, have a bite to eat, and head home."
The Hawks needed to have Foster around, just in case, because they were a little shorthanded on goalies since their standout netminder, Corey Crawford, is injured and Anton Forsberg got hurt just before the game.
Then fill-in goalie Collin Delia, making his own NHL debut, had to leave the game in the third period due to cramping.
That left just one man to preserve the Hawks' lead.
"I don't think I heard anything other than, 'Put your helmet on,' " Foster said later.
With Blackhawks coach Joel Quenneville grinning, Foster took the ice.
And he stopped one shot after another — seven times blocking the Jets' attempts to score.
The fans in the United Center began chanting his name.
With Foster's able handling in the net, the Hawks sealed the win, 6-2.
"The initial shock happened when I had to dress," Foster told delighted reporters after the game. "You just kind of black out after that."
Foster even won the team belt, which goes to the player of the game.
"I think I'm just about hitting my prime," he joked.
For the moment, he has incredible (if minimal) stats: his save percentage is 1.000. That's even higher than the Hawks' Corey Crawford, who has twice won the NHL's goalkeeping trophy.
So where does the beer-league-turned-big-league hero go from here?
Back to work.
"You think there'd be a lot of pressure," Foster said. "But, really, tomorrow I'm going to wake up, I'm going to button up my shirt, and I'm going to go back to my day job. So what pressure is there for me?
"You just keep grinding away in men's league, and eventually you'll get your shot," he deadpanned.
His men's league, by the way, was very proud.
Watch a March 30 news report on the Nashville Predators emergency backup goalie and his response to Scott Foster's opportunity to play:
---
Trash collector's backflip caught on home's security camera
(by Ben Hooper, UPI news, Feb. 13, 2018) — A Texas trash collector was caught on an amused homeowner's security camera doing a backflip on a discarded mattress.
A video posted to a Rowlett community Facebook page shows Demarian Henderson, a collector for FCC Trash and Recycling, loading a recycling truck outside the home where the security camera was rolling.
Henderson bounces on a discarded mattress at the side of the road for a few seconds before getting back to work — and then back to the mattress.
"I dump the can, then I wanted to go back to the mattress because it looked fun! So I got my bounce. Then I hit my backflip!" Henderson told WFAA-TV.
Henderson said locals have started recognizing him from the video.
"A lady came up, she was like 'Are you the one who did the back flip?' I'm like 'Yeah that's me,'" Henderson said.
Watch a news report, which includes the backflip video:
---
Super-hot chili pepper sends man to the hospital with "thunderclap" headaches
(By Ashley Welch, CBS News, April 9, 2018) – If you're thinking of entering a hot chili pepper eating contest, you might want to think twice, doctors caution. Their warning comes after treating a young man in the hospital who suffered excruciatingly painful headaches after eating a "Carolina Reaper," long considered the world's hottest chili pepper.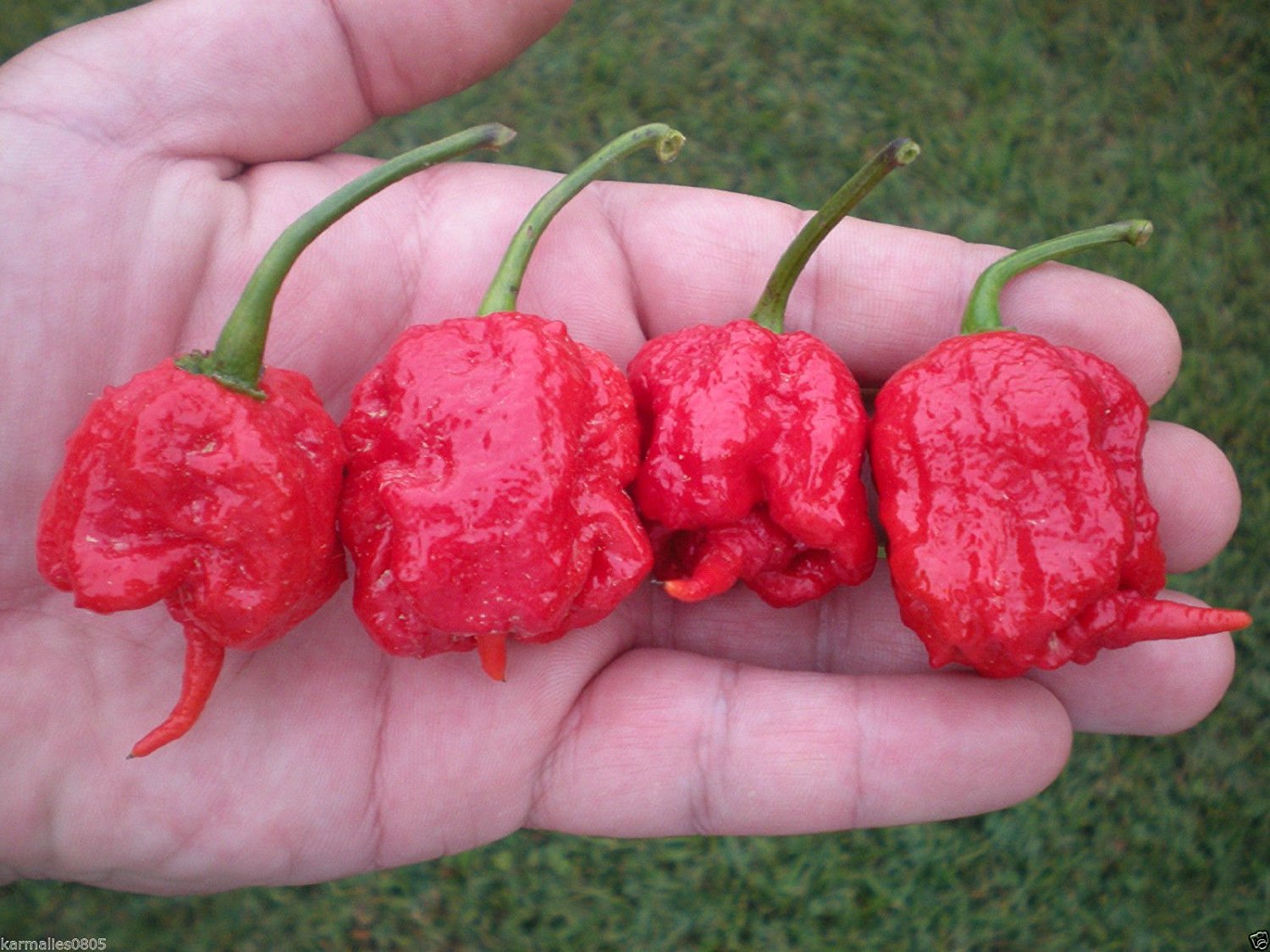 In a case study published in the journal BMJ Case Reports, doctors describe a 34-year-old man who came to the emergency room after the onset of a thunderclap headache — a severe and sudden pain in the head. The pain began with dry heaves immediately after eating the chili pepper.
"It started all of a sudden as severe pain in the back of the neck and then spread to all over the head," study author Dr. Kulothungan Gunasekaran, of Henry Ford Hospital in Detroit, told CBS News. "That's typical of a thunderclap headache."
Over the next few days, the man kept getting these brief but excruciating headaches. They only lasted a few seconds each, but the pain was so severe he went to the ER. Gunasekaran was one of several doctors who treated him.
The patient was tested for various neurological conditions, but the results came back negative.
Then a CT scan showed several of the man's arteries in his brain had constricted, which led to a diagnosis of reversible cerebral vasoconstriction syndrome, or RCVS. This condition is characterized by a temporary narrowing of the arteries accompanied by a thunderclap headache. It doesn't always have a specific cause, but it can be brought on by certain prescription medications or after taking illegal drugs.
This is the first case to be associated with eating chili peppers. Neurologist Dr. Gregory H. Cummings made the diagnosis after reviewing scientific literature and finding that eating cayenne pepper has been linked to sudden constriction of the coronary artery and even heart attacks.
"Given the development of symptoms immediately after exposure to a known vasoactive substance [substances that cause constriction of blood vessels], it is plausible that our patient had RCVS secondary to the Carolina Reaper," the authors wrote.
The patient's symptoms cleared up on their own and a follow-up scan five weeks later showed the affected arteries had returned to their normal width.
Doctors say the case report should make other health care providers aware that RCVS can be brought on by eating chili peppers. Consumers should also be vigilant about the risks if they attempt to eat a Carolina Reaper, Gunasekaran cautions.
"For people who eat this chili pepper and then experience these symptoms, this kind of thunderclap headache, seek medical attention as soon as possible," he said, "because while our patient came out of this with no issues, in very rare cases RCVS can lead to stroke."
The Carolina Reaper scores a sky-high 1.6 million on the Scoville heat scale, which measures the concentration of capsaicin in peppers. It held the Guinness Book of World Records title for world's hottest pepper until a challenger called the Dragon's Breath came along last year with a 2.48 million on the Scoville scale.
---
93-year-old finally makes a hole-in-one
(by Brandon Hannahs, Times Recorder, May 15, 2018) ZANESVILLE, OHIO – Two aspects of Ben Bender's life – faith and golf – came together for his final round on the course.
The 93-year-old, who has hip bursitis, used his 5-wood to make [his first-ever] hole-in-one on the third hole last month at Green Valley.
Bender, who was born in Zanesville, Ohio, only played a few more holes before walking into the clubhouse and telling Green Valley manager Steve Galloway that he was done.
Hearl Cubbison witnessed Bender's shot.
"I'd come close to some hole-in-ones, but this one was level on the green before it curved towards the hole and went in," Bender said. "I was in awe watching it. I played a few more holes, but my hips were hurting and I had to stop. It seemed the Lord knew this was my last round so he gave me a hole-in-one."
The round wasn't going well, noted Galloway. He said Bender shot at least a 7 on the other five holes he played, but it just takes one shot to make it a memorable round.  "(Ben) shot 8 on 1 and 7 on 2 so you guessed it, a hole-in-one on 3," he said. "What an amazing feat by Ben (in his final round)."
Golf has been a part of Ben's life since he was 28. He said his first round was with some co-workers who played Jaycees and asked him to join. He bought Wilson clubs and a bag for $50 from the manager of a shoeshine shop and took to the course.
He was a student of the game. Bender, who was a moldmaker for Hazel Atlas and sold insurance for MetLife, played six days per week when he lived in Florida and became a 3-handicap golfer.
When he retired, Bender moved back to Zanesville and regularly played Green Valley.
"The second hole I ever played, I hit my drive towards a fence," Bender recalled. "When I got there, I was ready to put my ball on a tee when another guy said you can't do that. You can only tee it up when you drive it. I hit that ball and hopped out of the grass like a rabbit. "That's how I learned to play the game," he added. "We talked to each other and worked together. I enjoyed the game until the end." Golf gave him plenty, and it was fitting to cap his career with the rarest feat.
"I was lucky to play golf this long, but I never expected (a hole-in-one)," he said. "It was the last time I was able to play, and I think God had a hand in this. I loved the game and hate to give it up, but I can't play forever."