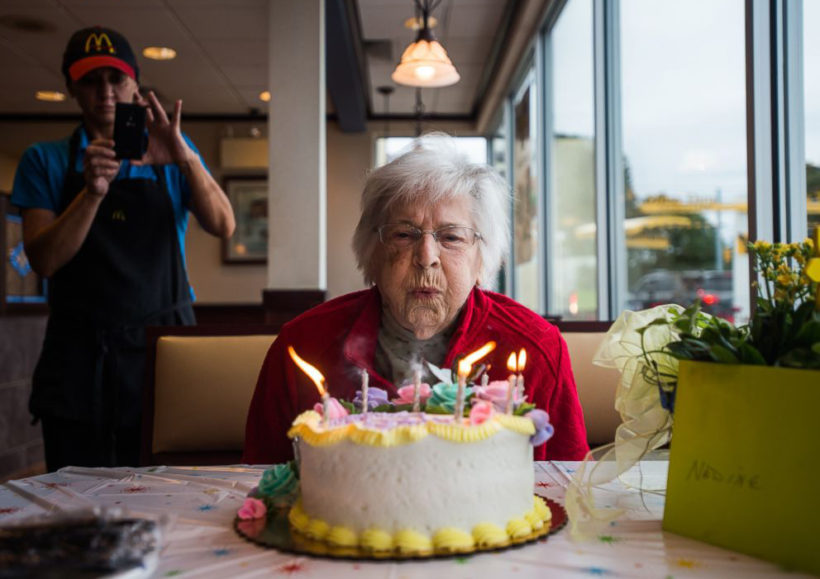 100-year-old woman gets free McDonald's for life
(NY Post, 10/18/16) – Who says McDonald's isn't good for you?
Nadine Baum, a centenarian from Hanover, Maryland [an ABC article states Hanover, Pennsylvania], credits her longevity in part to eating at McDonald's almost every day.
On Thursday, Baum visited a location on Baltimore Street in Hanover (one she usually frequents where the employees know her by name) with her son to have a quick lunch to celebrate a major milestone: her 100th birthday.
But when Baum arrived, she was shocked to find the store filled with balloons, flowers and even a customized birthday cake on her regular table. More friends and crew members gathered around Baum as she sat down to begin her meal.
The Evening Sun reports that Baum and her son Mike have been going to this particular McDonald's together for about five or six years. Lately, Nadine Baum's arthritis has made it more difficult for her to get around and she now uses a walker so they haven't going as often—but she makes the trip whenever she can.
"She gets around very well. She's got a great mind," McDonald's crew member Ginny Slaubaugh, who organized the surprise party, said. Over the years, Slaubaugh says she became great friends with the Baums after their frequent visits and even calls Nadine "mom."
General Manager of the Baltimore Street location Sean Patterson said he wanted to make Baum's 100-year milestone extra special.
In addition to the [cake], balloons, flowers and cards, the McDonald's team gave the centenarian one extra special gift: a certificate for a lifetime supply of free McDonald's.
"I just can't get over this," Baum said as she smiled and thanked everyone around her. "This is so wonderful."
After blowing out her candles, Baum enjoyed a Big Mac and then had a pierce of cake. Other favorites include the McCafe mocha frappe topped with whipped cream, which Patterson joked may just be Baum's secret elixir of youth.
But at the end of the Baum was just thrilled with her surprise.
"I don't know what I did to deserve all this," Baum said after thanking everyone for her celebration. "I count my blessings every day."
---
Fishermen catch whopper of a lobster
(NY Post, 10/19/16) — HAMILTON, Bermuda — Hurricane Nicole may have brought more than wind and rain to Bermuda. Two fishermen are crediting the storm with bringing in an enormous 14-pound spiny lobster.
Charter boat captain Matthew Jones tells The Associated Press he and one of his workers, Tristan Loescher, were fishing off the shoreline on Friday, the day after the storm blew through the island. Jones says Loescher thought he had a snapper on the line after it somehow got wrapped around a mooring. When Loescher went in closer to investigate, he instead spotted the huge crustacean.
Jones says it's one of the biggest lobsters he's ever seen. Loescher held up the lobster for pictures before releasing it back into the water.
Jones says spiny lobsters are known to head to shore before storms.