(World Scene from WashingtonTimes.com, from wire dispatches and Washington Times staff reports)
CUBA – Abuse screamed at protesters
HAVANA | Hundreds of government supporters surrounded a small group of Cuban dissidents as they marched through Havana Thursday on the seventh anniversary of the arrests of their loved ones, screaming abuse but otherwise allowing the protest to proceed peacefully.
The Ladies in White, most of them mothers and wives of some of the 75 dissidents arrested in the March 18, 2003, crackdown, have vowed to protest every day this week to call attention to the plight of political prisoners, many of whom have been sentenced to decades behind bars.
Cuba's human rights record has come into sharp focus since the death of dissident hunger striker Orlando Zapata Tamayo last month drew international condemnation. Cuba has issued a series of biting responses to the criticism, saying it will not give in to pressure.
State television broadcast a two-hour program Wednesday denouncing the foreign press for participating in what the government sees as a coordinated anti-Cuba campaign, with Spanish media groups singled out for the harshest criticism.
QATAR – Plan to ban export of bluefin rejected (photo to the right: bluefin tuna on the counter in a sushi restaurant in Japan)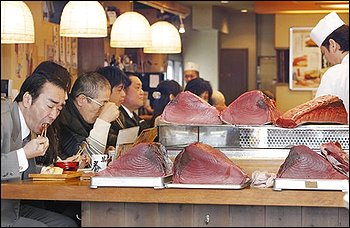 DOHA, Qatar | Fishing nations won a victory over environmentalists Thursday when a U.S.-backed proposal to ban export of the Atlantic bluefin tuna was rejected overwhelmingly at a U.N. wildlife meeting.
Japan won over scores of poorer nations with a campaign that played on fears that a ban would devastate their economies. Tokyo also raised doubts that such a radical move was scientifically sound.
In another blow to conservationists, a proposal at the meeting to ban the international sale of polar-bear skins failed to pass.
With stocks of Atlantic bluefin tuna down 75 percent because of the rapacious appetites of Japanese sushi lovers, the defeat of the proposal was a stunning setback for the Americans and Europeans and their conservationist allies, who had hoped the 175-nation Convention on International Trade in Endangered Species, or CITES, would protect the fish.
NIGERIA – Gadhafi's comment gets envoy recalled
ABUJA | Nigeria on Thursday recalled its ambassador to Tripoli after Libyan leader Moammar Gadhafi's "irresponsible" suggestion that the country be partitioned between Muslims and Christians.
Col. Gadhafi, until recently chairman of the African Union, proposed earlier this week that Nigeria follow the partition model of India and Pakistan as a way of ending repeated bouts of interreligious violence.
Pakistan was formed in 1947 after the Muslim minority of predominantly Hindu India founded their own homeland.
UNITED ARAB EMIRATES – Dubai hotel releases shark back into wild
DUBAI | A resort hotel on one of Dubai's man-made islands said Thursday it has freed a whale shark whose captivity had been criticized by environmentalists.
The Atlantis hotel on the city-state's Palm Jumeirah island said it released the 13-foot female shark into the Persian Gulf.
Whale sharks, the largest fish in the world, are considered a threatened species. Atlantis Vice President Steve Kaiser said the shark has been fitted with a satellite tracking tag to record its position for research purposes.
Environmentalists began calling for the shark's release shortly after the hotel announced it had rescued it from the shallow waters off Dubai's coast in 2008. The huge fish brought the luxury marine-themed hotel's centerpiece aquarium considerable publicity.
TURKEY – 20 from military held in coup plot
ANKARA | Turkish police on Thursday detained around 20 people in connection to a purported plot to topple the Islamist-rooted government, and the detainees included retired and active military officers, state media said.
The operation was part of an investigation into the Ergenekon network, a purported right-wing militant group that prosecutors say had planned to overthrow Prime Minister Recep Tayyip Erdogan's Justice and Development Party government, broadcaster NTV said.
The state-run news agency Anatolian said the detentions took place in eight cities and that the operation was still going on. There was no immediate word on their identities or ranks.
NOTE: The World Scene above was published at WashingtonTimes.com on Friday, March 19, 2010.
Copyright 2009 News World Communications, Inc. Reprinted with permission of the Washington Times. For educational purposes only. This reprint does not constitute or imply any endorsement or sponsorship of any product, service, company or organization. Visit the website at washingtontimes.com.
Questions
1. For each of the 5 countries, give the following information:
a) the continent on which it is located
b) the name of the capital city
c) the type of government
d) the chief of state (and head of government if different)
e) the population
[Find the answers at the
CIA World FactBook website
. For each country: type of government, capital and executive branch (chief of state/head of government) can be found under the "Government" heading; population is listed under the "People" heading. Go to
worldatlas.com
for a list of continents.]
2. For Cuba:
a) list the who, what, where and when of the news item
b) How did the Cuban government respond to international condemnation of its human rights record?
c) A group of Cuban dissidents recommend awarding this year's Nobel Peace Prize to the Ladies in White. Do you agree? Explain your answer.
(Read about it here.)
http://marcmasferrer.typepad.com/uncommon_sense/2010/03/cuba-dissidents-award-nobel-peace-prize-to-ladies-in-white-solidaritynow.html
3. For Qatar:
a) list the who, what, where and when of the news item
b) Bluefin tuna have been eaten by humans for centuries. However, in the 1970s, demand and prices for large bluefins soared worldwide, particularly in Japan, and commercial fishing operations found new ways to find and catch the bluefin. As a result stocks, especially of large, breeding-age fish, have plummeted, and international conservation efforts have led to curbs on commercial takes. Fishing nations from Africa, Asia, Latin America and the Caribbean complained that any ban would damage their fishing communities and that fears of the stock's collapse were overstated. What do you think: should the U.N. have passed a ban on exporting Atlantic bluefin tuna?
4. For Nigeria:
a) list the who, what, where and when of the news item
b) How did the Nigerian government view Gadhafi's proposal?
5. For the United Arab Emirates:
a) list the who, what, where and when of the news item
b) Why did the hotel release the shark if it was a popular attraction?
c) Do you agree with the hotel's decision? Explain your answer.
6. For Turkey:
a) list the who, what, where and when of the news item
b) For what reason was the group arrested?
We'd love to hear from you – what do you think of this world news briefs section? Email editors@studentnewsdaily.com with your comments.
Daily "Answers" emails are provided for Daily News Articles, Tuesday's World Events and Friday's News Quiz.