(from WashingtonTimes.com, from wire dispatches and Washington Times staff reports) World Scene
CHILE – Conservative leads in presidential voting
SANTIAGO | Right-wing billionaire Sebastian Pinera beat three leftists in Sunday's presidential election but failed to obtain a majority, setting up a runoff against a veteran of the coalition that has ruled Chile for two decades of democracy.
With 60 percent of the vote counted, the Harvard-educated Mr. Pinera had 44 percent to 30 percent for the ruling center-left coalition's candidate, former President Eduardo Frei. Breakaway Socialist Rep. Marco Enriquez-Ominami had 19 percent, and communist Jorge Arrate had 6 percent, according to nationwide results.
The trend was expected to roughly hold through Sunday's vote count, putting Mr. Pinera and Mr. Frei in a Jan. 17 runoff election where the key question will be whether leftists can unify to fend off the most moderate candidate Chile's right has ever had.
A runoff win by Mr. Pinera, 60, would install a right-wing government in Chile for the first time since Gen. Augusto Pinochet's 1973-90 dictatorship. But in a region now dominated by leftists, Mr. Pinera can't find the votes without persuading leftists to take a chance on him.
Chile's economy, negligible inflation and stable democracy are the envy of Latin America.
PHILIPPINES – Attacks, kidnappings rattle Muslim South
MANILA | Gunmen have freed 47 hostages in the southern Philippines, but it hasn't brought an end to the region's violence.
Officials say about 70 suspected Islamic radicals stormed a jail Sunday and freed dozens of inmates, including some accused of beheading marines. All are described as "high-risk prisoners."
The raid sparked a gunbattle that left two people dead.
The 47 freed hostages were among more than 75 people, including children, who were snatched Thursday by gunmen trying to evade police serving warrants for a string of charges, including murder.
YEMEN – Rebels call strike a massacre
SAN'A | At least 70 people were killed in a Saudi air raid on a Yemeni village near the border with Saudi Arabia on Sunday, Yemen's Huthi rebels alleged, declaring the attack a "massacre."
A spokesman for Yemen's army, Askar Zuail, confirmed air raids in the region but said they were carried out by Yemeni planes and targeted rebel positions and not civilians.
An Internet rebel statement said the attack was carried out Sunday morning against the village of Bani Maan in Razeh region of northern Sadaa province, the mountainous stronghold of the rebels.
The rebels said the raid killed at least 70 people and wounded more than 100.
SPAIN – Villages consider breaking away
VILAFRANCA DEL PENEDES | A smattering of villages and towns in wealthy, independence-minded Catalonia mulled the idea of breaking away from Spain in a symbolic surge of European separatism at the grass-roots level Sunday.
Skeptics called the nonbinding vote an exercise in futility for the proud region centered around Barcelona, which boasts a distinct cultural identity and accounts for about one-fifth of Spain's economy but says it get does not get enough in return.
But an umbrella group of civic organizations behind the referendum sees it as a way to assert the distinct identity of what they regard as a country within a country and to pressure politicians in Madrid and Barcelona to pay more attention to them.
The vote was held in 167 pro-autonomy hamlets, villages and towns. Catalonia, along with the Basque country, is a prime example of a region oppressed under the dictatorship of Gen. Francisco Franco, who made it a crime to speak in the regional languages in the interest of promoting Spain as a unified country run from Madrid.
IRAN – Oppositionists mock government charges
CAIRO | Supporters of Iran's opposition have posted hundreds of photos online of men in women's clothing to mock what they say was a government attempt to discredit a student leader by photographing him in a head scarf and woman's robe.
Majid Tavakoli was arrested in last week's large student-led protests after he gave a speech urging students to reject "tyranny," a call greeted by chants of "death to the dictator." Pro-government media said he put on women's clothing in an attempt to escape authorities around his campus but was caught.
The Fars news agency, which is close to the elite Revolutionary Guard military force, published photos of Mr. Tavakoli wearing a black chador, the all-covering dress worn by devout Muslim women, and a blue head scarf around his unshaven, downcast face.
Iran's opposition fired back over the past week by inundating Web sites such as Facebook with pictures of Iranian men wearing head scarves and chadors.
Mr. Tavakoli's supporters accused authorities of forcing him into women's clothing and photographing him in an attempt to humiliate the activist and discredit the opposition.
NOTE: The World Scene above was published at WashingtonTimes.com on Monday, Dec. 14.
Copyright 2009 News World Communications, Inc. Reprinted with permission of the Washington Times. For educational purposes only. This reprint does not constitute or imply any endorsement or sponsorship of any product, service, company or organization. Visit the website at washingtontimes.com.
Photos of Majid Tavakoli: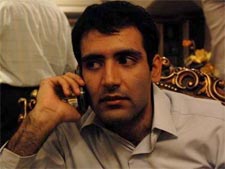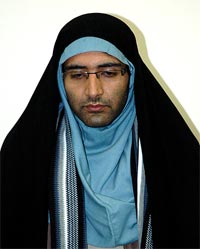 Questions
NOTE TO TEACHERS: We are trying something different for Tuesday's News Issue this week – news briefs from around the world. We'd love to hear from you – what do you think of a world news briefs section?
Email editors at StudentNewsDaily.com with your comments.
1. For each of the 5 countries, give the following information:
a) the continent on which it is located
b) the name of the capital city
c) the type of government
d) the chief of state (and head of government if different)
e) the population
[Find the answers at the CIA World FactBook website. For each country: type of government, capital and executive branch (chief of state/head of government) can be found under the "Government" heading; population is listed under the "People" heading. Go to worldatlas.com for a list of continents.]
2. For Chile:
a) list the who, what, where and when of the news item
b) What would be the significance if Mr. Pinera becomes the new president?
3. For Philippines:
a) list the who, what, where and when of the news item
b) Who does the government believe the gunmen to be?
c) To what religion do the majority of Filipinos belong? (see CIA World FactBook for the answer)
4. For Yemen: How does the Yemeni military report of an air raid contrast with Yemen's Huthi rebels belief about the attack?
5. For Spain:
a) list the who, what, where and when of the news item
b) Define referendum and autonomy.
c) What is the motive behind the referendum to declare autonomy?
6. For Iran:
a) Who is Majid Tavakoli?
b) How does the pro-government media's explanation for a photo of Mr. Tavakoli in women's clothes differ from that of Mr. Tavakoli's supporters?
c) When you see the photo of Mr. Tavakoli, who do you think is telling the truth?
d) What do you think of Mr. Tavakoli's supporters' actions to stand with him?
Resources
Watch a video made by supporters of Majid Tavakoli, which first shows a clip of his protest speech, then phots of him in women's clothing, and finally many photos of Iranian men who wore women's clothes to support Majid:
Daily "Answers" emails are provided for Daily News Articles, Tuesday's World Events and Friday's News Quiz.