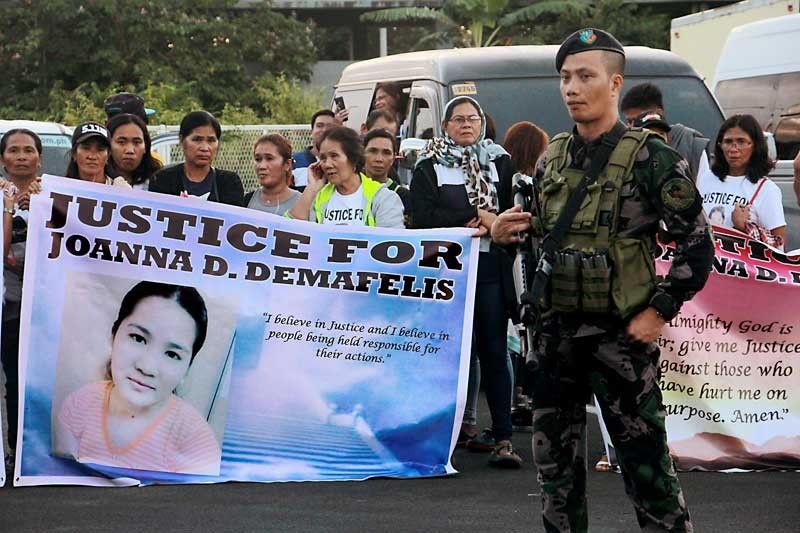 redo Jump to...
print Print...
(by Natasha Turak, CNBC) -Philippine President Rodrigo Duterte made permanent a temporary ban on his country's citizens traveling to Kuwait to work on April 28, following a series of abuse and murder cases involving Filipino victims.
The ban is being imposed despite the Philippines' reliance on remittance money from its Kuwait-based workers — 262,000 Filipinos are employed in the oil-rich Gulf sheikhdom, 60 percent as domestic staff.
Although the ban may prove financially painful to the impoverished nation of 103 million, Duterte sounded resolute in his decision.
"I would like to address to their patriotism: come home," the president said to his countrymen abroad. "No matter how poor we are, we will survive. The economy is doing good, and we are short of our workers."
A temporary ban on workers going to Kuwait was first imposed in February, triggered by the discovery [of the body of a Filipina maid, Joanna Demafelis], who had been murdered by her Lebanese/Syrian employers.
Numerous cases of abuse and assault, as well as unexplained disappearances of domestic workers, have been coming out of Kuwait and other Gulf states for several years, with Filipina women particularly at risk. [Why aren't the American women in their pink hats protesting these atrocities?]
Since 2016, 196 Filipino workers have died in Kuwait, and nearly 80 percent of those deaths were due to physical abuse, according to the Philippines' Overseas Workers Welfare Administration. In 2017, the Philippine embassy in Kuwait registered 6,000 cases of abuse, sexual harassment and rape.
Responding to the ban, Kuwaiti Deputy Foreign Minister Khalid Sulaiman Al-Jarallah expressed "the keenness of the State of Kuwait to protect the rights of all residents, including the Filipino community, within the framework of the labor laws in force in the State of Kuwait," according to a government statement translated from Arabic.
The minister also expressed his country's "willingness to cooperate with friends in the Philippines to look at ways to resolve all outstanding issues related to Filipino employment."
The two countries had been in negotiations to lift the ban, but this ended after Kuwaiti authorities arrested two Philippines embassy staff for allegedly helping maids flee their abusive employers. [A video surfaced in April of Philippine embassy staff helping workers in Kuwait flee an allegedly abusive employer. Duterte's government issued an apology after it was determined the Philippines broke diplomatic rules by smuggling domestic workers out of the country and Kuwait expelled Manila's envoy to leave the country and recalled their own.].
Kuwait then expelled the Philippine ambassador last Wednesday after he publicly criticized the abuses, and recalled its own envoy in Manila.
"There will be no more recruitment – especially for domestic helpers. No more," Duterte told local media. He added that if workers wanted to stay it was their choice, but said, "All I ask is that the employers treat the Filipinos with the humanity they deserve."
…Human Rights Watch…recommended the two countries…work together to pursue reforms, adding that, "Kuwait should confront the outcry over deaths, beatings, and rapes of domestic workers by taking immediate steps to reform the kafala system, which traps workers with abusive employers." The kafala system ties workers' visas to their employers, preventing them from leaving without their employers' consent.
Filipinos are one of the world's largest diaspora populations, with more than 10 million — that's one in ten — seeking work abroad. At home, one in five Filipinos live below the poverty line, according to the Asian Development Bank. Growth is looking up, however; the World Bank projected a maintenance of 6.7 percent growth until 2020, boosted by increased infrastructure spending and remittances.
Remittances from the Filipino global diaspora totaled $26.9 billion in 2016 — equivalent to half the country's total export revenue for the year. Roughly a third of that comes from the Middle East, particularly Saudi Arabia and the United Arab Emirates. Kuwait is the eighth-largest source of remittance revenues.
Migrant workers comprise two-thirds of Kuwait's population of 4 million, which has the highest migrant worker-to-citizen ratio in the Middle East. Kuwaitis rely heavily on domestic staff.
Duterte said in January, in one of his many public condemnations of the issue, "I do not want a quarrel with Kuwait. I respect their leaders but they have to do something about this because many Filipinas will commit suicide."
[As part of the ban, the Philippines plans to immediately bring back about 700 people who are now in temporary shelters, but Duterte also called for professional workers to come home to show support for their country. "I appeal to your sense of patriotism and to your love of country and family," he said.].
Published at CNBC on April 30, 2018.
Questions
1. For PHILIPPINES, give the following information:
capital

location/the countries that share its borders

the religious breakdown of the population

the type of government

the chief of state (and head of government if different) If monarch or dictator, since what date has he/she ruled? – include name of heir apparent for monarch

the population
Find the answers at the CIA World FactBook website. For each country, answers can be found under the "Geography" "People" and "Government" headings.
NOTE: Before answering the following questions, read the "Background" and watch the video under "Resources" below.
2. For PHILIPPINES:
a) list the who, what, where and when of the news item
b) What percent of the 262,000 Filipinos working in Kuwait are employed as domestic staff?
c) What are domestic staff?
d) Of the 192 Filipinos workers who have died since 2016, what percent of the deaths were due to physical abuse at the hands of their employers?
e) What percent of Filipinos work abroad, due to the bad economy in the Philippines?
f) What is the kafala system?
g) From the United Nations website: The term "human rights" was mentioned seven times in the UN's founding Charter, making the promotion and protection of human rights a key purpose and guiding principle of the Organization. In 1948, the Universal Declaration of Human Rights brought human rights into the realm of international law. Since then, the UN has diligently protected human rights through legal instruments and on-the-ground activities.
What should the UN do to protect the human rights of Filipino and other (mostly Asian and African) workers in the Middle Eastern countries that use the kafala system?
h) How successful do you think the UN has been in fulfilling its role in the world (as peacekeeper and in protecting human rights)?
Background
Rights groups have raised alarm over the plight of workers in the Gulf and other Arab countries, where migrant labor is regulated under a system known as "kafala" – tying migrant workers' visas to their employers and prohibiting workers from leaving the country or changing jobs without prior consent.
The system of kafala – which ties the legal visa status of foreign workers to their employer in many Gulf states – allows for financial exploitation and even physical abuse. It exposes foreign workers, often maids or other domestic workers, as well as construction workers, vulnerable to forced labor and other abusive treatment.
---
Why are Kuwaitis so wealthy that most can afford domestic servants?
Kuwait has nearly 10% of the world's oil reserves. Petroleum accounts for nearly half of GDP and 95% of export revenues and government income.
It also has a small population – only 3.36 million people. So its per capita income is very high.
As for skilled and experienced Kuwaiti (Engineers, Doctors, and Managers) the average monthly salary is hiked up tremendously, to an average of $10,000+ a month excluding living and other benefits. Kuwait is a tax free country. The Kuwaiti dinar is the highest-valued unit of currency in the world. (from wikipedia)
And from a Feb. 11, 2018 post at Quora by Farida Kapadia, who lives in Kuwait:
At the moment, foreigners have restrictions on buying property in Kuwait, although this law may change in the near future. Expats (foreign workers) should fulfill certain conditions in order to be allowed to own property in Kuwait. You must be a permanent resident in Kuwait with enough income to purchase the property, and you should not have a criminal record.

However, Kuwait's government is keen to protect the status quo and doesn't want to compromise its cultural values or standard of living by allowing foreigners to become a permanent part of society. The only route to becoming a citizen is by marriage to a national; even this, however, doesn't guarantee citizenship, particularly for non-Muslims. 
Daily "Answers" emails are provided for Daily News Articles, Tuesday's World Events and Friday's News Quiz.