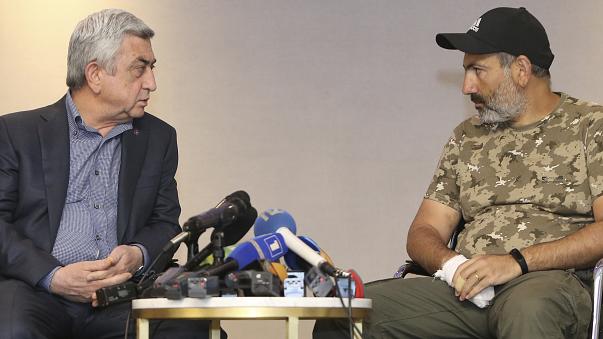 redo Jump to...
print Print...
(by Ed Adamczyk, UPI) – Armenian Prime Minister Serzh Sargsyan resigned Monday after being in the post for just six days.
Sargsyan, appointed prime minister April 17 after his 10 years as president ended, was a close ally of Russian President Vladimir Putin.
Thousands of demonstrators in the capital, Yerevan, accused Sargsyan of corruption and authoritarian rule — and his resignation followed news that opposition leader Nikol Pashinyan was freed by police after his one-day detention.
Pashinyan, a parliament member and organizer of the protests, was taken by police to an unknown location during Sunday's demonstrations, in which two other opposition leaders and at least 200 protesters were detained by police.
In a resignation statement, Sargsyan said, "Nikol Pashinyan was right. I was wrong. This situation requires solutions, but I won't participate in them. I leave the post of this country's prime minister. The movement on the streets is against my office. I will fulfill your claim."
Armenia, a small country in the Caucasus region straddling Europe and Asia, is a former Soviet republic bounded by Turkey, Georgia, Azerbaijan and Iran.
Published at United Press International on April 23.
Questions
1. For ARMENIA, give the following information:
capital

location/the countries that share its borders

the religious breakdown of the population

the type of government

the chief of state (and head of government if different) If monarch or dictator, since what date has he/she ruled? – include name of heir apparent for monarch

the population
Find the answers at the CIA World FactBook website. For each country, answers can be found under the "Geography" "People" and "Government" headings.
NOTE: Before answering the questions read the "Background" below.
2. For ARMENIA:
a) list the who, what, where and when of the news item
b) For what reasons had tens of thousands of Armenians staged peaceful protests after Sargsyan became prime minister?
c) What surprising announcement did Mr. Sargsyan make upon resigning?
Background
Why were there protests?
In 2015, Armenians voted in a referendum to shift the country from a presidential to a parliamentary system, stripping powers from the president and giving them to the prime minister.
The vote was marred by allegations of ballot rigging and claims Mr. Sargsyan wanted to simply switch office after his presidency ended.
The ex-president had formally stated he would "not aspire" to the prime ministerial position, but on Tuesday last week the country's parliament officially confirmed Mr Sargsyan in the post.
Protesters poured into the streets in the days beforehand to try to stop the parliament from passing the measure, and clashed with police. On the day of the confirmation, Mr Pashinyan said the demonstrations constituted a "non-violent velvet revolution."
Daily "Answers" emails are provided for Daily News Articles, Tuesday's World Events and Friday's News Quiz.