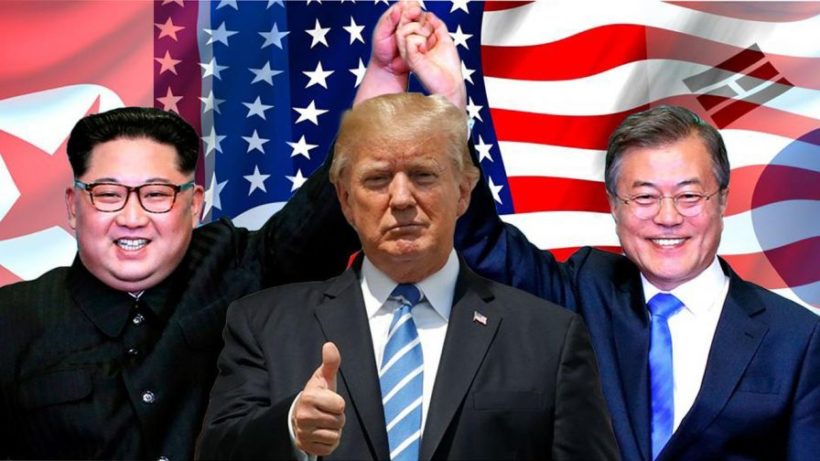 redo Jump to...
print Print...
(by Hyonhee Shin, Reuters) SEOUL – South Korean President Moon Jae-in said U.S. President Donald Trump deserves a Nobel Peace Prize for his efforts to end the standoff with North Korea over its nuclear weapons program, a South Korean official said on Monday.
"President Trump should win the Nobel Peace Prize. What we need is only peace," Moon told a meeting of senior secretaries, according to a presidential Blue House official who briefed media.
Moon and North Korean leader Kim Jong Un on Friday pledged at a summit to end hostilities between their countries and work toward the "complete denuclearization" of the Korean peninsula.

Mr. Trump is preparing for his own summit with Kim, which he said would take place in the next three to four weeks.

The Trump administration has led a global effort to impose ever stricter sanctions on North Korea and the U.S. president exchanged bellicose threats with Kim in the past year over North Korea's development of nuclear missiles capable of reaching the United States.

In January, President Moon [the leader of Korea's liberal Democratic Party] said Trump "deserves big credit for bringing about the inter-Korean talks. It could be a resulting work of the U.S.-led sanctions and pressure."

President Trump's predecessor, Barack Obama, won the 2009 Nobel Peace Prize just months into his presidency, an award many thought was premature, given that he had little to show for his peace efforts beyond rhetoric.

Even Mr. Obama said he was surprised and by the time he collected the prize in Oslo at the end of that year, he had ordered the tripling of U.S. troops in Afghanistan.

[In addition to] President Obama, three U.S. presidents have won the Nobel Peace Prize: Theodore Roosevelt, Woodrow Wilson, and Jimmy Carter

Moon's Nobel Prize comment came in response to a congratulatory message from Lee Hee-ho, the widow of late [liberal] South Korean President Kim Dae-jung, in which she said Moon deserved to win the prize, the Blue House official said.

Moon responded by saying Trump should get it.

President Trump on Monday suggested his planned meeting with Kim take place at the Peace House on the border between North and South Korea.

The upcoming Trump-Kim meeting was the main subject of a private walk and chat that Kim and Moon had during their meeting at the border, the official said.

U.S. Secretary of State Mike Pompeo said on Sunday that President Trump would maintain a "pressure campaign" of [strong] sanctions on North Korea until Kim scraps his nuclear weapons program.

Published at Reuters on April 30, 2018. Reporting by Hyonhee Shin in Seoul; Additional reporting by David Brunnstrom in Washington; Writing by Josh Smith; Editing by Nick Macfie and Alistair Bell. 
Questions
1. For SOUTH KOREA, give the following information:
capital

location/the countries that share its borders

the religious breakdown of the population

the type of government

the chief of state (and head of government if different) If monarch or dictator, since what date has he/she ruled? – include name of heir apparent for monarch

the population
Find the answers at the CIA World FactBook website. For each country, answers can be found under the "Geography" "People" and "Government" headings.
NOTE: Before answering the following questions, read the "Background" and watch the video under "Resources" below.
2. For SOUTH KOREA:
a) list the who, what, where and when of the news item
b) In January, to what did President Moon attribute the peace talks between North and South Korea?
c) When did President Moon call for President Trump to be awarded the Nobel Peace Prize?
d) What stance will the U.S. maintain on North Korea until a complete denuclearization deal is finalized?
e) President Moon is a lifelong liberal (progressive) whose policies would be more aligned with  President Obama or Hillary Clinton. Why do you think he would commend President Trump, while most U.S. media (and even many conservative commentators/"never-Trumpers") won't acknowledge the same?
f) Should North Korea actually give up its entire nuclear program, do you think President Trump will be awarded the Nobel Peace Prize? Explain your answer.
Daily "Answers" emails are provided for Daily News Articles, Tuesday's World Events and Friday's News Quiz.