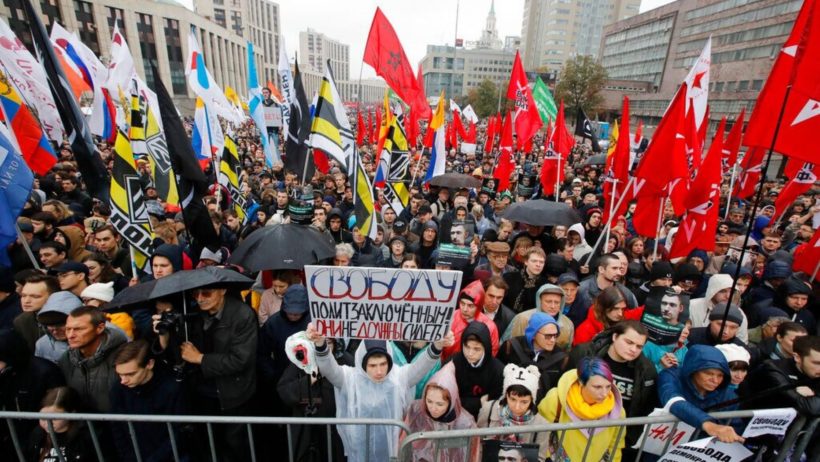 redo Jump to...
print Print...
(by Bradford Betz, Fox News with AP) – Some 20,000 people rallied in downtown Moscow on Sunday to demand the release of protesters who were jailed during a wave of opposition demonstrations this summer.
The earlier protests erupted in July after a dozen independent and opposition candidates were barred from running for the Moscow city legislature.
The rallies drew crowds of up to 60,000 at the time – the largest known show of discontent against President Vladimir Putin's rule in nearly a decade.
Russian police violently dispersed some of the election protests that weren't sanctioned, detaining more than 2,400 people. Most were quickly released, but more than a dozen were jailed on charges of involvement in riots.
Amid the public outrage, officials dropped charges against some of the protesters, but several people have been sentenced to prison terms of up to four years. Others have remained in custody or under house arrest awaiting court verdicts.
Those at Saturday's rally in downtown Moscow – which Russian authorities had sanctioned – chanted, "Free them all!"
"No one can get a fair hearing in Russian courts – injustice and lawlessness can happen to anyone now," said Lyubov Sobol, one of the opposition candidates denied registration who helped spearhead the summer protests.

"Let's be confident of our power. If we come out in force, we will win their release," Alexei Navalny, the Kremlin's most visible opponent, said at the rally.
[Reuters reports: The protests do not pose a threat to President Vladimir Putin who won re-election by a landslide last year. But they come as his ratings have slipped following years of falling real incomes and an unpopular move to hike the retirement age.].

From foxnews .com, with the Associated Press.  Reprinted here for educational purposes only. May not be reproduced on other websites without permission from Fox News.
Questions
1. For RUSSIA, give the following information:
capital

location/the countries that share its borders

the religious breakdown of the population

the type of government

the chief of state (and head of government if different) If monarch or dictator, since what date has he/she ruled? – include name of heir apparent for monarch

the population
Find the answers at the CIA World FactBook website. For each country, answers can be found under the "Geography" "People" and "Government" headings.
NOTE: Before answering the following questions, read the info under "Background" and watch the videos under "Resources" below.
2. For RUSSIA:
a) list the who, what, where and when of the news item
b) How many people had taken part in the earlier summer protests?
c) Why did so many people protest in Russia this summer?
d) What did the protesters hope to achieve as a result of Sunday's rally? (What was their goal?)
e) Watch the news reports under "Resources" below. For how many years has Putin been in power in Russia? Why do you think he has 60% approval rating in Russia?
Background
What's the background?
In July, independent and opposition candidates were barred from Moscow city council elections scheduled for September 8 on a technicality.
Authorities said they had not gathered enough valid signatures to stand – something the candidates [disputed].
[Approximately 60,000] protested the exclusion on the streets, in what were the biggest protests in Russia for years.
Security forces used batons and mass arrests to suppress the rallies, saying the demonstrators were breaking the law for attending the illegal events.
Opposition leaders later called on people to vote tactically in the local elections against the ruling United Russia party – which supports Russian President Vladimir Putin.
United Russia went on to lose a third of its seats on the city council.
Authorities have since been forced backed down after an outcry over their heavy-handed response to the protests, which saw some protesters receive sentences of up to four years in prison.
In one instance, 23-year-old actor Pavel Ustinov received a three-and-a-half-year sentence for wounding a police officer after the July rallies.
Mr. Ustinov however said he had nothing to do with the protest and was in fact on his way to meet a friend when he was tackled by officers. He has since been released pending an appeal after a backlash from teachers, IT specialists, actors and Orthodox priests. (from a Sept. 29 BBC News report)
---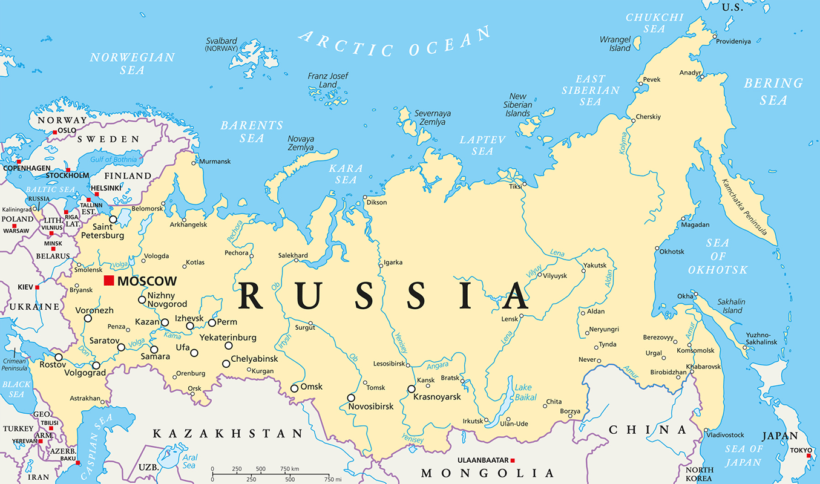 Resources
Watch an August 3, 2019 DW news report:
---
Watch a September 30, 2019 Reuters report:
Daily "Answers" emails are provided for Daily News Articles, Tuesday's World Events and Friday's News Quiz.