redo Jump to...
print Print...
(by Associated Press at USA Today) LAGOS, Nigeria — Nigeria's president took the extraordinary step of denying rumors that he died and was replaced by a body double, telling the country that he is alive and well.
"It is the real me I assure you," President Muhammadu Buhari said Sunday to a group of Nigerians during a visit to Poland, where he is attending the United Nations Climate Conference.

"A lot of people hoped that I died during my ill health," Buhari said. "I am still going strong."
The 75-year-old, who was elected in 2015 and will run for his second term in February, has been in ill health throughout his presidency. But in the video of his remarks posted to Twitter by his personal assistant, he joked as he dismissed the rumors, to laughter and head-shaking applause by some government officials after a Nigerian posed a question about his identity.

[Mr. Buhari said those spreading the rumours about his health and identity were "ignorant and irreligious."].

The government has been tight-lipped about Buhari's health throughout his presidency.

[Buhari was on "medical leave" in the UK for three months in 2017.  He revealed after his return to Nigeria that "I have never been so sick," but did not disclose what he was suffering from. He insists he is now in good health].

Rumors of his death started when he was in London for medical treatment [and was not seen during that time]. They abated when he returned to Nigeria, but returned in full force last month, stoked by prominent opposition leaders and separatists.

Nnamdi Kanu, leader of the separatist group, Indigenous People of Biafra, said that a Sudanese lookalike, named Jubril, had taken Buhari's place as a body double. His claims were shared widely online, often accompanied by videos that appeared to portray a dead Buhari lying in a London hospital.

This is not the first time that Nigerians have speculated about a president's mortality. State secrecy around former President Umaru Musa Yar'Adua's ill health fostered similar rumors before Yar'Adua died in office in 2010.

As Nigeria prepares for the upcoming elections, the opposition said the president's health renders him unfit to continue his tenure. Some have questioned his ability to contain insurgent groups and Islamic extremists, which the president recently said had started using drones.

In the 2015 elections, Buhari made the defeat Boko Haram a major goal for his presidency. But extremists continue to carry out deadly suicide bombings and abductions in the northeast and wider Lake Chad region.

Deadly attacks against the Nigerian military are on the rise. In November alone, 39 Nigerian soldiers were killed and another 43 were wounded, according to the presidency.

In late November, Buhari pivoted from repeated claims from his government that Boko Haram had been "crushed," instead urging the military to "rise to the challenge."

The Islamic State also claimed it is "full control" of Arege, a town near Lake Chad, after Nigerian soldiers fled their barracks.

The group also posted a statement Monday on the main IS website claiming that, after two days of attacks against the barracks, many soldiers were also killed and wounded.

The Nigerian military has not responded to the claims.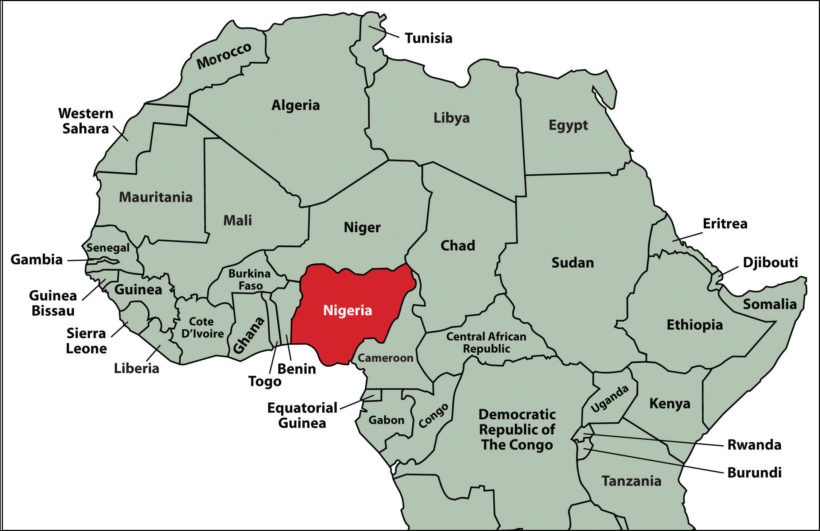 From an Associated Press report published at USAToday .com on December 3. Reprinted here for educational purposes only. May not be reproduced on other websites without permission from USA Today.
Questions
1. For NIGERIA, give the following information:
capital

location/the countries that share its borders

the religious breakdown of the population

the type of government

the chief of state (and head of government if different) If monarch or dictator, since what date has he/she ruled? – include name of heir apparent for monarch

the population
Find the answers at the CIA World FactBook website. For each country, answers can be found under the "Geography" "People" and "Government" headings.
NOTE: Before answering the following questions, read the "Background" and watch the video under "Resources" below.
2. For NIGERIA:
a) list the who, what, where and when of the news item
b) For what reasons did people think President Buhari had been replaced by a body double?
c) For what reasons do opponents say Mr. Buhari is not fit to be reelected?
d) How has Mr. Buhari's government changed their tone about the Islamist terrorist group Boko Haram?
e) Read the "Background" below the questions. Do you agree with Mr. Khalid's assertion? Explain your answer.
Background
A former vice-president, Atiku Abubakar, 72, has emerged as Mr Buhari's main challenger in next year's election.
The opposition is expected to make the president's health a major campaign issue.
Ishaq Khalid of BBC News writes from Abuja: Denial could 'backfire':
Many Nigerians are surprised that President Buhari chose to respond to the extraordinary claim that he has a body double called "Jubril."

The claim has been an online joke for months, generally dismissed as fake news, and largely ignored by many reputable media organizations.

It has, however, been used by Mr. Buhari's detractors to call into question the state of his health.

Contrary to the expectations of the president's aides, his statement that he is "not a clone" may lead to greater focus on his health as he prepares for a grueling election campaign.
Resources
Watch a report from The Guardian:
Daily "Answers" emails are provided for Daily News Articles, Tuesday's World Events and Friday's News Quiz.