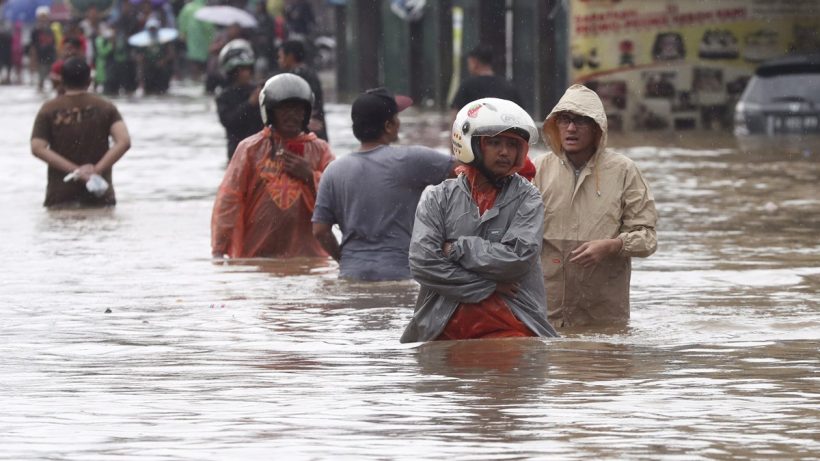 redo Jump to...
print Print...
(Compiled from VOA Learning English with Reuters and UPI)  — Indonesia's military conducted an operation to seed clouds to prevent more rain from falling on the flooded capital as the death toll from flooding in the Southeast Asian country reached 53 Saturday.
Five days of heavy monsoon rains have inundated the greater Jakarta region, submerging at least 182 neighborhoods. Landslides have also plagued the capital, killing at least one dozen people.
Forecasters expect [heavy rains] in the island nation for at least another week. In an effort to limit rainfall in the affected region, the Indonesian air force conducted an operation to seed rain clouds with salt Friday.
Cloud seeding is a process that involves shooting salt into clouds in an attempt to create artificial rain. It is often used in Indonesia to help put out forest fires. The current operation aims to get the clouds to drop water and break up before they reach Jakarta.
The air force planned to seed clouds at least three times.
Since the floods started, nearly 400,000 people have sought safety in shelters in Jakarta. Jakarta residents used boats to navigate the city, some parts of which were under 19 feet of water.
"In north Jakarta, the worst flooding was in the Teluk Gong area and residents have not received any help even two days on," said Gugun Muhammad, a community organizer, told The Guardian. "These floods are the worst in over a decade in terms of scale and volume of water."
The latest flooding followed heavy rainfall on December 31 and into the early hours of New Year's Day. The water covered large areas of Jakarta and nearby towns. The area is home to about 30 million people.
The start of 2020 weather was "one of the most extreme rainfall" events since record keeping began in 1866, Indonesia's weather agency said Friday. …They warned that heavy rainfall could reach a high point in mid-January and should be expected to last until mid-February.
News videos showed floodwaters spreading across Jakarta. Images showed groups of people walking through water and mud-covered cars, some of them sitting on top of each other.
President Joko Widodo blamed delays in flood control projects for the disaster. Among the projects is the building of a canal that has been delayed since 2017 because of property right issues.
In 2007, more than 50 people died in one of the capital's deadliest flood disasters. In 2015, floodwaters covered much of the city center after canals overflowed.
Jakarta has been slowly sinking. A main cause is the amount of ground water being drawn out from under the city. …
Last year, Widodo announced he would move Indonesia's capital to East Kalimantan province on Borneo island to reduce the burden on overpopulated Jakarta.
Compiled from articles by Bryan Lynn at learningenglish.voanews .com (with Reuters) on January 3, 2020 and by Danielle Haynes, UPI on Jan. 4. Reprinted here for educational purposes only. May not be reproduced on other websites without permission from VOA and United Press International.
Questions
1. For INDONESIA, give the following information:
capital

location/the countries that share its borders

the religious breakdown of the population

the type of government

the chief of state (and head of government if different) If monarch or dictator, since what date has he/she ruled? – include name of heir apparent for monarch

the population
Find the answers at the CIA World FactBook website. For each country, answers can be found under the "Geography" "People" and "Government" headings.
NOTE: Before answering the following questions, read the "Background" and watch the videos under "Resources" below.
2. For INDONESIA:
a) list the who, what, where and when of the news item
b) What is cloud seeding?
c) For what purpose is cloud seeding used regularly in Indonesia? – What is the purpose of the current cloud seeding?
d) Read the "Background" and watch the videos under "Resources. Why is Jakarta slowly sinking?
e) What do you think of the proposed solution, the government's slow movement on any solution, as well as the president's proposal to move the capital to the island of Borneo?
Background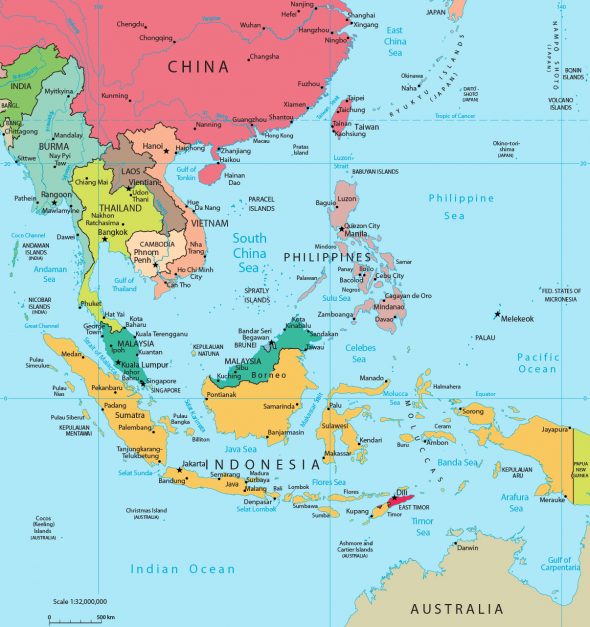 ---
Excerpted from a July 30,2019 VOA Learning English article by Susan Shand:
Indonesia's president Joko Widodo said that he wants to build a large sea wall around Jakarta. The goal is to prevent the low-lying capital from being flooded by the sea.
President Widodo and his government may not have a lot of time. Some experts predict that, at the current rate, one-third of Jakarta might be under water by 2050.
WHAT IS CAUSING THE CITY TO SINK?
The crisis facing the city is the result of many years of uncontrolled development. There has been little city planning. Many politicians have served business interests and not the public's interest.
Many of the city's millions of people take ground water from wells because the water pipe system does not serve all areas. This has caused the city to slowly sink as the ground water beneath it disappears.
The ground has been sinking at an average rate of about 10 centimeters a year in some areas. Jakarta has been called one of the world's fastest sinking cities. It is close to the sea and 13 badly polluted rivers run through it. Too much ground water has been removed while heavy buildings have been built in many places.
PROPOSED SOLUTION:
Widodo told The Associated Press recently that it is time to move ahead with the sea wall project. The government began thinking about a wall about ten years ago.
"This huge project will need to be done quickly to prevent Jakarta from sinking under the sea," he said.
Heri Andreas is a scientist at Indonesia's Bandung Institute of Technology. He said that in some parts of northern Jakarta the ground is already 2 to 4 meters below sea level. He added that it is sinking by as much as 20 centimeters a year.
At this rate, said Andreas, "95 percent of northern Jakarta will be underwater by 2050."  He said water would cover about one-third of the city.
Andreas said it took time for his predictions to be taken seriously by Indonesian government officials. He is pleased the large sea wall is being planned.
The $42 billion project will have three stages. It will start with strengthening 30 kilometers of existing coastal dams. After that, 17 new islands will be built. This would be followed by building the large sea walls along the western and eastern part of the city's coastline.
However, many politicians argue about the cost. There is also fear the wall will hurt the fishing industry.
Andreas recently met with government officials. He said he believes a smaller sea wall project would be less costly.
In this smaller plan, a 20-kilometer-long wall would be built to protect areas most at risk. It would give the government more time to plan for the future.
Fishermen are worried. Muara Angke is a small fishing port in northern Jakarta. Here, 63-year-old Pandi said the scientists are wrong. He says flooding is part of life on the waterfront.
"If we can't work, we will suffer for a long time," he said. "Sinking" below water, he said, "is just part of the risk."
Resources
Watch a BBC video – "Why is Jakarta Sinking?"
---
Watch a Jan. 2 CNA report:
Daily "Answers" emails are provided for Daily News Articles, Tuesday's World Events and Friday's News Quiz.