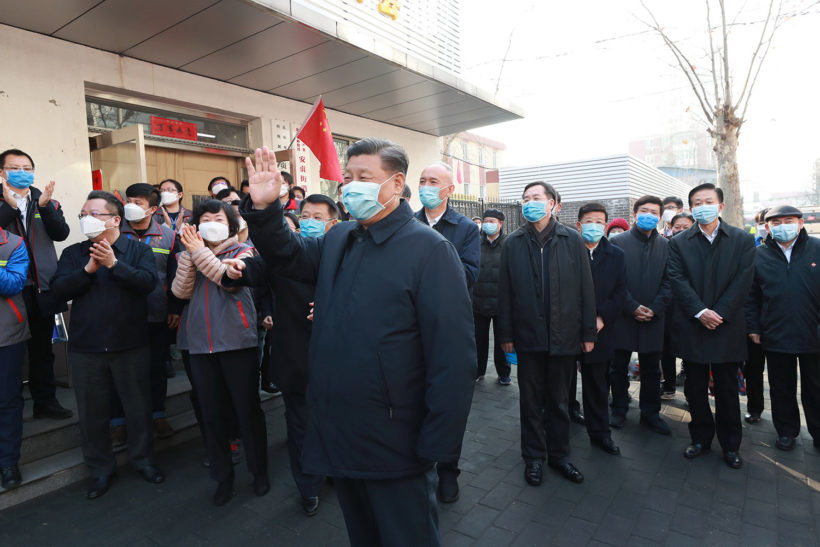 redo Jump to...
print Print...
In late December, several genomics companies tested samples from sick patients in Wuhan — the center of the coronavirus outbreak — and noticed alarming similarities between their illnesses and the 2002 SARS virus, the Sunday Times of London reported, citing Chinese business news site Caixin Global.
The researchers alerted Beijing of their findings — and on Jan. 3, received a gag order from the communist government's National Health Commission, with instructions to destroy the samples.
Rather than hunkering down to contain the virus, Wuhan officials went ahead with their annual potluck dinner for 40,000 families.
The alleged cover-up continued when representatives from the US CDC (Centers for Disease Control and Prevention) on Jan. 8 visited Wuhan, where officials intentionally withheld information that hospital workers had been infected by patients — a telltale sign of contagion.
News of the virus' highly contagious nature didn't surface publicly until Jan. 20. Wuhan was locked down and a mass quarantine ordered three days later.
Published at NYPost .com on Feb. 29, 2020, with Post Wires. Reprinted here for educational purposes only. May not be reproduced on other websites without permission from New York Post.
Questions
NOTE: Before answering the following questions, read the info under "Background" and watch the video under "Resources" below.
1. List the who, what, where and when of the news report.
2. Define genomics, gag order, hunker down and contagion as used in the article.
3. What had several genomics companies learned and reported to authorities in December?
4. What did China's National Health Commission order the researchers to do?
5. What irresponsible action did Wuhan officials take after learning of the danger?
6. How did communist officials deceive U.S. CDC reps after learning of the threat?
7. When did officials finally take some action?
8. How would you describe China's communist leaders from their handling of the coronavirus outbreak? (extremely irresponsible, highly deceitful, grossly incompetent, criminal…etc.)? Explain your answer.
Background
"How China's Incompetence Endangered the World" (excerpted from foreignpolicy.com, Feb. 15):
Once praised by the World Health Organization (WHO) and scientists worldwide for its quick, transparent response to the newly named COVID-19, China now faces international vilification and potential domestic unrest as it blunders through continued cover-ups, lies, and repression that have already failed to stop the virus and may well be fanning the flames of its spread. …
The Feb. 6 supposed "pneumonia" death of China's real epidemic hero, the ophthalmologist Li Wenliang, has revealed the ugliest side of the Chinese Communist Party (CCP) and its terrible effort to rewrite the history of a seemingly out-of-control epidemic. Li treated patients in December in Wuhan, where the outbreak originated, who looked like SARS cases, he told colleagues on Dec. 30 via a doctors' social media chatroom. Days later, for the so-called crime of rumormongering, Li and seven other physicians were brought before China's security police and compelled to sign a document admitting to "spreading lies."
For days, Wuhan authorities sought to stifle Li's voice, but even after he caught the virus while treating his patients and was confined to an intensive care unit bed, he continued to sound epidemic alarms on the BBC World Service. On Feb. 6, the once-robust 34-year-old physician died. Li's death opened the gates of political rage across China, sparking an unprecedented outpouring of grief and outrage, denouncing the government cover-up.
…The political crisis in China is prompting global concern about the reliability of epidemic data released by China's communist government, the usefulness of Chinese guidance regarding how the virus is spread and who is at risk for death, and the measures best taken to protect health care workers from falling victim to the disease they are trying to treat.
Since the first Dec. 30 announcement of a new disease in Wuhan, the Chinese Communist Party has woven a tapestry of narratives, primarily for domestic political purposes, aligning official case and death numbers with the storylines. Meanwhile, the international health community, from WHO all the way down to academic statisticians and infectious diseases analysts, has tried to infer from the dubious official daily tallies just how dangerous the coronavirus disease may be for the rest of the world.
WHO Director-General Tedros Adhanom Ghebreyesus…has faced sharp criticism—even a recall petition—for his meetings with Xi and other Chinese leaders and his apparent reluctance to declare the outbreak a global health emergency.
For his part, Xi disappeared from public view the day after his January 27 meeting the WHO's Ghebreyesus, not to be seen again for twelve days, when he briefly strolled through the Chaoyang district of Beijing, wearing a medical mask.
The bottom line is trust, which appears to be waning inside China and is increasingly unraveling across the public health world. An epidemic cannot be fought and won unless the bonds of trust between governments and people can survive the…medical challenges of the battle. The Chinese government, in its negligence, has jeopardized those bonds, perhaps beyond all repair. … (written Feb. 15)
This above is an excerpt – read the whole article for more at foreignpolicy.com.
Resources
Watch a Feb. 26  PBS report "Chinese Activists Confront Censorship.  Note that PBS thinks, "the spread of the coronavirus in China has stabilized." and says later in the video that "the World Health Organization has praised China's efforts as successfully reducing the virus' spread." This is important to note as it may be better to get more accurate information from the U.S. CDC or U.S. NIH, not the WHO (World Health Organization).
Daily "Answers" emails are provided for Daily News Articles, Tuesday's World Events and Friday's News Quiz.