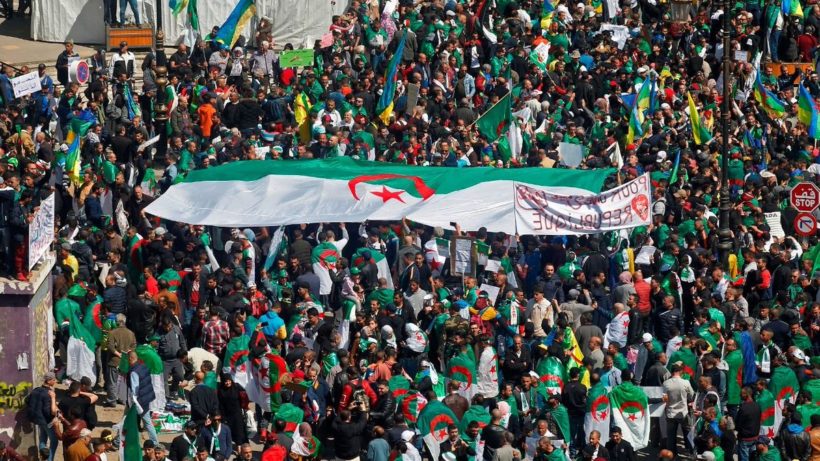 redo Jump to...
print Print...
(by Lamine Chikhi, Hamid Ould Ahmed, Reuters) ALGIERS — Hundreds of thousands of protesters demanding radical change marched through Algiers for a seventh successive Friday, as Algeria's spy chief was reportedly fired in a further sign of high-level turbulence after the longtime president resigned.
The demonstrators are pushing for the removal of what they see as an outdated and opaque political apparatus, built around the ruling party, army officers, businessmen, unions and veterans of a 1954-62 independence war against France.
"We want a new generation to govern this wealthy country and to secure a better future for the people," said 80-year-old woman Yamina, standing with her five grandchildren as crowds jammed downtown streets.

"We want to uproot the symbols of the system," said teacher Ahmed Badili, as hundreds of people waved national flags from the balconies of buildings. Others handed out sweets and bottled water.
The intelligence chief, retired army general Athmane Tartag, was a close ally of President Abdelaziz Bouteflika, who quit on Tuesday under pressure from the army.
The military said it was acting in the national interest after weeks of largely peaceful anti-government demonstrations.
Western powers are eager for stability in the OPEC oil producer, Africa's largest country by land mass and a key gas supplier for Europe and partner to fight militants.
Bouteflika's departure has not eased tensions despite the appointment of a caretaker government which will stay in office until elections in three months' time.
This Friday, protesters pushed for the removal of Prime Minister Nouredine Bedoui, upper house of parliament chairman Abdelkader Bensalah, and Tayeb Belaiz, head of the constitutional council — all seen as establishment figures.
Many banners read "3B's must go."
In the weeks before his resignation, Bouteflika's inner circle had already been depleted by the exit of several close allies from influential positions in politics and business.
Tartag's departure was reported by the private Ennahar TV, and two political sources confirmed that he had been sacked.
Ennahar added that his position would return to the supervision of the defense ministry, rather than the presidency, a move that appears to strengthen the army's hand.
The intelligence service has in the past been an important part of the military's influence in national affairs, and played a backroom role in politics as well as in the 1990s civil war.
But in 2016, Bouteflika removed it from the supervision of the defence ministry and placed it under the authority of the presidency to try to ease it out of the political sphere.
Protesters want to remove any traces of the old guard and introduce sweeping democratic reforms. But no clear successor to Bouteflika has yet emerged and Algeria's opposition is fragmented.
The uncertainty means the army is likely to continue playing its role as kingmaker with little resistance, guiding the sensitive transition process.
Unlike in past protests, when some Algerians said the army should not interfere in civilian matters, there were signs of support for the military in the latest demonstration. Some banners said "the people and the army are brothers."
Some protesters saw humour in Algeria's crisis: "Any country interested in toppling its system, we are ready to help. Please send a copy of the constitution. You also need an appointment and we only work on Friday," read one banner.
Questions
1. For ALGERIA, give the following information:
capital

location/the countries that share its borders

the religious breakdown of the population

the type of government

the chief of state (and head of government if different) If monarch or dictator, since what date has he/she ruled? – include name of heir apparent for monarch

the population
Find the answers at the CIA World FactBook website. For each country, answers can be found under the "Geography" "People" and "Government" headings.
NOTE: Before answering the following questions, read the info under "Background" and watch the video under "Resources" below.
2. For ALGERIA:
a) list the who, what, where and when of the news item
b) For how many years did President Abdelaziz Bouteflika rule Algeria?
c) What do the protesters want? For what reason do they make these demands?
Background
How did the protests come about?
Pressure had been building since February, when the first demonstrations were sparked by President Bouteflika's announcement that he would be standing for a fifth term.
The octogenarian leader suffered a stroke six years ago and has rarely been in public since.
Tens of thousands protested across the country on March 1.  President Bouteflika's promise not to serve out a fifth term if re-elected, along with a change of prime minister, failed to quell the discontent.
Leaders of the protests also rejected Mr. Bouteflika's offer this week that he would go by the end of his current term – April 28 – as not quick enough.
(Following six weeks of peaceful protests) the powerful military agreed. Its chief, Lt Gen Ahmed Gaed Salah, said on Tuesday: "There is no more room to waste time."
Mr. Bouteflika resigned on Tuesday but that was not enough for protesters.
Who is former President Bouteflika?
He is a veteran of Algeria's war of independence who served as foreign minister for more than a decade before becoming president in 1999.
His primary task was to rebuild the country, and its economy – but first, he needed to end Algeria's brutal civil war sparked by the military's refusal to recognise the election victory of the Islamic Salvation Front in the early 1990s.
Despite guaranteeing stability in the oil-rich nation, his government has been accused of widespread corruption and state repression.
The man who once said he would not accept being "three-quarters a president" spent his last years in a wheelchair after a stroke in 2013, rarely appearing in public, and fuelling fierce debate over who was really in charge, the BBC's North Africa correspondent, Rana Jawad, says.
Who is officially running the country now?
A caretaker government is currently in place.
The president has resigned. What more do the protesters want?
The demonstrators are pushing for the removal of three people they dub the "3B." That is Senate Speaker Abdelakder Bensalah, head of the constitutional council Tayeb Belaiz and Prime Minister Noureddine Bedoui.
But they want much more than that – they want to dismantle the whole political system.
They say that the country is actually run by a group of businessmen, politicians and military officials who used Mr Bouteflika as a front.
They want to take the power away from this group, known as Le Pouvoir.
Specifically, one of the leading voices of the protest movement, lawyer Mustapha Bouchachi, told AFP news agency that he doesn't want the "symbols of the regime" to run the next election.
Who else has lost their position of power so far?
Earlier on Friday, the head of intelligence and close ally of Mr Bouteflika, Athmane Tartag, was reportedly sacked. He was a close ally of Mr Bouteflika.
(from an April 5 BBC News report)
Resources
Watch an April 5 France24 news report:
Daily "Answers" emails are provided for Daily News Articles, Tuesday's World Events and Friday's News Quiz.