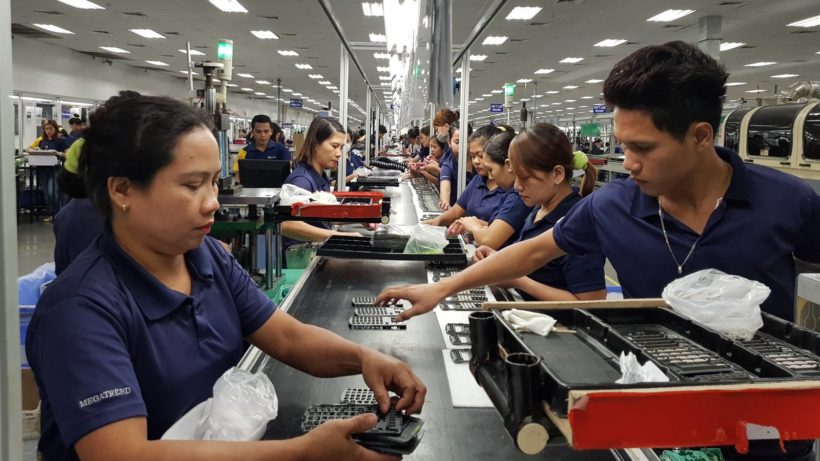 redo Jump to...
print Print...
NOTE: A tariff is a tax on imports, often known as a duty or a trade barrier. The purpose of a tariff is to protect domestic production and jobs.
(by Frank Fang, Epoch Times) – Hong Kong and Taiwan businesses are planning to pull some of their production from China after the U.S. administration announced that roughly $200 billion worth of Chinese-manufactured goods would receive a tariff increase to 25 percent from 10 percent.
The new tariff rates went into effect May 10, after President Donald Trump announced the move five days earlier on Twitter. In subsequent remarks, U.S. officials noted that China had reneged on commitments made during previous rounds of negotiations [in April].
Two days of trade talks in Washington ended May 10 with no agreement.
After the meetings concluded, the president said on Twitter that tariffs "may or may not be removed depending on what happens with respect to future negotiations."
Thousands of Chinese products will be taxed at 25 percent, including furniture, telecom equipment, plastics, seafood, and auto parts.
Many of these products are made by Hong Kong and Taiwanese companies that for a long time have had manufacturing facilities in China, because of its cheap labor. Now, these companies are relocating some production to avoid the added costs related to U.S. tariffs.
Lau Tat-pong of Hong Kong…has operated factories in Dongguan since 1989, an industrial city in southern China. He is in the business of paint and aluminum products. …Lau said that he had been thinking about moving some production to countries in Southeast Asia since the start of the trade war, but hadn't made any moves, hoping that a trade deal would soon be reached.
"Now, I must move," Lau said after the increase went in effect May 10. "A week ago, I was still hoping that the 10 percent tariff would be removed," he said.
Lau said his U.S. customers so far have been footing the bill for the 10 percent tariffs, but he speculated that his customers might not be willing to pay, with the increase to 25 percent.
He added that the manufacturing sector in China could take a serious hit, because countries in Southeast Asia will become more cost-competitive, while supply chains in those countries will become more mature, as more companies pull their production out of China.
Many tech manufacturers, such as suppliers to U.S. tech giant Apple, have already made plans to move production to Vietnam, Malaysia, the Philippines, and elsewhere, from China, after U.S. tariffs were first announced in March 2018.
Meanwhile, Kit Sze, who is in the watches and packaging business, has a thriving business after he moved his factories to Cambodia years ago from Dongguan. …Kit said he has received more calls recently from U.S. clients and expects to take more orders from American companies in the future.
Taiwan
Taiwanese President Tsai Ing-wen held a press conference on May 10 following a high-level national security meeting to address Taiwan's strategies in the face of the latest increase in U.S. tariffs.
She said that the existing triangular trade model—Taiwanese companies accepting orders from U.S. clients, fulfilling the orders by manufacturing the products in China, and exporting the products to the United States from China—would likely change as a result of the trade war, according to statements posted on the website of the president's office.
Tsai added that her government will speed the process of helping Taiwanese companies return to the island, while setting the goal of signing a bilateral trade agreement with the United States. She concluded that the majority of exports to the United States, now with products with the label "Made in China," will soon be replaced by high-quality products that are "Made in Taiwan."
Taiwan's Ministry of Economic Affairs launched a "welcome back" program in January, which provides incentives for Taiwanese companies to return home, such as free rent for the first two years, favorable bank loans, and access to tax consultation.
Taiwan's Central News Agency (CNA) reported that 52 Taiwanese companies—those that are based in Taiwan but have operations in China—have pledged to invest on the island with a total investment value of over 279 billion New Taiwan dollars (about $9 billion) since the beginning of this year, citing data from the Ministry of Economic  Affairs.
Tsai said that figure has already surpassed the government's target of NT$250 billion, adding that she will raise the new target to NT$500 billion. …
Published at theepochtimes on May 12. Reprinted here for educational purposes only. May not be reproduced on other websites without permission from The Epoch Times.
Questions
Please note: Daily posting and Answers emails will end for the school year on Tuesday, May 28th.
1. For CHINA, give the following information:
capital

location/the countries that share its borders

the religious breakdown of the population

the type of government

the chief of state (and head of government if different) If monarch or dictator, since what date has he/she ruled? – include name of heir apparent for monarch

the population
Find the answers at the CIA World FactBook website. Answers can be found under the "Geography" "People" and "Government" headings.
NOTE: Before answering the following questions, read the info under "Background" and watch the videos under "Resources" below.
2. For CHINA:
a) list the who, what, where and when of the news item
b) For what reason do many Hong Kong and Taiwanese companies manufacture their products in China?
c) For what reasons are many of these companies moving their factories out of China to Southeast Asia?
d) What is the Taiwanese government doing to help these Taiwanese manufacturing companies? How will the move help Taiwan's economy?
e) How do you think Southeast Asian countries–where the manufacturing companies are moving to–view U.S. tariffs on China? (positive, negative, indifferent…) Explain your answer.
f) For years, China has engaged in unfair trade practices and theft of intellectual property from U.S. companies. From "Background" below:
Beijing has been waging economic warfare on the United States for years:
-stealing our intellectual property
-forcing our companies to transfer their technology as a price of doing business in China
-subsidizing Chinese state-owned enterprises to prevent U.S. businesses from competing in dozens of sectors of the Chinese economy
In April, President Xi agreed to stop stealing intellectual property from American companies and establish fair trade practices. He then went back on the agreement.
Do you support or oppose President Trump's efforts to force China to end their unfair trade practices? Explain your answer.
Background
---
Beijing has been waging economic warfare on the United States for years —
stealing our intellectual property
forcing our companies to transfer their technology as a price of doing business in China
subsidizing Chinese state-owned enterprises to prevent U.S. businesses from competing in dozens of sectors of the Chinese economy
The difference now is Chinese leaders are facing a president who is willing to fight back.  (from a May 16 commentary: Trump didn't start this trade war, China did)
For a news article, read: China making concessions in trade standoff with Trump, (April 11)
---
More on how the trade war with China is affecting Taiwanese manufacturers and Asia:
Among the companies returning to Taiwan is Yageo, an electronic component manufacturing company. According to CNA, Yageo will invest 16.5 billion New Taiwan dollars (about $533 million) to procure new equipment and expand existing factories on the island.
Meanwhile, Hsieh Chih-tong, chairman of Taiwanese furniture maker Shane Global, said that the company acquired a furniture maker in Thailand in the second half of last year, with the goal of minimizing the costs associated with U.S. tariffs, according to a May 7 article by Hong Kong daily newspaper Apple Daily. Hsieh added that the company was thinking about acquiring a factory in the United States, as well as setting up a new facility in Cambodia.
The 25 percent tariffs will now force many Taiwanese clothing and bag makers in China to either shut or move their production to Southeast Asia, if they haven't moved already, said Zhuo Qing-ming, chairman of the Taiwan Regional Association of Filament Fabrics Printing Dyeing and Finishing Industries, according to a May 11 interview with Taiwanese broadcaster FTV.
Zhuo explained that these textile makers, who mostly export to the United States and enjoy a current gross profit of about 10 to 20 percent while manufacturing in China, wouldn't be able to continue their business with 25 percent tariffs tacked onto their products.
In the face of more tariffs, Aaron Yeh, deputy chairman of accounting firm KPMG Taiwan, suggested that Taiwanese companies consider moving production to Indonesia from China, according to a Liberty Times article.
The Indonesian government last year began offering new tax exemption programs to foreign companies investing in 18 sectors in the country, including steel, petroleum, and telecommunications, Yeh said. (from the Epoch Times article above)
Daily "Answers" emails are provided for Daily News Articles, Tuesday's World Events and Friday's News Quiz.