redo Jump to...
print Print...
(by Associated Press) YANGON, Myanmar — Police fired a water cannon Monday at hundreds of protesters in Myanmar's capital who are demanding the military hand power back to elected officials, as demonstrations against last week's coup intensified and spread to more parts of the country.
The demonstrations in (the capital) Naypyitaw, ongoing for several days, are especially significant since the city, whose population includes many civil servants and their families, has no tradition of protest and has a heavy military presence.
A protest also swelled at a major downtown intersection in the country's largest city, Yangon, with people chanting slogans, raising a three-finger salute that is a symbol of resistance and carrying placards saying, "Reject the military coup" and "Justice for Myanmar."
There were also reports of new demonstrations in towns in the north, southeast and east of the country, as well as in the city of Mandalay, where there was a procession of marchers and motorbikes.
"We do not want the military junta," said Daw Moe, a protester in Yangon. "We never ever wanted this junta. Nobody wants it. All the people are ready to fight them."
State media for the first time on Monday made reference to the protests, claiming they were endangering the country's stability.
"Democracy can be destroyed if there is no discipline," according to a statement from the Ministry of Information, read on state television station MRTV. "We will have to take legal actions to prevent acts that are violating state stability, public safety and the rule of law."
The coup was seen internationally as a shocking setback for Myanmar, which had been making progress toward democracy in recent years after five decades of military rule. The takeover came the day newly elected lawmakers were supposed to take their seats in Parliament after November elections. The generals have said that vote was marred by fraud — though the country's election commission has dismissed that claim.
The growing protests recall previous movements in the Southeast Asian country's long and bloody struggle for democracy. On Sunday, tens of thousands of protesters rallied at the city's Sule Pagoda, which was a focal point of demonstrations against military rule during a massive 1988 uprising and again during a 2007 revolt led by Buddhist monks. The military used deadly force to end both of those uprisings. Aside from a few officers, soldiers have not been in the streets at protests this past week.
Photos of the standoff in Naypyitaw on Monday showed a vast crowd of protesters hemmed in on several sides by large numbers of police and police vehicles. Officers there trained a water cannon on the crowd, which was gathered near a giant statue of Aung San, who led the country's 1940s fight for independence from Britain and is the father of Aung San Suu Kyi, the elected leader who was deposed by last week's takeover. Suu Kyi — who became an international symbol of the country's fight for freedom while detained in her home for 15 years and earned the Nobel Peace Prize for her efforts — is now back under house arrest. …
There have been no signs that either the protesters or the military will back down in their fight over who is the country's legitimate government: the politicians from Suu Kyi's National League for Democracy party, which won the recent elections in a landslide, or the junta. Suu Kyi's party has asked for international recognition as the legitimate representatives of the people.
A call for a general strike was issued late Sunday by several activist groups in Yangon, but it was not clear if it had been widely circulated or adopted by the informally organized civil disobedience movement at the forefront of the protests.
The Assistance Association for Political Prisoners says 165 people, mostly politicians, had been detained since the Feb. 1 coup, with just 13 released. …
The military has accused Suu Kyi's government of failing to act on its complaints that last November's election was marred by fraud, though the election commission said it had found no evidence to support the claims.
Published by Associated Press on Feb. 8, 2021. Reprinted here for educational purposes only. May not be reproduced on other websites without permission.
Questions
NOTE: Before answering the following questions, read the info under "Background" and watch the video under "Resources" below.
1. List the who, what, where and when of the news item.
2. What is the significance of the demonstrations in the capital city of Naypyitaw?
3. How did the military junta, through state media report on the protests?
4. For what reason did the military say they staged the coup?
5. What has Suu Kyi's party asked world leaders to do?
6. There have been no signs that either the protesters or the military will back down in their fight over who is the country's legitimate government. Instead of dying down, demonstrations against last week's coup intensified and spread to more parts of the country this week.
In 1988 and 2007, the military used deadly force to end uprisings against military rule. Following the coup last week and the subsequent widespread protests, aside from a few officers, soldiers have not been in the streets at protests this past week.
Consider the history of the ruling military junta (and the info under "Background" below. What do you think is most likely to happen?
Background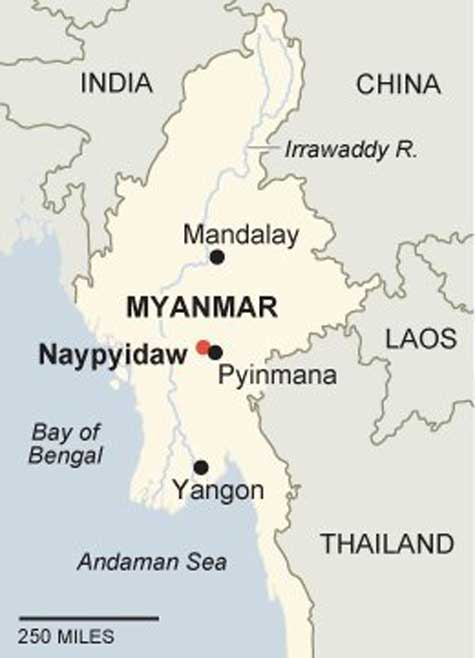 ---
Myanmar Country Profile (from BBC News):
Myanmar, also known as Burma, was long considered a pariah state while under the rule of an oppressive military junta from 1962 to 2011.
The generals who ran the country suppressed almost all dissent and stood accused of gross human rights abuses, prompting international condemnation and sanctions.
A gradual liberalisation began in 2010, leading to free elections in 2015 and the installation of a government led by veteran opposition leader Aung San Suu Kyi the following year.
But an army operation against alleged terrorists in Rakhine State since August 2017 has driven more than half a million Muslim Rohingyas to flee to neighbouring Bangladesh, in what the United Nations called a "textbook example of ethnic cleansing".
It damaged the new government's international reputation, and highlighted the continuing grip of the military in Myanmar.
This was confirmed when Aung San Suu Kyi and her government were overthrown in an army coup in February 2021.
---
The following is excerpted from a Feb. 2 Agence France-Press article "Aung San Suu Kyi, the rise and fall of an icon…" at France24:
The Myanmar army's detention of de facto leader Aung San Suu Kyi on Monday marks the fall of an icon whose story has been marked by the country's highs and lows, both at home and abroad. The Nobel Peace Prize laureate rose to lead Myanmar in 2015 after spending the better part of two decades under house arrest. But Suu Kyi's standing abroad was gravely damaged by her handling of the Rohingya crisis (the Rohingya are Muslim; Suu Kyi is Buddhist).
Suu Kyi – who has been compared to Nelson Mandela, Gandhi and Martin Luther King – took up her country's struggle for democracy in 1988 during a popular uprising against decades of military rule. She soon earned international renown, winning the Nobel Peace Prize in 1991 while under house arrest, where she would remain for a total of 15 years before finally rising to power in Myanmar in 2016.
But that foreign adulation wouldn't last. Once in power in Myanmar, Suu Kyi's conspicuous refusal to act in defence of the Rohingya community baffled the international community that had once sung her praises. Although Suu Kyi remained popular inside Myanmar, she became persona non grata on the world stage. And now, at 75, she is once again a political prisoner.
Inaction over the Rohingya tragedy
Suu Kyi enjoyed success domestically as the economy grew and Myanmar drew foreign investment, from China and Japan in particular. But her image was forever damaged internationally by the tragedy of the Rohingya Muslims.
In 2017, some 750,000 members of the Rohingya minority were forced to flee violent abuses at the hands of the army and Buddhist militias, taking refuge in makeshift camps over the border in Bangladesh. The tragedy saw Myanmar accused of "genocide" before the International Court of Justice, the principal judicial organ of the United Nations.
In 2019, Suu Kyi personally led the country's defence at the court in The Hague, rejecting the allegations of genocide as "incomplete and misleading", although she admitted war crimes may have been committed. Her apparent lack of compassion for the Rohingya outraged the international community. But "Mother Suu", as the Burmese call her, retained the confidence of her people at home.
"The disappointment was considerable because the expectations were unrealistic," David Camroux, a historian specialised in Southeast Asia and lecturer at France's Sciences Po told FRANCE 24. "Aung San Suu Kyi considers the ethnic majority she hails from, the Bamar, superior and that it is they who are the real Burmese, which is where her lack of consideration for the Rohingya comes from. There was also a political calculation on her part since she had to appear conciliatory with the military officials and put her patriotism on display."
Beyond the Rohingya situation, international observers have reproached Suu Kyi for what they see as her autocratic approach to power.
"She is a pretty authoritarian woman who doesn't delegate," said Camroux. "That's actually a real problem within her party since we are not seeing a new generation emerge. Many of the people who control the party are around 80 years of age. It's difficult to see who might succeed her."
Nevertheless, Suu Kyi remains very well-liked in Myanmar. Considered a model of modesty and austerity, she incarnates for many Burmese what a real Buddhist should be. Indeed, legislative elections in November confirmed her popularity, with Suu Kyi's NLD scoring an overwhelming victory.
Resources
Watch a February 8, 2021 NHK News report:
Daily "Answers" emails are provided for Daily News Articles, Tuesday's World Events and Friday's News Quiz.