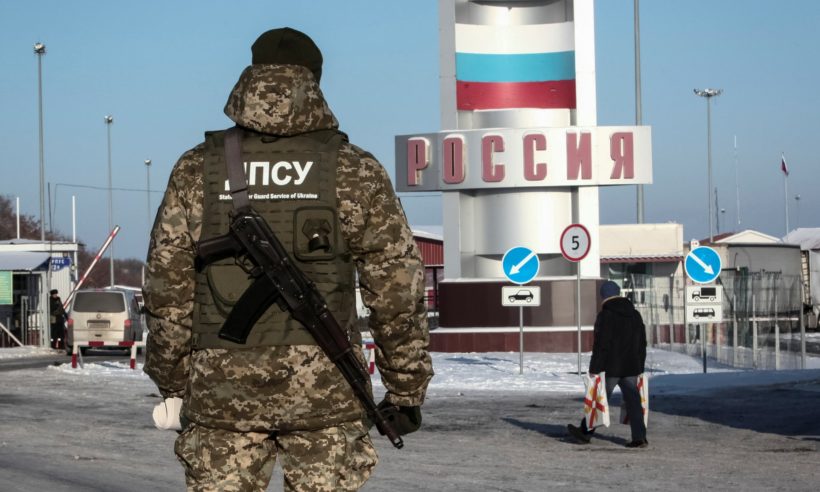 redo Jump to...
print Print...
(by Nicholas Sakelaris, UPI) – Ukraine said Friday it's banning entry for Russian men between the ages of 16 and 60, a move President Petro Poroshenko said will stop Moscow from sneaking in "private army units."
It's the latest escalation between the two countries since Russia opened fire on three Ukrainian ships and seized them and their 24-member crews last weekend. One of the Russian warships rammed the Ukraine boat.
For the travel ban, Ukraine said it will make exceptions for humanitarian reasons, such as a funeral.
Earlier this week, Ukraine imposed martial law and limited its own citizens' travel to Crimea, the peninsula controversially annexed [seized; taken over by force] by Russia four years ago. The only way to get there is by going through Russia first, which is considered by Kiev illegal. [Following the annexation of Crimea, Russia has also supported separatists in Ukraine's east with clandestine dispatches of troops and weapons. Fighting there has killed at least 10,000 people since 2014 but eased somewhat after a 2015 truce.]
Poroshenko has said the martial law won't affect Ukrainians' civil rights, just those of Russians. The restrictions could make it difficult for Russian men to visit relatives in Ukraine. [The travel ban will be in effect during the 30 days of martial law.]
Poroshenko has also asked NATO to deploy warships to protect Ukrainian ships — a move Russia warned would escalate the conflict.
Russian state-run media said Friday Moscow isn't planning a counter-ban for Ukrainian men of military age.
Russia's state-run TASS news agency also reported Friday the captured sailors will remain in jail for two months during an investigation. Their commanders were taken to Moscow for interrogation.
The rift prompted President Donald Trump to cancel a planned meeting with Russian President Vladimir Putin at the G20 summit in Argentina this weekend. British Prime Minister Theresa May has rebuked Putin's aggression against Ukraine, calling on Russia to release the ships and sailors.
The confrontation on Thursday also led to a historical religious change. The Ukrainian Orthodox Church was granted independence from the Russian church, a watershed moment that could split eastern Orthodoxy. Until now, Ukraine's church has been under Moscow's control for centuries.
The Holy and Sacred Synod granted the Church of Ukraine autonomy late Thursday.
Ukrainian intelligence officers believe that Kiev's oldest and largest monastery is contributing to the Russian propaganda in the country. They have searched the home Father Pavlo, who is suspected of "inciting hatred."
The Russian Orthodox church is allied with Patriarch Kirill, an ally of Putin. Kirill announced last month he would end relations with the Ecumenical Patriarch of Constantinople, splitting the Eastern Orthodox denomination.
Published at UPI .com on November 30. Reprinted here for educational purposes only. May not be reproduced on other websites without permission from United Press International.
Questions
1. For UKRAINE, give the following information:
capital

location/the countries that share its borders

the religious breakdown of the population

the type of government

the chief of state (and head of government if different) If monarch or dictator, since what date has he/she ruled? – include name of heir apparent for monarch

the population
Find the answers at the CIA World FactBook website. For each country, answers can be found under the "Geography" "People" and "Government" headings.
NOTE: Before answering the following questions, watch the video under "Resources" below.
2. For UKRAINE:
a) list the who, what, where and when of the news item
b) What is the purpose for the ban?
c) What action by Russia was the Ukrainian government responding to?
d) What exceptions will be made for the travel ban?
e) Russian state-run media said Friday Moscow isn't planning a counter-ban for Ukrainian men of military age. Officials said that they wouldn't retaliate to avoid hurting ordinary Ukrainians. What do you think Russia's motive is for making this announcement? (Ask a parent what he/she thinks.)
f) The United Nations (UN) was formed to encourage resolution of international conflicts without war and to form policies on international issues.
The UN Charter sets out four main purposes, including: 1) Maintaining worldwide peace and security. What responsibility do you think the UN has to step in – or to isolate Russia with sanctions to force President Putin to release the Ukrainian sailors and to end its aggressive, warlike actions against Ukraine?
g) How effective do you think the UN is in fulfilling its purpose? Explain your answer.
Resources
For background on the conflict, read previous reports on Ukraine:
Watch a Sky News Australia report:
Daily "Answers" emails are provided for Daily News Articles, Tuesday's World Events and Friday's News Quiz.