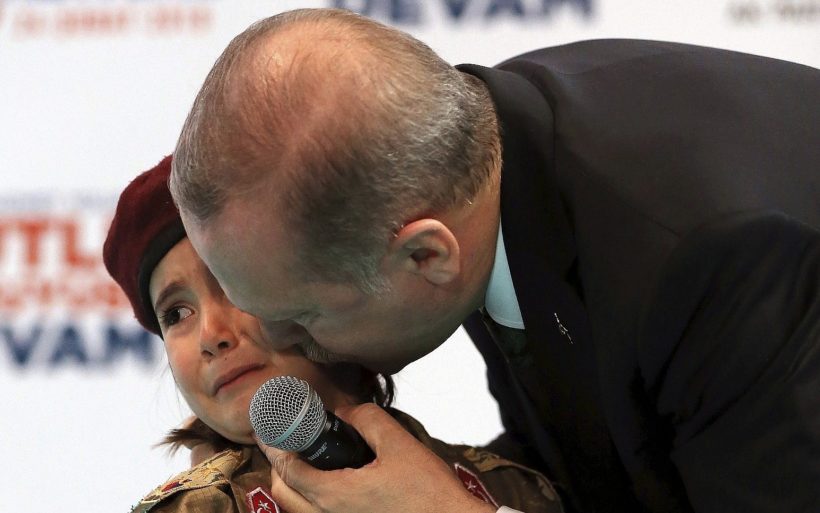 redo Jump to...
print Print...
(from Associated Press) ANKARA, Turkey — Turkish President Recep Tayyip Erdogan has come under criticism for telling a small girl dressed in a military uniform that she would be honored if she were "martyred" for Turkey.
Erdogan spotted 6-year-old Amine Tiras crying and saluting while the president delivering a speech at his ruling party's congress in the city of Kahramanmaras on Saturday, Feb.24, and had her brought on stage.
After trying to comfort the girl by kissing her on both cheeks, Erdogan told the crowd: "She has the Turkish flag in her pocket. If she becomes a martyr, God willing, this flag will be draped on her."
Some people were appalled and took to Twitter to criticize the president.
One user said it was the state's duty to protect children, not to "kill" them. Another said: "you don't wish death for a child, you never say: 'God willing.'"
His action comes as Turkish-nationalist sentiment is running high over a Turkish cross-border military offensive against Syrian Kurdish fighters that are affiliated with Kurdish rebels fighting inside Turkey. In recent weeks, children dressed in commando uniforms or reciting nationalist poems have been making appearances in many events that he attends.
Yasar Okutan, a former government minister, accused Erdogan in a television interview of using them to increase votes in presidential and local elections in 2019 and questioned whether the president would say the same for his own granddaughter.
This article first published at Associated Press on Feb. 27, 2018
Questions
1. For TURKEY, give the following information:
capital

location/the countries that share its borders

the religious breakdown of the population

the type of government

the chief of state (and head of government if different) If monarch or dictator, since what date has he/she ruled? – include name of heir apparent for monarch

the population
Find the answers at the CIA World FactBook website. For each country, answers can be found under the "Geography" "People" and "Government" headings.
NOTE: Before answering the questions below, read the info under "Background" and watch the video under "Resources."
2. For TURKEY:
a) list the who, what, where and when of the news item
b) What did President Erdogan say when he brought the crying girl on stage during a meeting of his political party?
c) What did Yasar Okutan, a former government minister, accuse President Erdogan of doing?
d) Turkey is a member of NATO. From the NATO website: "NATO promotes democratic values and enables members to consult and cooperate on defense and security-related issues to solve problems, build trust and, in the long run, prevent conflict." Obviously, becoming a "martyr" is in direct conflict with NATO's main purpose. What should the U.S. and other member countries do about Erdogan's wish for child martyrs as well as the numerous human rights abuses under his leadership?
Background
Modern-day Turkey was founded as a secular state by Ataturk in 1923. In 2007, hundreds of thousands of Turks rallied against leaders including Erdogan who want to rule Turkey as a Muslim state. Read an article here.
For a long list of human rights abuses in Turkey under President Erdogan's leadership, do an internet search for human rights violations+Erdogan.
Visit the NATO website.
Daily "Answers" emails are provided for Daily News Articles, Tuesday's World Events and Friday's News Quiz.